Visit Sri Lanka: The Real Deal with Jordan McMullen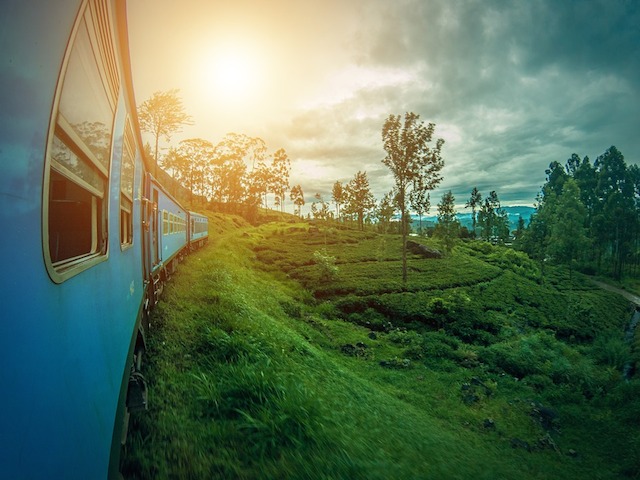 This month, we're interviewing women from all over the world and asking them about their experiences traveling to Sri Lanka. We had the privilege of speaking with Jordan McMuller about her experience traveling through Sri Lanka. Here's a glimpse into our conversation.
Tell us about yourself! What do you do when you're not traveling the world? Where do you live? What made you decide to visit Sri Lanka?
I am a food, fitness, health, and wellness blogger at Skinny Redefined, and recently relocated from NYC to the Norfolk area of Virginia. I traveled to Sri Lanka with a friend in March 2015. She was living and working in Abu Dhabi for a year and I went to go visit her for 10 days. From there we visited Sri Lanka, since it was not too far from the UAE.
How long did you go for? How did you spend your time?
We flew into Colombo and stayed there a few nights. Though Colombo is on the water, there isn't really any beach area and we spent a lot of time with a tour guide/driver that showed us around the city. It was amazing to see that Sri Lanka has not been independent for very long, and there is still a strong colonial influence visible in the architecture.
In Colombo, the markets were really amazing, but my favorite part of the day was when our driver took us to the Mount Lavinia Hotel, which has a wonderful restaurant on the beach and we watched the sun set there. The next time I go to Colombo I'm definitely staying at the Mount Lavinia.
From there we hired a different driver to take us all the way to Kandy. We thought we had booked a hotel close to the city, but we ended up staying about a half hour past Kandy, at the Samadhi Center. That day we stopped all along our route to see a spice grove, take an elephant ride, and see the elephant orphanage. We also stopped at the pineapple village for some fresh pineapple, and stopped a few times for fresh coconuts. It was amazing.
After our stay there we had a driver take us back to the airport and stop in Kandy city on the way. Kandy is where the Temple of the Tooth is located, and we happened to be there on the day of a full moon (poya) which is a very big deal. Everyone was at the temple and wearing white, meditating or practicing their faith. We did not have enough cash left to enter the temple itself, but the grounds where amazing and a local man showed us around, giving us a little history lesson. We then drove back to the airport, stopping for fresh fruits and coconut on the way, and headed back to Abu Dhabi.
What were your most memorable experiences? What were the biggest disappointments?
The most memorable experience was probably the day we traveled from Colombo to Kandy. We did so much and saw everything we could along the way, but the elephant orphanage was my favorite. When you enter the town that the orphanage is in, there are all of these signs not to feed, touch, or even go near the elephants, since they are not trained and essentially wild.
There were barriers set up around the area where the elephants were, and you were instructed not to cross it. There were handlers everywhere, who seemed very comfortable around the elephants and herded them with large sticks. Regardless of the warnings, when we made it down to the river for feeding time, a few of the handlers called me across the barrier, handed me a bag of bananas and had me feed one of the baby elephants.
I was so focused on feeding and petting him that I was completely surprised when another baby elephant came up behind me and tapped me on the shoulder. When we ran out of bananas, the handlers then had me get into the water and play and splash with the elephants. It was absolutely amazing.
I don't think there were any disappointments, but I definitely wish I had spent more time in Sri Lanka.
What do you wish you knew before you went?
My friend did a lot of research before we left, so she was completely prepared with enough information for the both of us. I was not aware of much of Sri Lanka's history, so it's best to do a little research before going so you can truly appreciate the sites.
Any favorite restaurants/hotels/hostels/sites you'd like to recommend? Tell us what made them great!
In Colombo we stayed at the Cinnamon Grand Colombo, which was lovely. There is a little garden by the outdoor pool and a ton of great dining options on the property. Breakfast was included in our stay and I woke up to fresh fruit and fruit juice every morning, with a traditional breakfast buffet. Even though I ate (and drank) much more than I usually would on this trip, I still went home weighing less than when I left!
In Kandy we stayed at then Samadhi Center, and I was really surprised about how in the middle of nowhere it was, but it ended up being an amazing experience. Every morning we were greeted by 360 degree views of the mountains, and got to do yoga for 90 minutes before breakfast. We went on a little hike to a waterfall, which was great, despite the fact that we were almost eaten alive by leeches. I also received an ayurveda massage, which I loved. It helped ease the stress of traveling.
Is there anything that women specifically should know before they travel to your destination?
I always felt safe in Colombo and Kandy and had nothing but positive experiences with all the locals. It is common to hire a driver who is a friend of a friend of someone you meet, so I embraced it.
Photo credit by Pixabay.