Sri Lanka, a Jewel in the Indian Ocean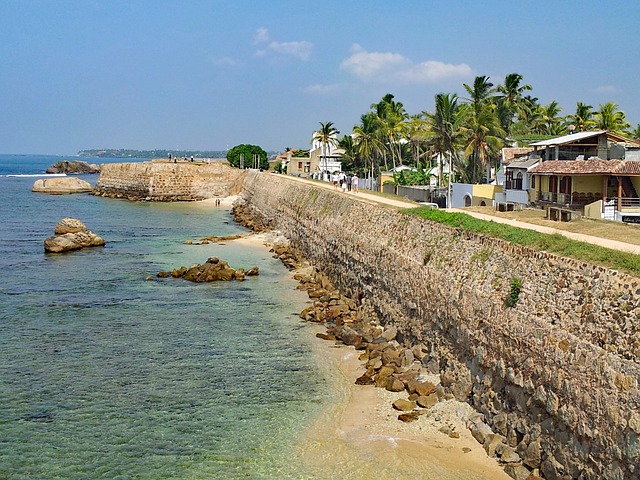 My adventure to Sri Lanka was mainly to the towns of Bentota and Galle Fort, to rest, recuperate and rejoice. This holiday was positive affirmation around the choices I'd made about the positive changes that had taken place in my life.
There are many adjectives in the English language that could describe Bentota, but I find the simplest one fits best: Bentota beach is beautiful. Soft sands, pristine blue waters, surf, deserted coastlines and no litter, Bentota is the kind of beach that dreams are made of. Perfect for barefoot walks, yoga at sunrise or sundown, quiet moments when you can reflect on all that is required or just laze, a sense of privacy is gifted to all travelers on its shore. The property I stayed at also had a railway line running through it (as did other properties), so watching and feeling the trains vibrate and whizz past you can be quite the experience. Exhilarating even.
There are numerous turtle hatcheries around the area where one can learn about and understand the efforts being made by the locals to help baby turtles fight natural and man-made predators to make it to the sea. There are also a couple of Buddhist temples, tea estates, and markets in which to spend some time, but my advice is just stay by the beach. It doesn't get better than that.
Soft sands, the pristine blue waters of the Indian Ocean, surf, deserted coastlines and no litter, Bentota is the kind of beach that dreams are made of.
Three hours away though is Galle Fort. Its streets are lined in rows, dotted with trailing bougainvillea, jacaranda trees, mayflower trees, stores and accommodation, with hidden houses that can be found only if you look very carefully. Walking along the streets is a photographer's delight, as the architecture of most Sri Lankan houses incorporates large wooden doors, rafters, ornate or latticed wooden panels and beams, all painted teal, which seems to be Galle's favorite color.
Spend the day in Galle walking along the fort, and from its height peer down at the sea below. Wander around the Dutch hospital, which has now been converted into a commercial retail center, check out the architecture of the Methodist and Reformist churches and the mosques. If you're into cricket, look out for an aerial view of the pitch and stadium from the fort.
A couple of days is adequate to explore Galle; I particularly loved the restaurants that served a mix of European and Sri Lankan food. Accommodation in Galle is mostly in independent houses with high ceilings, ornate doors and windows, wooden beams, large rooms and porticoes. Regal is the term that comes to my mind, minus the velvet curtains.
One of my favourite things about Sri Lanka is the cuisine. I came with the preconceived notion that the food would be similar to that of southern India. How wrong I was, and I'm so glad! Sri Lankan cuisine seems to consist of seared meats and vegetables, which are then re-fried or deep fried with sauce or gravy. All food is freshly made, which is a good thing but can be a bummer when you're very hungry! Expect to wait up to an hour for your order to be served. Alcohol is available only in a few cities like Mirissa and Negombo, and only available in a few places in Galle. You'll find ginger ale and ginger beer everywhere.
When it comes to shopping, splurge on Sri Lankan teas, with their unique flavors and blends and spices like cinnamon and Sri Lankan cooking masala powder. There's also hand-painted batik fabric available in multicolored hues for you to adorn yourself or your house. They make great gifts, too. There are also many jewelry stores that sell precious stones, particularly moonstone, set in silver or gold.
Practical tips
Sri Lanka has electronic travel authorization, so you can get the visa ahead of time or on arrival. It is recommended that you get it ahead of arrival so that you can breeze through immigration.
Prices are very affordable. It's best to carry a lot of cash as few places accept debit or credit cards.
The weather can be quite unforgiving, so loose, billowing cotton clothing that allows the skin to breathe is best. Nude sun-bathing in public spaces is a strict no-no.
Sri Lanka struck me as a very safe country for women. I found that women were treated with a lot of respect, and there wasn't an occasion where I felt that the men were leering at women, local or foreign. Everyone was very polite, seemed sincere, and willing to provide information whenever I asked, even when they didn't speak English.