Sri Lankan Food Tour: The Real Deal with Emily Kratzmann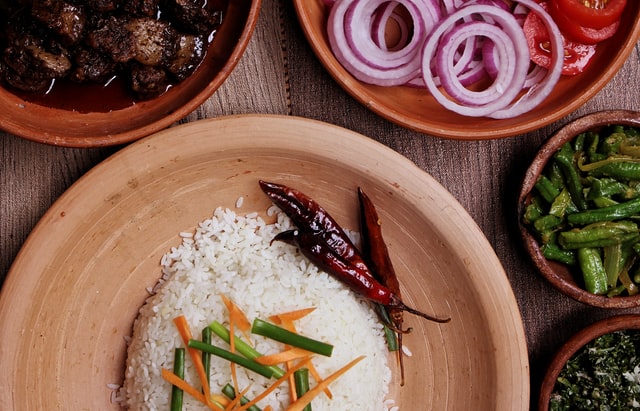 After travelling, food is Emily's passion, and she ate some amazingly delicious things on a Sri Lankan food tour.
Tell us about yourself! What do you do when you're not traveling the world? Where do you live? What made you decide to take a Sri Lankan food tour?
I'm a content producer with Intrepid Travel, which is a fancy way of saying I get to write a lot, read a lot, and talk a lot about travel! I live in Melbourne and, like many Australians, I've seen more of the world than I have of my own country! There's just something about the idea of riding a camel through the Sahara or playing poker on a beach in Costa Rica or huffing and puffing along the Inca Trail that screams 'adventure' to me.
Late last year, I spent a few weeks in Sri Lanka – several of my friends have travelled there in the past couple of years and I was keen to check out what all the fuss was about. The fuss, my friends, is most definitely called for – Sri Lanka is incredibly beautiful.
How long did you go for? How did you spend your time?
I was there for just over two weeks, and spent most of my time eating my way around the country on an Intrepid food tour. After travel, food is my favourite thing in life, so having the chance to sample so many Sri Lankan food delicacies with a group of fellow foodies was super appealing. When I wasn't snacking on kokis (a deep-fried coconutty biscuit), or loading up my morning hopper (a bowl-shaped pancake with a fried egg in the bottom) with curries and chutneys, or growing weak at the knees at the first scent of a spicy curry wafting out of a restaurant kitchen, I was skipping up the steps at Sigiriya, strolling through a spice garden in Kandy, and enjoying some pretty incredible sunsets on the beach in Mirissa.
What were your most memorable experiences? What were the biggest disappointments?
This was my first experience on a group tour, and one of the best things about the trip was meeting so many incredible people. Learning how to make an authentic Sri Lankan curry in a cooking class in a family's home was also a definite highlight, as was spotting wild elephants in Yala National Park.
I'm a pretty happy camper, so tend not to let disappointments get me down – after all, a flat tyre, lumpy bed or not-so-delicious meal is all part of the experience. That said, everything about my trip was great.
What do you wish you knew before you went?
Driving anywhere in Sri Lanka takes ages. Like, hours. The distance between Negombo and Kandy is only 100 kilometres, but it takes over three hours to get there. For such a small island, I just assumed it'd take no time at all to get between X and Y, but congestion and the state of most of the roads can really slow things down. I probably would have loaded up my phone with a few more podcasts if I'd known how much time I'd spend staring out the window.
Also, it's a good idea to have small notes on you. Tipping is expected nearly everywhere, from tipping your driver to tipping the washroom attendant (in some places you need to buy your own tissue, too).
Any favorite restaurants/hotels/hostels/sites you'd like to recommend? Tell us what made them great!
On the last night of the trip, a bunch of us booked a table at Ministry of Crab in Colombo – I can't even put into words how delicious, fun and inclusive it was! Decked out in our enormous 'Keep Calm & Crab On' bibs, cracking shells, slurping the meat out of claws, covering ourselves in sauce… It was kind of primal but it was such a great way to end the trip!
Afterward the tour I spent a couple of days on my own in Galle Fort. I booked a funny little room in a funny little hotel, with a funny little restaurant and an even funnier house guitarist. When I went in for dinner one evening, this guy (who I'm sure had never had a guitar lesson in his life) wandered among diners, playing the same three chords but changing the rhythm and lyrics each time. He played the same three songs on repeat: 'Hotel California', 'Nights in White Satin' and a strange Enrique Iglesias/Matchbox 20 mashup. While he's unlikely to be discovered by an A&R guy or win a Grammy anytime soon, it was really sweet to see how much passion he had for music and how desperately he wanted to entertain each and every one of us.
Is there anything that women specifically should know before they travel to your destination?
I never felt unsafe when I was with the group, but I was definitely much more wary when I was in Galle and Colombo on my own. Avoid using tuk-tuks at night and book an Uber instead – as well as being safer, it's also a much cheaper option!
Photo for Sri Lankan Food Tour: The Real Deal with Emily Kratzmann by Unsplash.