Exploring Europe's Eastern Block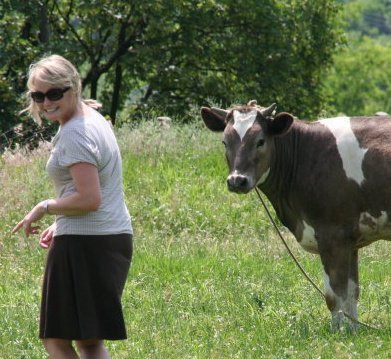 Eastern Europe is one of those places few people have visited and even fewer have lived. Over the next 27 months I have the amazing opportunity to live in a country that is seldom recognized by name and rarely referenced on a map. This little landlocked gem is an excellent hub for trekking north, south, east and west to see the brighter, more renowned gems of Eastern Europe. At this point you may be asking yourself, what country I am referencing. I'll give you hint. It recently received some major publicity for its alcohol tolerance and a visit from a white-haired western bigwig. Are you still unsure? Okay, I give up. I'm living in the Republic of Moldova (this is where I usually pause and allow all the readers to search the internet to find where exactly this place is).
Now that you have found Moldova on the map, you should know that this tiny country is rich in places to see and things to do. Although the buildings are cold and dreary the people that inhabit theses buildings are warm and hardworking; they are always ready to give advice and pass around a small glass of wine to toast to health and wealth.
With the country's main industry being agriculture, it is no surprise that the number one tourist attraction is its many vineyards. The varietals are diverse and surprisingly delectable. The landscape is filled with golden sunflowers, rolling grasslands with roaming sheep and goats, as well as fresh watermelon and friendly people.
Other attractions include the capital city, Chisinau and it's many tasty restaurants as well its nonstop nightlife. If karaoke is more your style, then just open your ears for classics from the 1980's and 1990's (e.g. Winds of Change) and you'll be sure to find something interesting inside.
Exploring Europe's Eastern Block
On the opposite end of the tourist spectrum, you will find Moldovans eager to speak with you about your religion (they were only recently able to do so publicly) and touring the old monasteries is a trek back in time full of interesting and poignant stories. Orheiul Vechi is one of the more famous sites and a beautiful site to see in all seasons.
Probably one of the best ways to really understand life in Moldova is by finding a "gazda" or host and just staying for a month or so (best in spring, summer or autumn). You can help with farming, planting, harvesting and enjoy rural life's joys and challenges from a direct perspective. It is also a great place for camping and any door that you knock on will probably be eager to feed you and have you try their homemade wine in a matter of moments.
Public transportation is easy to use and cheap in Moldova and hitchhiking is pretty common as well. If you decide to hitchhike be sure to learn a few Romanian or Russian phrases. If you are on a timeline it may be worth renting a car.
Are you ready to visit the Republic of Moldova? Here are a few websites with more information to help you plan your trip:
http://romaniaandmoldova.com/
http://www.md4ever.com/
http://www.lonelyplanet.com/moldova
http://www.worldofmoldova.com/
Or contact feel free to contact me: http://www.emily-preposterouspursuitofplace.blogspot.com/ Exploring Europe's Eastern Block. Photo by Emily Getty.