Poland: The Gem of Eastern Europe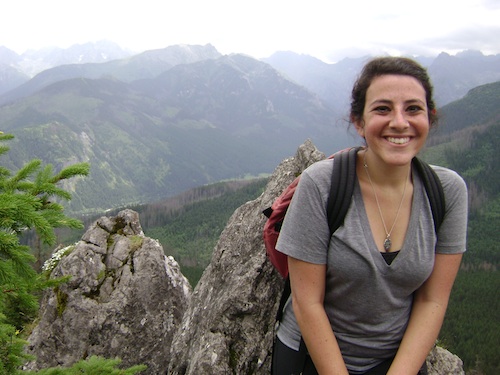 I just returned from a three week academic study trip to Poland. I am a graduate student at the Hebrew University, and was lucky enough to earn a fellowship to travel to Poland to study the Holocaust and Polish Jewish relations. However, before, the trip, when people asked me how long I would be in Poland, and I replied three weeks, they were all taken aback. "Three weeks in Poland? What are you going to do there for three weeks?" Needless to say, I was a little nervous. But, after my "long" three weeks, I can soundly say that Poland has a much worse reputation than it deserves. Three weeks is actually a perfect amount time travel Poland — at least it was for me.
Unlike many other "Holocaust" trips that go to Poland, our trip was not about seeing Poland as a "land of death." I think it's a great mistake, and a pity that many people travel to Poland only going to concentration camps and extermination camps without experiencing Polish culture and looking at the complexities of Jewish-Polish relations throughout history.
Although it's true, that for many, the first thing that pops into their minds about Poland is Auschwitz, I think that we need to see Poland as much more.
Poland has a lot to offer, and should really be on anyone's itinerary for a trip to Europe.
The point of my trip was not only to look at past events in Poland, but also to really experience Poland in and of itself. To this end, we went to museums, went hiking, went to festivals and met with Poles. Poland has a lot to offer, and should really be on anyone's itinerary for a trip to Europe.
Warsaw, Poland's capital, is a big and bustling modern city!. It was completely destroyed in 1944 during the Warsaw Uprising, and so it is a new city. Even the "old" city is completely rebuilt. Here in Warsaw you will find a hip nightlife, great restaurants, and great museums. Check out the Warsaw uprising museum, and also the Chopin museum.
Krakow, the other main city in Poland, is quite opposite of Warsaw. The buildings and style of Krakow itself are much older, really reflecting the "old European style." It is truly a quaint and cute city, and while wandering around Krakow's old city, I felt like I was traveling back in time. One of my favorite experiences was renting a bike and just biking down the Vistula River that runs through Krakow.
Krakow also has an amazing castle beside the old city, where you can take a tour of the different buildings and churches on site. Finally, the old Jewish town of Kazimierz is amazing. Although a lot of the restaurants and shops were opened by non-Jewish Poles, and are a little unauthentic, you can still visit the authentic old Jewish cemetery, and older synagogues that have been renovated and are absolutely stunning.
Don't miss is a trip to the Tatras Mountains in Western Poland.
Poland's vast countryside is really marvelous and beautiful. Also, don't miss is a trip to the Tatras Mountains in Western Poland. The mountains are absolutely stunning, and there are great hiking trails (both easier and harder) in the summer that offer amazing views of the mountains, and skiing in the winter.
Traveling tips: Polish is not an easy language that you can just pick up , so it might be worthwhile to buy a little language guidebook with a dictionary. In my opinion, the word for "thanks" is so cute: it is "JENKI." We were lucky that the leader of our trip was Polish, and therefore acted as our translator.
Travel Poland: The Gem of Eastern Europe
The weather in Poland proved to be really unpredictable! One day it was hot and sunny, and the next overcast and raining. It is worthwhile to bring layers in the summer, and do not forget a sturdy umbrella and a rain jacket. Also a plus in Poland, is that the prices are really not high. They still use the Zloty, and it fares very well. Beer was cheap and good!
Finally, I think that traveling as a female in Poland is completely safe. Especially, in the big cities like Warsaw and Krakow, there are always youth going out at night, so that the cities feel busy and safe, even at night. The group I traveled with was 10 girls, and I don't think for a moment we felt uncomfortable or awkward as female travelers.
Travel Poland: The Gem of Eastern Europe
Related Reading
My First Solo Trip: A Weekend in Kracow Poland
Have you traveled to Poland? How was your trip? Email us at [email protected] for information about sharing your experience and advice with the Pink Pangea community. We can't wait to hear from you.
Travel Poland: The Gem of Eastern Europe photo credits: Hailey Dilmam