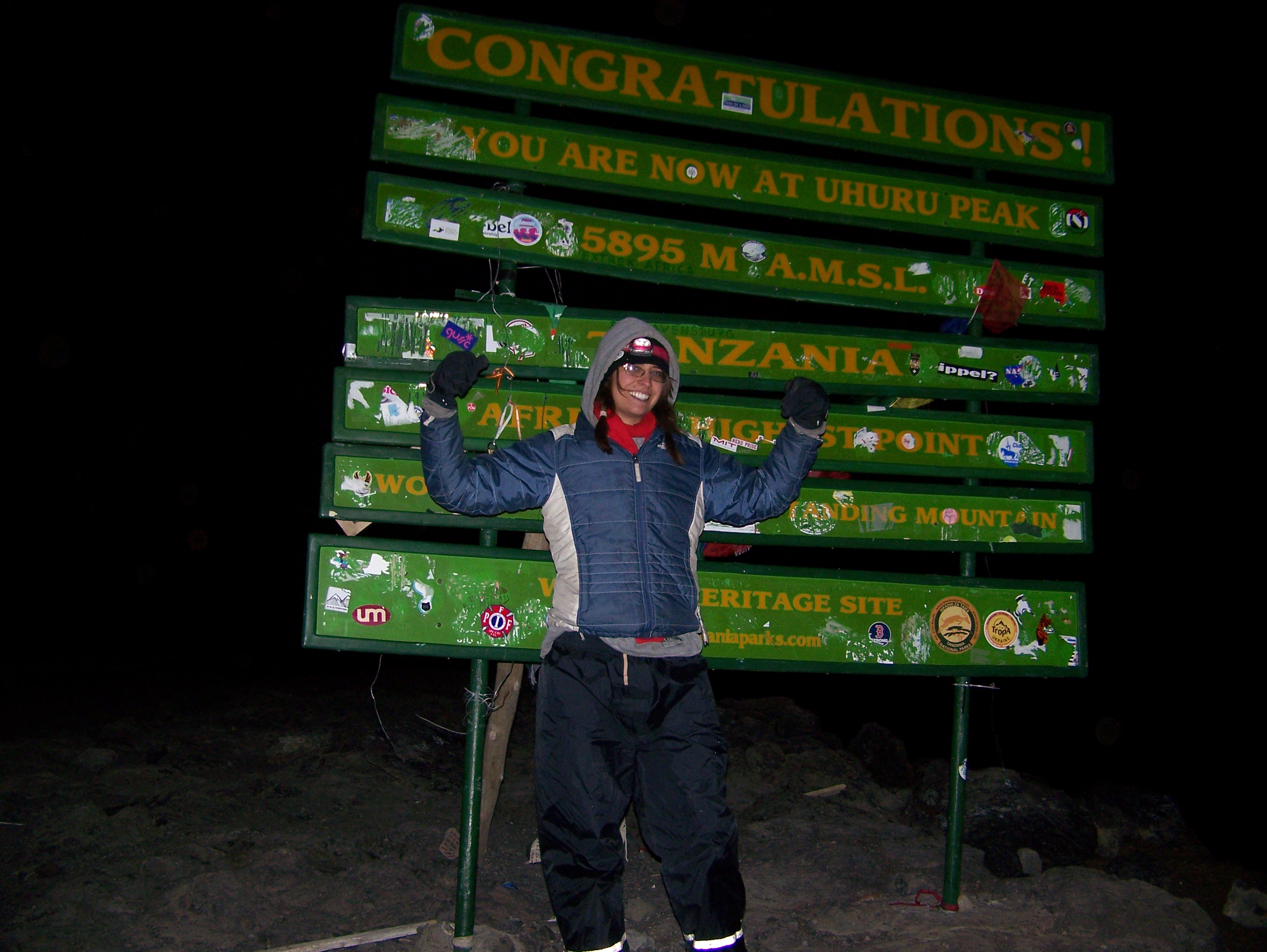 I'm here in Tanzania to finish up my master's degree by doing research on children's literacy. While I had planned to start up my research in June, upon arrival I found out that the schools had let out for a somewhat spontaneous, month-long break, leaving me research-less for about a month. With extra time on my hands, I decided to go ahead and do something I've wanted to do for about a decade or so – climb Mt. Kilimanjaro!
I felt a few qualms about starting the trek so soon. Though I was sure I wanted to do it, putting the date on the calendar was quite different than thinking about it in the abstract. Though it's not a technical climb, it is still a challenging one. Kili is the highest free-standing mountain in the world, and less than half of all hikers who attempt it make it to the summit. The hike itself is a major commitment.
It takes seven or eight days, though some reckless companies ignore advisories about acclimating and will do it in six or less. It's this sort of carelessness that dramatically decreases success rates and causes several deaths on the mountain every year. Still, with altitude medication and warm clothes (for the sub-zero temperatures at the summit), most people who are reasonably in shape can do it; the oldest person to make it up Kilimanjaro was 87! I figured if someone who was 87 could do it, so could I. Besides, there's no time to waste. It's expected that the last of Kilimanjaro's famous snows will disappear in the next decade or two.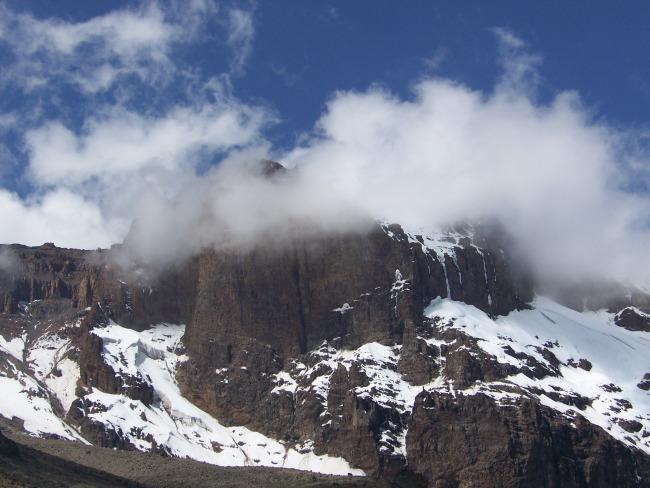 I was lucky that I had an inside connection with the tourism business, because the family I'm renting my house from owns a safari company. They were able to put me on a hike last minute with Focus in Africa, a small local company that does climbs safely and cheaply. After a run to the local used-clothes market (supplied mostly by charity donations) I had my gear for the hike, and on June 15, my two guides picked up me and one other hiker in their land cruiser, and off we went.
One of the best parts about climbing Kilimanjaro is the immense biodiversity you see along the way. Hikers pass through a completely different climate zone for each day of the hike. Our guides, Charles and Immanuel, took us the Machame route, one of the easiest and most scenic trails, and hence one of the most popular with Kilimanjaro climbers. We started off in the cool jungles around Kilimanjaro's base, where blue monkeys scampered in the tree tops and thick mountain mists wound their way around mountain ferns and heavy tangles of twisted vines.
Hiking Mount Kilimanjaro.
By the end of the first day, the dense lushness of the jungle had given way to moorland, a terrain of short, prickly pines, hardy flowering bushes and the famous senecio – a bulgy tree with great tufts of leaves on its stubby limbs, a plant that looks like it belongs in a Dr. Seuss book. By the end of the third day, even these hardy shrubs had given way to nothing but scatterings of black boulders, smeared with orange lichen. Large, hungry ravens circled overhead, and the wind and dust were relentless as we trudged over large outcroppings of volcanic rock. We gratefully descended down into a more sheltered valley for the night.
If the terrain was stunning, so were the people who went with us. Though there were just two hikers in my group (myself and a Korean-Brazilian named Minami), our safari company sent us on our way with a grand total of two guides, a cook, and six porters. I've never felt quite so high-maintenance, but this really is the norm for Kilimanjaro. Some high-end companies will even hire porters to carry personal toilets for their guests all the way up the mountain! On a daily basis, these porters achieved a super human feat that could rival the Olympics.
Minami and I carried nothing but a light day pack with rain gear, water, and the essential Snickers bar, but the porters scaled the mountain with both enormous backpacks on their backs and huge gunny sacks perched on their heads–and these gunny sacks were packed with tents, mattresses, stoves, and all manner of other things that should never be carried on one's head up a mountain.
Some of them struggled, while others walked serenely, hands clasped in front of them, hardly steadying their load as they made their way up the mountain's rocky slopes. Many of them wore nothing but slippers or Tevas, and few had adequate clothing for the cold. Not surprisingly, most deaths on the mountain every year are those of porters. It's probably one of the hardest–and worst–jobs in Tanzania, but sheer desperation for employment here finds thousands of men willing to do it. And with an utter lack of labor laws here, nothing has been done to improve the situation.
Each day, the porters sped ahead of us with our gear, and by the time we arrived at camp, our tents were set up and our sleeping pads rolled out. After my guide discovered I had a deck of cards with me, our afternoons quickly turned into me and the entire crew piled into a single tent, absorbed in the Tanzanian game called "Last Card," which is something like Uno on steroids, full of yelling, card throwing, and cursing in Swahili. It was great!
By the fifth day we had reached base camp. We spent most of the day sleeping, because at 11 p.m. that night we would leave for the summit, aiming to arrive at Uhuru Peak at dawn. We were rousted out of bed at about 10. My tent was already covered in frost, gleaming white in the brilliant moonlight, and my breath came out in puffs. Shivering, I pulled on the recommended four pairs of pants, two shirts, two sweaters, a down jacket, and a warm hat, and then we set off. Since Minami and I climbed at different paces, one guide, Charles, stayed back with Minami and the other, Emmanuel, went up with me. Unlike the other groups that had to haul cohorts of ten or more people, it was just Emmanuel and myself, and we ascended quickly ahead of the other groups.
During that night climb, I had one of the strangest feelings I've ever had. It was massively disorienting to find myself scrambling up the side of a mountain at two in the morning, panting for air. Part of me (well, all of me really) wanted desperately to crawl back into my warm tent. In a sense–and even though I had my guide with me–I had never felt more alone. We had gone far ahead of the other groups. If we looked back we could see the procession of headlamps flickering below us like a religious vigil, but everything around us was silent except for the crunch of gravel underfoot. We could have been on another planet.
The moon went down, leaving us only the light from our headlamps and the glimmering smudge of the Milky Way overhead.
The moon went down, leaving us only the light from our headlamps and the glimmering smudge of the Milky Way overhead. The occasional shooting star flicked across the sky. Because we could see only a few feet in front and behind us, there was no way to tell how far we had come or how far we had to go. All we could see was a three-foot radius from our headlamps. The hours passed slowly, the night got colder, and the atmosphere got thinner. Snowdrifts appeared suddenly and unexpectedly, sparkling in the light of our headlamps. We didn't stop for more than a minute or two at a time–the temptation to sit down and sleep was too great.
Large blocks of glacier had begun appear, a muted blue in the starlight. We had finally reached Stella Point–the last stop before Uhuru Peak, the highest of Kilimanjaro's three peaks at 5895 meters. One hiker passed us with a radio, playing an abrasive mix of top 40 hits. It was a bizarre juxtaposition to this other world–a blast of the cheap and mundane, right here on this other planet. By the time we reached the peak, there he was, flexing in front of the Uhuru sign to "Moves Like Jagger." "Don't worry!" he told me. "I'll be the DJ!"
Him being the DJ was precisely what I was worried about. This was my sole chance to savor the accomplishment of the mountain, a real and true "once in a lifetime" moment. But thankfully, because the atmosphere was so thin, hikers are only allowed ten minutes at the top of the peak, so my Moves Like Jagger friend descended, leaving just me and my guide at the mountain's peak, with the first distant glimmers of sunlight rising over a rippling expanse of cloud.
Photos by Emily K.