7 Tips for Surviving Thanksgivukkah in Israel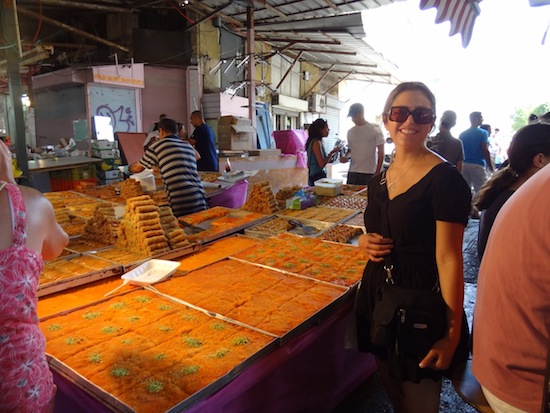 When the trademark American holiday and the most beloved Jewish holiday fall on the same day, expats in Israel find themselves in a real crunch.  It's tough enough getting all of the essential ingredients for your Thanksgiving dinner in the Middle East. Now you need to make sure that you've bought all of your gifts on time too–which, by the way, is a tradition most Israelis also don't do!
Here are some foolproof ways for making sure you're ready for Thanksgivukkah–because it's now or 70,000 years from now!
1. Pre-order your turkey
Try buying a turkey the day before Thanksgivukkah and your butcher will try to sell you a chicken.  In Israel, turkeys are hard to come by, so make sure you pre-order yours at least a few days in advance.
Think that a 12 kg turkey may be a little big for your seven guests?  Too bad!  That's what your butcher's got, so I hope you enjoy eating leftovers!
2. Use your sweet potatoes to make your latkes
Sweet potatoes are essential to every Thanksgiving meal, but don't forget that you have to make a batch of latkes too!  Save yourself a little time by putting two traditions into one delicious dish of sweet potato latkes.  It's a true Thanksgivukkah miracle!
3. Make an American supermarket run
Don't waste your time scouring the shuk for hours trying to figure out how you can make cranberry sauce out of dried cranberries.  Head to super-American city Raanana, where you will find Meatland, a supermarket with all of your Thanksgiving staples.  Breathe. They sell pumpkin pie filling!
4. Double up on donuts
In Israel, jelly donuts are now retro, but not in the way that's hip.  Israeli sufganiot are masterpieces with intricate frosting designs that are piled atop the sugary dough.  Stop dreaming about your powdery Krispy Kremes!  Invest in some of the most gorgeous looking cholesterol risers you've ever seen.
5. Invite your Israeli friends
To Israelis, Thanksgiving is a holiday straight from American sitcoms and they'll start laughing the second you suggest going around the table and saying what you're thankful for.  But because Israelis are also some of the most intensely honest people in the world, they'll soon open up about their love lives, health issues, and families way more than you meant to ask for.
6. Invite your American friends
What's a Thanksgiving without your American friends who have become your expat family in Israel?  They'll want to cook just as many dishes as you to make sure they experience the food comas they remember best. Just make sure the conversation doesn't turn into a complaint session about Israeli bureaucracy.  Remember–this is THANKSgiving!
7. Light the menorah and turn on the game
Because Israel is seven to ten hours ahead of anywhere in the good ole US of A, when it's time to light the menorah, it'll also be time to stream your American football game.  Make sure your Israeli friends leave after the menorah lighting.  You've got a long night ahead of you still–and you're not going to want to spend it comparing what Israelis call "football" to the superior American version.