Shopping in the Shuk: 6 Gems in Tel Aviv's Carmel Market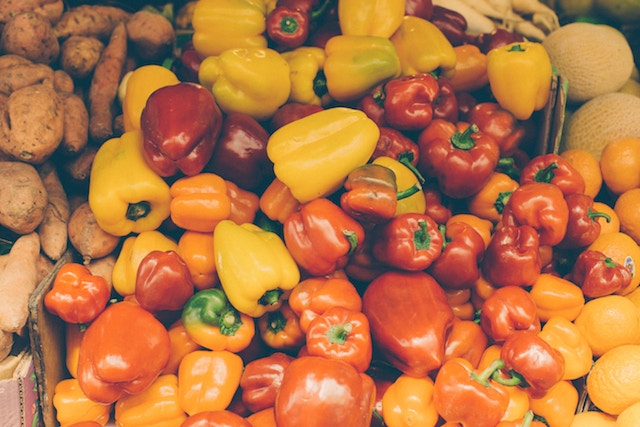 As a college student in the U.S., food shopping was always a chore. I had to haul myself to Trader Joe's between hours of homework to pick up the same 15 staples that made up my diet, all while remembering my reusable bags to avoid getting guilt tripped by the cashier. Moving through the store was automatic, everything in the same place and readily available no matter the season. As I rushed around on autopilot, I ended up standing in line praying that the things in my basket would last long enough for me not to return within the next week.
When I arrived in Tel Aviv, with an empty fridge and an empty stomach, I thought I would have to face the monotony of the supermarket all over again. With wallet in hand and yoga pants on, I headed out in search of a store.
On my way, I stopped to ask a local for directions. To my surprise, the woman looked at me like I had committed a cardinal sin. "You must see the shuk," she explained. "It is cheaper, better, and the essence of Tel Aviv culture." Before I knew it, I had jumped in a cab headed to the center of the city.
In what felt like seconds, the sun was setting and I had only bought enough food for dinner.
Ten minutes later, I stepped out onto the bustling Magen David Square and was instantly caught up in the energy of the place. Young boys on scooters and grandmas pulling tiny carts rushed past each other. Vendors yelled, promising avocados with the consistency of butter and the cheapest clementines. Heaps of fruits and vegetables spilled into the narrow center aisle, and the faint salty wind from the sea made me just a tinge hungrier. Standing at the opening of the colorful chaos that is the Carmel Market, I realized that food shopping in Israel is an art as well as a social activity, not the mindless necessity I was used to.
As I bought a pomegranate, the old vendor shared his life story, the name of his favorite hummus restaurant in the city, and a new slang word in Hebrew. The man selling me apples promised to remember my name and save the best ones for me each day. A woman complimented my shoes as I tasted cheeses from a stand. In what felt like seconds, the sun was setting and I had only bought enough food for dinner.
I was beaming as I walked past the walls of iPhone cases and Israeli jewelry on my way out of the market, for I knew that I would have to return on my way home the following day to pick up ingredients for my next meal. Week one has officially come to an end, and I've happily already been back five times.
Here are the 6 essential spots you must see at the shuk:
Shopping in the Shuk: 6 Gems in Tel Aviv's Carmel Market
1. Ha'Suri for hummus
Meandering down any of the tiny, hidden side streets to the right of the market entrance will lead you to what feels like an entirely different city. The Yemenite Quarter runs parallel to the shuk, home to greenery that bridges ancient buildings and streets too narrow to drive. Back here, you can find restaurant upon restaurant, all promising the best hummus and Yemenite dishes. My favorite is Ha'Suri, where there are never empty tables but always empty plates.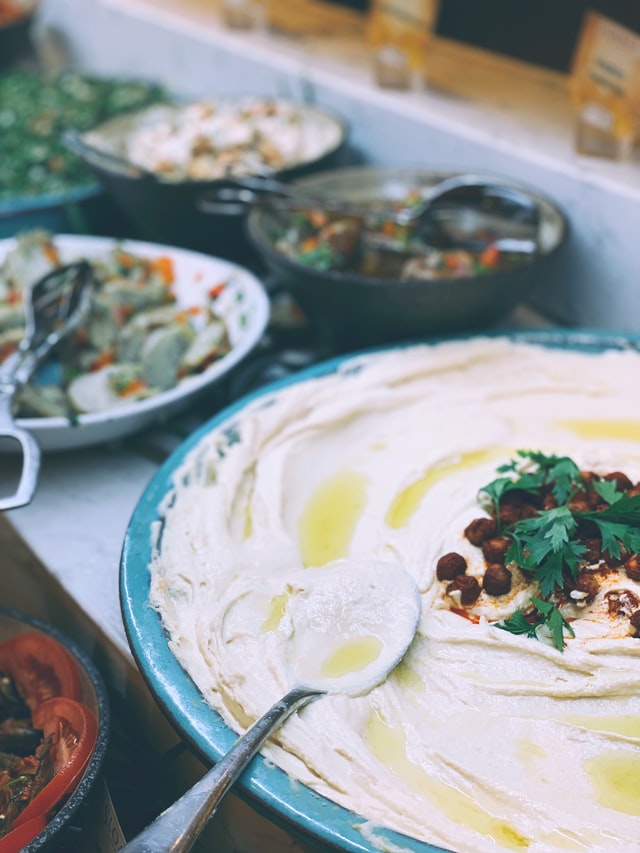 2. Dim Sum from a shuk vendor
Trucking through the market can get tiring, and dim sum is the perfect nosh (snack) break. For only 5 NIS each, a vendor in the middle of the market sells different varieties of Korean dumplings, both classic and with an Israeli twist.
3. Beer Bazaar for authentic Israeli beer
Nothing sounds better than a cold beer on a hot day in the packed shuk. Rest your feet and quench your thirst at the Beer Bazaar, which specializes in local craft beers. With over 90 to choose from, make sure to tell the bartender what you like and he'll pick one out for you!
4. Strawberries from the market
Buying produce in the shuk can be a little overwhelming with the sheer amount of vegetables and fruits. After tasting way too many strawberries, my suggestion would be the vendor at the very end. Right behind the donut stand, you'll find a man who sells a sea of nothing but strawberries–at least during the winter.
Shopping in the Shuk: 6 Gems in Tel Aviv's Carmel Market
5. Ripped Levis for 120 shekels
Jeans rarely ever fit just right, so I was hesitant to try them on in the shuk. However, after watching the woman who works at the third stand on the left, I realized it was an experience I had to have. She spins you around, takes one look, and piles your arms with jeans of all washes and styles. Slipping them on, you'll realize why there is always a line for the changing room. This woman knows the female body and her jeans better than Bloomingdale's! Just don't try on too many, or you'll want them all!
6. Falafel from a hole-in-the-wall
On your way back, you can refuel and prepare for the schlep home with some of the best falafel I've ever had. The BEST. Though this place may not look like much, they've perfected their craft. The falafel is expertly spiced and has just the perfect amount of crunch. Also, you can go up to the salad bar as many times as you want. Setting you back a mere 15 NIS, you won't regret this pit stop across from Magen David Square on King George Street.
6 Gems in Tel Aviv's Carmel Market Related Reading
Tel Aviv Travel Tips: Reagan's Take on Health and Safety
Have you traveled to Israel? What were your impressions? Email us at [email protected]pinkpangea.com for information about sharing your experience and advice with the Pink Pangea community. We can't wait to hear from you.
Shopping in the Shuk: 6 Gems in Tel Aviv's Carmel Market photos by Unsplash.