One Weekend in Israel's Negev Desert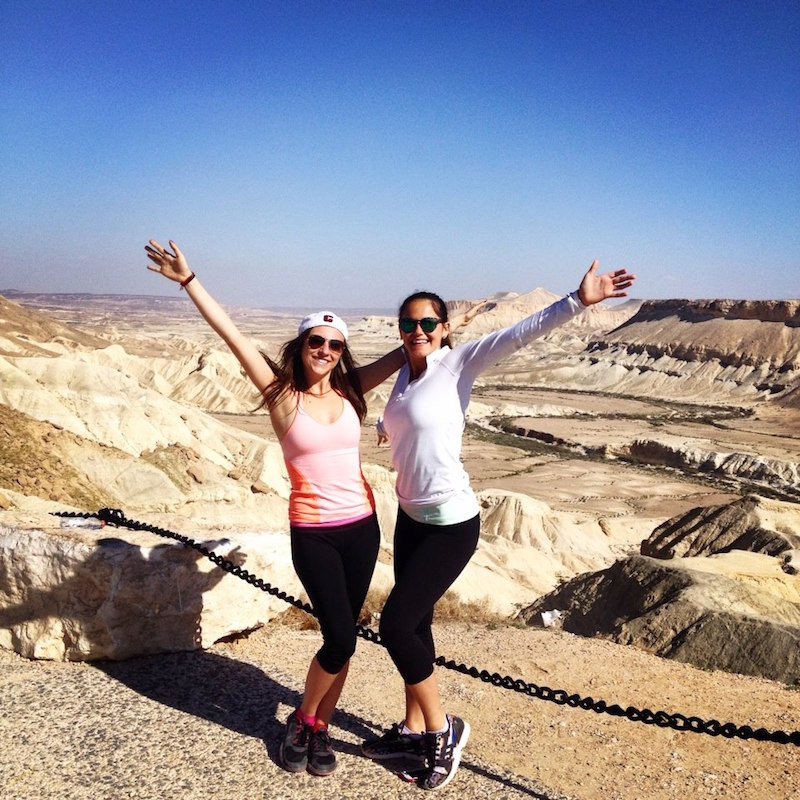 Tel Aviv is known as "ha-ir bli hafsaka," the city without a break. That reputation couldn't be truer, and after a couple of months in this crazy metropolis I was yearning for some quiet. When the opportunity arose to escape down south, I was the first one packed. With only a backpack and some hiking shoes, we left behind Bauhaus architecture for the open desert. If you ever find yourself in a similar position, in need of a break from the constant city action, here are some highlights of a weekend in the Negev Desert:
One Weekend in Israel's Negev Desert
1. Ein Avdat National Park
This park is an oasis in the middle of the Negev Desert. Only in Israel can you find clear, beautiful pools of water, even waterfalls, in the midst of a canyon. It was something we had to see with our own eyes, even if the easier hike was on the other side.
While many families bring their children on the the twenty-minute trek to the first stream, more invested hikers can continue on to climb stone-inlayed ladders that wind up to the top of the canyon itself. Overall, this hike was a great warm-up and didn't tire us out for the rest of our day.
2. Ben Gurion Monument
We finished Ein Avdat in about two hours and continued on to the Ben Gurion Monument. It was only at its amazing viewpoint that it really hit us how far we were from the comforts of the city we had gotten so accustomed to. Walls of sand and stone overwhelmed me, for their sheer size made people seem like ants. Looking out, I was excited for what was to come.
3. Mitzpe Ramon
Our next stop was Mitzpe Ramon, where we welcomed in Shabbat by watching the sunset over the Maktesh (crater) lookout. We spent a restful night at the Mitzpe Ramon Hostel & Guest House, preparing for the full day hike ahead.
By 8:30 the next morning, we were out the door. We made the somewhat treacherous drive to the bottom of the Mitzpe Ramon crater in order to hike both Ardon and Saharonim Mountains. We stood at the base for a moment taking it all in, and then started climbing the mountain we had taken pictures of the day before. This hike is not for the faint-hearted. We danced our way up, skillfully placing each step as to not stumble over a loose rock or a slippery patch of sand.
Certain parts required us to get on all fours or to pull ones weight up and around a boulder. The view is worth every minute of the hike; you can see miles and miles of desert and colors of brown you never knew existed. On the way down, the trail requires you to edge along the rock and almost scale the side of the crater itself.
Making it to the bottom was the most gratifying, as was looking up at all that we had conquered.
4. Bedouin Tent
Legs sore and hearts happy, we headed home to clean up before leaving for a Bedouin dinner. The "Bedouin tent" experience, although geared towards tourists, is a lot of fun and can be added to your bucket list if you're coming to Israel. We were welcomed in to a tent in the middle of the desert, with cushions for seats and triangular wires holding trays instead of tables.
As we ripped our naan-like bread and curled up on the floor, a man came and gave us a lesson on Bedouin culture. While one can book a night in these tents, we decided to head back to the hostel.
5. Ein Gedi
Sunday morning, we departed for Ein Gedi. Similar to Ein Avdat, Ein Gedi promises swimming holes carved into desert stone as well as the tiniest bit of greenery. This park has something for all levels of hikers, and an unbelievable view of the Dead Sea.
One Weekend in Israel's Negev Desert
6. Dead Sea
After all the hiking, we couldn't wait to take the pressure off our legs by floating in the Dead Sea. A huge part of the Dead Sea tradition is to cover yourself in mud and let the water soak it off. There are two options; either you pull the mud out of the ground or you can buy it prepackaged. We chose the latter, slathering mud head to toe before slowly wading into the sea.
Silently and weightlessly resting in the water, my mind wandered to the roasted cauliflower pitas at my favorite quick-bite in Tel Aviv. Just as I had craved a break from the chaos, I now yearned to be back in Tel Aviv.
More Tips:
1. Pack a lunch for your big hike
2. Renting a car is so much easier than trying to use public transportation, just remember it's hard to find somewhere open on Saturdays
3. Wear shoes with good traction
4. Pack a water bottle (at least 2 Liters)
5. Wear a hat or cover your head, it keeps you from overheating in the desert sun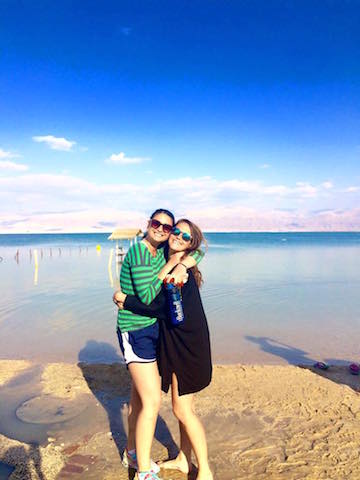 One Weekend in Israel's Negev Desert
Related Reading
Have you traveled to Israel? What were your impressions? We'd love to know if there's any important information you recommend adding to this list. Email us at [email protected]pinkpangea.com for information about sharing your experience and advice with the Pink Pangea community.
One Weekend in Israel's Negev Desert photo credit: Gebriella Levi