Ein Avdat: A Stunning Hike in Israel's Negev Desert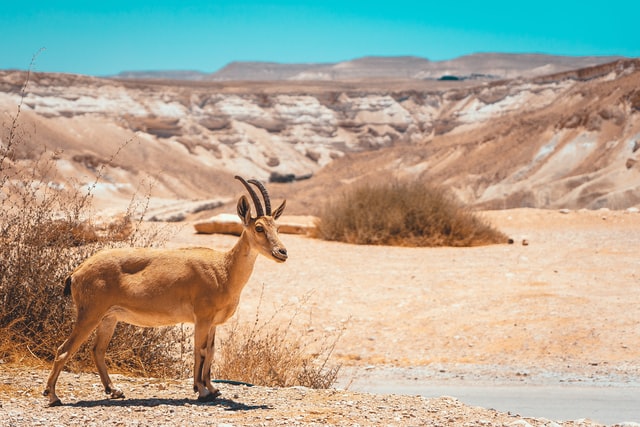 I never fail to be impressed, even overwhelmed, by Israel's Negev Desert, but there is one particular place that, time and again, simply takes my breath away. Close to Kibbutz Sde Boker (about two-and-a-half hours drive south of Tel Aviv) is Ein Avdat, a spectacularly narrow canyon, surrounded by an abundance of desert flora and fauna, salt-loving plants and two large pools. An even greater attraction is the natural springs (in Hebrew, incidentally, 'Ein' means 'spring') from which a waterfall cascades down. You couldn't find a better destination for a hike.
According to archaeologists, the surrounding area is around 80,000-90,000 years old. Initially a stop on trading routes, and later inhabited by monks (who lived in nearby caves), today Ein Avdat is easily accessible as part of the Israel National Trail. Whether hiking there in the winter (and, if you're lucky, are able witness the spectacular flash floods) or in the summer (where scorching temperatures make sunscreen, wide-brimmed hats and several litres of water essential), it's hard not to be taken aback by the sheer beauty of the place.
Hiking for only ten minutes, I was struck by just how much plant life I saw, not to mention a vulture perched high in the rocks.
At its beginning, in the nearby Midreshet Ben Gurion, an institute for desert science and research, stop for a moment to see the grave of David Ben Gurion, the country's first Prime Minister. His love for the Negev was uncompromising, summed up in his oft-quoted remark that the duty of Israel's pioneers was "to make the desert bloom." After retiring from politics, he moved here and lived out his remaining days in a modest dwelling–which he shared with over 5,000 books!
In practical terms, there are two entrances to Ein Avdat – one in the north (at its bottom) and the other in the south (at the top). Most people, for convenience, start at the bottom, which means you'll need to arrange for a car to pick you up at the top. Alternatively, you'll have to turn back before the last part of the trail and re-trace your steps. Hiking for only ten minutes, I was struck by just how much plant life I saw, not to mention a vulture perched high in the rocks. Continue on and you'll notice just how narrow the path is, and how much taller the rock faces have become. To your left, carved into the rock, is what I've named the "ghost stone."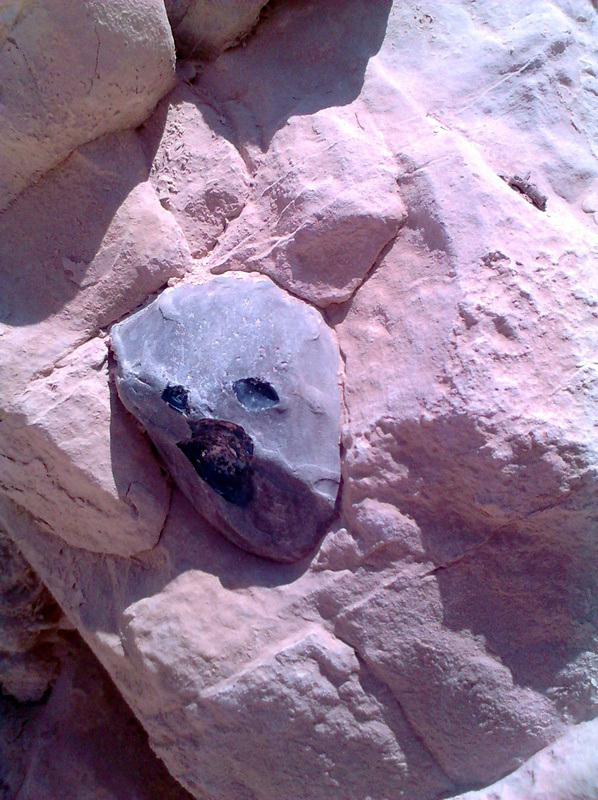 Keep on walking and force yourself to drink water constantly. Even in April and May (and especially throughout the summer), the sun blazes throughout the day and if you don't hydrate yourself constantly, you'll certainly end up worst for wear. Look around – you'll see small pools of water, strange-looking algae and astonishing rock formations, not to mention clusters of Poplar trees in abundance. And then, before you know it, the canyon walls will have "closed in" on you and the sight before your eyes will make you sigh: an enormous pool of water, at the end of which is a waterfall of over 15 metres high.
Put your toe in the water if you dare – it's cold (not to mention deep) and swimming is strictly forbidden. Park rangers work in the canyon at all times and one explained to me just how fragile the ecosystem in Ein Avdat is, and how easily it can be destroyed by even the occasional bather. Watch out, too, for the lack of shade – however much you want to stand and admire the view, bear in mind that summer temperatures can reach 40 degrees Celsius and you need to conserve energy for the next stage…which is only for the fit–and adventurous.
A staircase! Yes, carved into the cliff (initially by Israeli teenagers, but structurally improved in recent years), the stairs while leave you out of breath while also giving you access to astounding views from its top. In fact, only at this height do I think you can get a proper sense of the grandeur of this canyon, and just how imposing it is.
Keep on walking and force yourself to drink water constantly.
In summer, you'll find yourself pretty much alone (for obvious reasons) making it even easier to be struck by the tremendous stillness. Climb higher and higher and then, just for fun, shout out your name loudly and hear your voice echo eerily around the the rocks.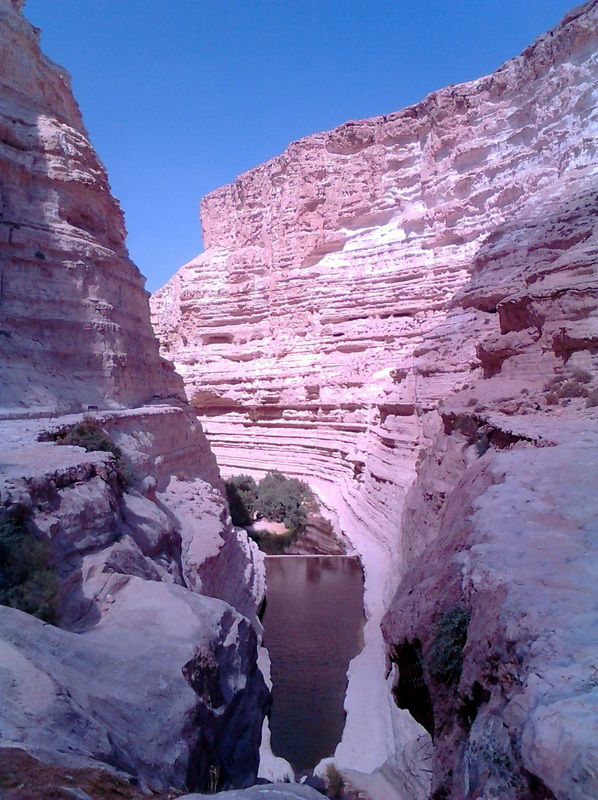 At the very top, cross the small stream and head for the glade of Poplar tress – it's an opportune moment to take advantage of the shade they afford. If it's just before sunset, the ibex will be out, looking for food and, if you're fortunate, you may see birds of prey soaring high above you; my friend found an eagle feather on our last trip! Then decide how experienced a hiker you are…the path to your left will take you to the pools of Ein Ma'arif, the source of the huge waterfall (be careful though–the rocks can be slippery). Or turn to your right and follow the path to the base of the cliff, where you'll find a two-room cave. It's decorated with a cross and one of four dwellings used by monks in Byzantine times.
You could easily spend hours in Ein Avdat, although after May I'd advise hiking early to avoid the midday sun. But even if you're fool enough (as I am occasionally!) to hike in the heat of the day, it's still hard not enjoy yourself. And for the price of 29 NIS (about $8), it's also pretty good bang for your buck.
Ein Avdat: A Stunning Hike in Israel's Negev Desert photo credits by Sarah Mann and Unsplash.