3 Tips for a Successful Homestay Experience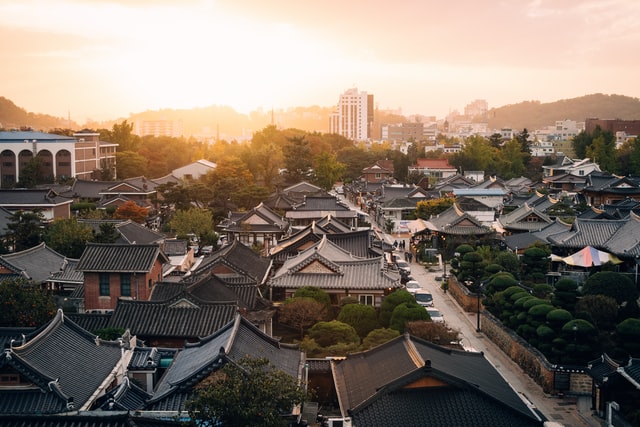 I, a tall, boxy, and anxious American, was wedged between two petite Korean English teachers on our plane as it descended into Jeju International Airport. In just a few minutes, after the plane touched down, I would face one of the toughest social situations of my brief life: meeting my host family outside the baggage claim. I am not a natural social butterfly. You'd have a better chance finding me curled up with a book than talking with a random stranger on an airplane.
However, when I accepted the Fulbright English Teaching Assistantship to South Korea, I knew I was taking a risk. This wasn't a risk of choosing to move and live abroad, but the risk of living with a Korean host family (a requirement of the program). As the plane inched closer to the airport and the island grew closer with its hills slick with rain, I knew I had to work to cultivate a positive experience with my host family. Luckily, I was assigned a wonderful homestay where I fell naturally into my host family's routine. However, it did take some work to get to know my host family and for my host family to get to know me. When living with a family abroad, it's important to remember a few simple reminders.
3 Tips for a Successful Homestay Experience
1. Introduce yourself.
This may sound obvious, but make time to introduce yourself properly to your host family. Bring pictures from your hometown and country. Odds are, your host family will love hearing about your home country. For example, my photos were the first my host family had ever seen of an American cattle farm. There's probably a good chance your host family hasn't visited your home country before, and you are the door! It may be tempting to hide in your room and close the door, but the payout is much higher when you first engage your new family.
2. Bring gifts!
Gift-giving is the universal language of friendship across the globe. For example, when I knew I would be living with a family, I was very careful when I selected my gifts. I was born and raised in Kentucky, so naturally, I took a bottle of bourbon, bourbon candy, a Kentucky-themed cookbook, and a few of my favorite candies for my host siblings. These gifts were a major hit with my host family and we even took out a world map to find Kentucky!
3 Tips for a Successful Homestay Experience
3. Follow the rules.
Many young adults view living abroad as a reason to depart from formal rules and to live life on their own terms. This lifestyle isn't as common when you elect to live with in a homestay setting. To make things easier, ask your host family about basic family rules and functions: When is meal time? Is there a curfew? Can I bring guests over? There are great chances that your host family will be glad to let you go out and explore your new surroundings. Remember, though, that your family is also responsible for you. Make their life easier by following basic household rules. This will make life and experiences better for both of you!
Living with a homestay in Korea was an amazing time in my life that I'll never forget. I celebrated Chuseok (Korean "Thanksgiving"), experienced Lunar New Year, visited the largest aquarium in Asia, and felt like a member of the family. Life abroad can often be tough, but having a great family unit to support you can positively change your experience. In fact, I traveled to Korea again in December 2014. My family and I were able to pick up where we left of in July 2013, and that was a reward all in its own.
3 Tips for a Successful Homestay Experience photo by Unsplash.