Cave Hotels, Hot Air Balloons & Open Air Museums: Traveling Through Turkey During The Pandemic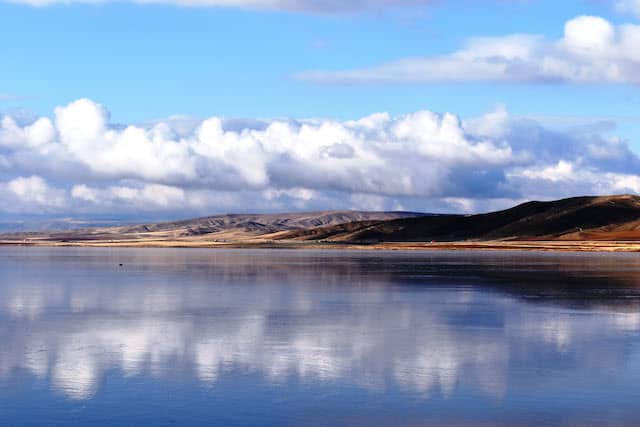 "I don't want to travel!"
I never imagined saying that — before 2020.
I am Australian, but I moved to live in Egypt in 2010. One of my reasons for moving was that it's easier to travel to Europe from here, and less of an expense. Getting residency in Egypt is difficult. Most long stay foreigners have a Tourist Visa — which means that we must leave every 12 months to renew it. This was fine, until the travel restrictions began due to Covid-19.
I had planned my 60th birthday with friends in Italy and this was to double as my Visa run. Although Egypt reopened flights in July, Italy remained closed. I subsequently booked five flights to Italy and Turkey, but each flight was cancelled.
A flight for mid December survived, but infection and death numbers in Turkey were rising and curfews were enforced. I was worried about getting infected but equally concerned about the potential of catching the virus and infecting others. For the first time, I would have avoided travel if possible.
If this was typical trip, I would spend a few days exploring Istanbul. I chose to avoid city crowds and fly directly from Istanbul to Cappadocia where I could be mostly in open spaces. There were few travelers in town and at the main sights I was often I alone, or at most with just two or three others. This was a dramatic change to my visit in 2019 when I did standard tours and there were tour buses and groups everywhere.
Traveling Through Turkey During The Pandemic.
In addition to revisiting some of the tourist spots, I walked from Cavusin to Zelve Open Air Museum and back to Goreme, about 10km. It was easy walking. I saw only four tourists and three men working in the fields. In fact, I had the museum almost to myself, a completely different experience to the previous year when I visited the Goreme Open Air Museum and entering cave homes or cave church was a squeeze past other visitors.
Goreme Open Air Museum
I booked two private tours outside of Goreme, just me and the guide to ensure we wore masks and avoided crowds. I had chosen a day in Konya on the anniversary of the death of Mevlana, known to many as Rumi, whose philosophy and writings are important to me. For Sufi including Mevlana death is not sad, it is your meeting with Allah / God, so the death anniversary was a special day to visit Konya.
Despite my concern, the tomb and mosques weren't crowded. People were respectful of distancing and ensured everyone had some time to contemplate and share the atmosphere.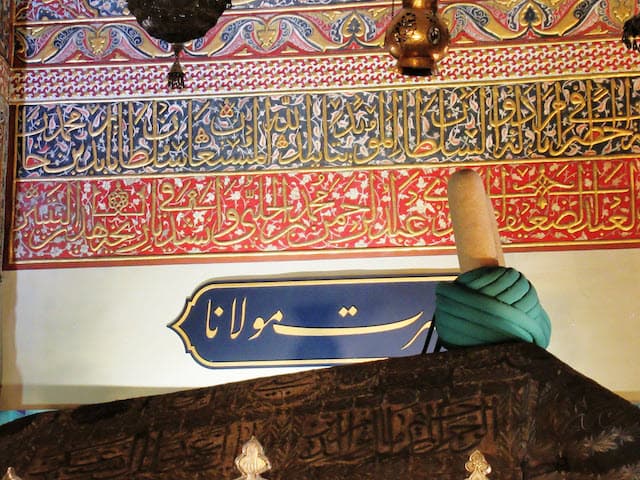 The rooms previously lived in by Sufi and containing artifacts of their study and way of life were closed, I assume to avoid a crush of visitors in small spaces. But there are information panels outside each room. Sircali Madrasa was also closed but I could see the tiled entrance through its gate. The fascinating Karatay madrasa tile museum, Ince Minareli madrasa, Alaeddin mosque, Iplikci mosque and Semsi Tabrizi tomb and mosque were open, a rare opportunity to appreciate the beautiful architecture and museum collections almost on my own.
People were respectful of distancing and ensured everyone had some time to contemplate and share the atmosphere.
Karatay Madrasa Tile Museum
I had booked to attend the Seb-i Arus sema, the ceremony many know as the whirling dervish. Authorities however sensibly decided it would be held without an audience this year. It was instead screened live on internet and TV. Watching it online in the comfort or my cave hotel room was still a beautiful end to a special day. Refunds for tickets were made within days, something those facing cancellations during ever changing conditions appreciates.
On the other tour I visited Tatlarin Underground City and Tuz Gölü salt lake. Tatlarin is one of several extensive underground cities in the area, less visited than those closer to Goreme which are part of the standard tours. These cities were used as hideaways during various invasions, mostly by Christians who also built many homes, churches and monasteries in rock cliffs and "fairy chimney" formations throughout Cappadocia.
Tuz Gölü
Tatlarin is actually above ground, carved into a high cliff; you walk up to the entry then down into the rooms and churches. Each underground city has similarities but Tatlarin has the distinction of toilets carved into the rock. Months of restrictions thanks to Covid-19 stirred my imaginings of what life would have been like shut away here for months with animals and food supplies, but with far less of the comforts than most of us now have.
My walks with the guide and alone were definitely the best way to experience the fascinating landscapes.
My guide suggested mid afternoon arrival at Tuz Gölü. Between two chilly walks out onto the salt lake bed we warmed up with coffee. Most visitors came only for half an hour, either during daylight or at sunset. We got to enjoy the blues of lake and sky in daylight and the golden sunset. The lake bed was damp enough to show reflections, but not get wet feet, so everyone seemed to be walking on clouds.
We also did two short hikes in Love Valley and Red Valley. My walks with the guide and alone were definitely the best way to experience the fascinating landscapes. I had hours to wander and enjoy the tranquility not just minutes at viewing points and hopping back on a tour bus.
I stayed at two cave hotels for different perspectives of the hot air balloons at sunrise. The previous year I took a flight but now didn't want to risk such closeness to others. I preferred to watch the balloons from below. Both hotels were strict about mask wearing and I felt confident about safe preparation of my breakfasts, as I could see the kitchens. Staff members were concerned for guest wellbeing, but I never felt restricted by following the common sense regulations.
Restaurants and cafés were restricted to offering takeaway and some were closed. Fortunately, I still found plenty of delicious choices and became more familiar with local foods available in the small supermarkets. I missed sitting in a café watching what others ate and the life in the streets, but my meals became picnics at the best viewpoints high above town.
Traveling Through Turkey During The Pandemic.
Returning to Egypt originally meant an eight hour airport layover. Because multiple Cappadocia to Istanbul flights were cancelled, I faced 17 hours between flights. I decided to treat myself to a day at the airport hotel. Although a hotel room does not seem ideal when Istanbul and its wonders are so near, I didn't want the risks of being in crowded areas and being mask free in my room was also better than sitting so long in the airport.
I left Egypt with trepidation, concerned I could get stuck in Turkey if there was a sudden closure of either country. In fact, I worried that I would get sick or worse, and fearful that I might inadvertently pass on the virus to others. I returned to Egypt with a negative PCR test and happy memories. I contacted my guide to reassure him that I was healthy, as I believe we really should appreciate those who must continue to travel as it is their livelihood.
As with anywhere heavily reliant on tourism, I really feel for all the guides, hotel workers and anyone in tourism who is struggling now. It is for them, as much as for those of us who love to travel, that I hope 2021 will be a better year.
Although I still prefer to avoid travel for now, there will be others like me who must travel for various reasons including Visa renewal. From my experience it can still be rewarding. Yes it has some stressful moments. In my case, mostly flight cancellations, but if you've got to go I'd say simply plan well, be ready for changes, take all precautions, and you can have an enjoyable and hopefully healthy trip.
Photo credits for Traveling Through Turkey During The Pandemic by Susan Ryan.