How to Take a Babymoon in Turkey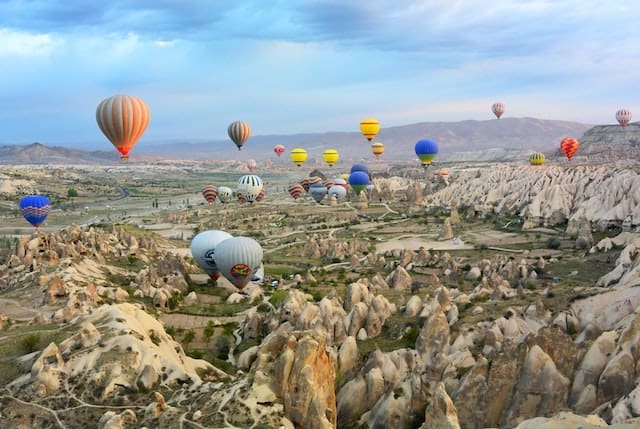 My son's name is Bernard. It has been ever since I, pregnant, stepped foot on a World War One battlefield at Gallipoli on Turkey's western coast, and I sensed that would be his name. I have traveled internationally during each of my three pregnancies. I am glad that I learned how to travel while pregnant in Turkey. My Baby Boomer mother encouraged me to keep pursuing all of my interests even with children.
I thought that it would be possible. It isn't. But I did have one very good last hurrah in Turkey. If you are looking for one last party before motherhood – Turkey should be at the top of your list.
How to Take a Babymoon in Turkey
Eggplant: The Real Turkish Delight
Turkish cuisine offers enough variety and nutrient-rich food for any pregnant woman, especially cooked vegetables. Turks enjoy serving grilled meat, hummus, and pastries. I particularly enjoyed the eggplant – eggplant with tomatoes, plain eggplant, mashed eggplant, eggplant cold, eggplant warm . . . The Turks say there are 100 different ways to prepare eggplant, and I think I tasted every kind!
Coffee is not easily grown in Turkey and Ataturk wanted to promote local industries.
My guide explained that when Mustafa Kemal Ataturk set about developing Turkey into a secular modern nation, he decided to encourage tea production. Coffee is not easily grown in Turkey and Ataturk wanted to promote local industries. Ataturk's forethought is a pregnant woman's gift. When morning sickness strikes, there are plenty of teas that will help calm your stomach. I especially enjoyed apple tea, sweetened of course!
Stay Active in Istanbul
Istanbul is cosmopolitan, and busy, and hot in the summer, and always brimming with excitement. The ancient horse track, the Hippodrome, was first constructed in 203 CE and then renovated in 234 under Constantine. This is my favorite part of town, as one can experience the ancient, Byzantine town next to the 16th century Ottoman grandeur. It sounds like an individual monument, but the Hippodrome is actually an area with much to discover. I found walking around the Hippodrome at night without the normal crowds to be a relaxing way of staying active while pregnant.
History buffs can enjoy the Library at Ephesus (Efes), the house where it's said that Mary (mother of Jesus) lived, and the Mausoleum of Halicarnassus (Bodrum). These, and other ancient sites like them, were the focus of my work that summer. It was the Temple of Apollo at Didyma that stole my heart.
The Hellenistic columns are gigantic, more reminiscent of the Temple of Karnak in Egypt than a Greek Temple to Apollo. Bernard enjoyed every ancient walk and off-road hike to an ancient site.
Joie di vivre or hayatin nesesi!
Most cultures brag that they are the most hospitable, but I have been to 20 countries on four continents and Turkey takes the cake for hospitality. Turks of course want to feed and care for their guests, but it's the way many choose to live life that envelopes the visitor in happiness. Turks are generally happy, and they want you to be happy. They will turn almost any place into a dance floor and they want you to dance with them.
Once a party bus pulled up next to us at a stoplight. The passengers were literally dancing in the aisles. They weren't totally sloshed like at a bachelorette party in Vegas – they were enjoying wonderful music and not wasting a second of their lives – even in traffic.
While on the topic of music, Turkish pop music is considered the best in the world (by me).
While on the topic of music, Turkish pop music is considered the best in the world (by me). Just like the party-goers on the bus, you won't be able to stop yourself from dancing! I would call their disposition a general joie di vivre but it's better to say the Turks have a natural hayatin nesesi!
I wouldn't be surprised if one day my Bernard wants to travel to see the columns at Didyma, eat eggplant in a hundred different ways, or dance around the house to Tarkan. Maybe your children will too. Until we return we shall simply develop a hayatin nesesi!
How to Take a Babymoon in Turkey Related Reading
Exploring Off-the-Beaten-Path Neighborhoods in Istanbul
How Turkish Culture Forced Me to Relax
Tips for Women Travelers in Turkey
Photo credit by Unsplash. Have you traveled to Turkey? What were your impressions? Email us at [email protected]pinkpangea.com for information about sharing your experience and advice with the Pink Pangea community. We can't wait to hear from you!