An Extraordinary Winter Weekend in Istanbul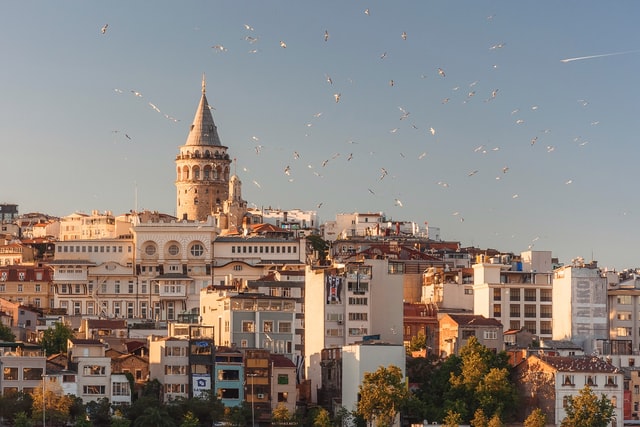 Istanbul is a captivating city where east meets west and old meets new. I found myself with the time to go to Istanbul for a couple of days at the end of a Christmas trip, and seized the opportunity. My experience was short but memorable. It left me wanting to share my thoughts. My first piece of advice is to stay in or near the old city (Sultanahmet). Most of the sites a tourist wants to see are in this area.
Save significant time by staying within walking distance. I love traveling by foot and welcomed the chance to wander around parts of the Sultanahmet neighborhood during the winter weather. Here are my other tips for a winter weekend in Istanbul.
Winter Weekend in Istanbul: Start with Hagia Sophia
This striking mosque peeks above other structures around it, announcing its prominence in Sultanahmet. The Hagia Sophia has gone through many changes since it was first built in Constantinople. It started as a Christian church then became an Islamic mosque. It is now a museum in the heart of the old city. Information inside shares the structure's history, particularly its transformation to fit different religions and purposes.
Evidence of those purposes lies within its walls as visitors gaze upon the Imperial Door, contemplate the tunnels below, and marvel at the enormous dome overhead. For me, starting here laid the foundation for my short trip to Istanbul because the museum offered a wealth of valuable historical information to guide my next stops.
See the Blue Mosque next

Check out the Blue Mosque (Sultan Ahmed Mosque) next. The Hagia Sophia and the Blue Mosque are neighbors, and can be visited easily in the same day. I visited in winter, and easily walked between the two with a coat, scarf and hat. If you visit during warmer months, be sure your clothing is appropriate to enter a functioning mosque.
Pack a head scarf because you wouldn't want to miss the gorgeous blue tiles on the inside that give the Sultan Ahmed Mosque it's nickname. If you have time, walk outside the mosque at night for a spectacular light up view.
Shop at the Grand Bazaar
If you stay in the Sultanahmet area, the Grand Bazaar is within walking distance (even in winter) from the other sites. I went in with no plans to buy anything and no real expectations. The Grand Bazaar is a gorgeous old souk with covered hallways and eager salesmen.
I love haggling for products in a setting like this. I am also happy to politely ignore salesmen selling items of no interest to me. Go to the Grand Bazaar with an open mind and a willingness to laugh off any hassling. Enjoy looking through the shops for colorful carpets, lamps, jewelry, and souvenirs.
Visit the Basilica Cistern
Descend underground to the largest cistern in the city. James Bond fans may want to make this their first stop of the trip. There are columns with Medusa's face on display that were used in From Russia with Love. Throughout the cistern is a pool of water deep enough to house small fish. I loved gazing at the columns and imagining what it took to build such a structure underground. If you are pressed for time like I was, there is hardly a line first thing in the morning.
Walk through Gulhane Park
After some time underground, I craved fresh air. We also wanted to gaze at the Bosporus before our short trip ended. As a final way of enjoying the city, we walked around Gulhane Park. This is located near the Topkapi Palace, which we missed on this particular trip. The trees were bare because it was winter. I can only imagine how gorgeous the greenery would be in warmer months. Regardless of the time of year, it provided a peaceful spot to walk and rejuvenate before leaving the city.
Having only a small taste of Istanbul left me looking forward to more. Turkey offers a variety of tourism opportunities throughout the seasons. I will continue taking advantage of even the shortest trips. My favorite thing about this trip was the proximity of sites I wanted to visit.
Walking everywhere (day or night) allowed us to take our time and feel that even the short trip was relaxing. I look forward to branching out on my next trip to enchanting Istanbul.
Winter Weekend in Istanbul
Related Reading
10 Turkish Phrases You'll Want To Know
Have you traveled to Istanbul, Turkey? How was you trip? Email us at [email protected] for information about sharing your experience and advice with the Pink Pangea community. We can't wait to hear from you.
Photo credit by Unsplash.