5 Lessons I Learned From Older And Wiser Travelers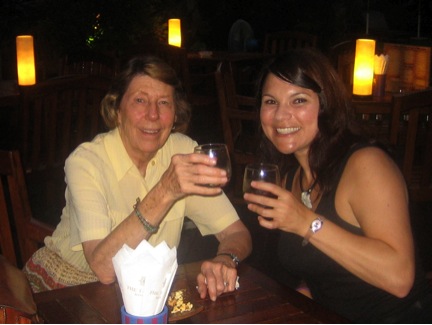 Throughout my 20s, I traveled with friends on adventures throughout Europe and the Caribbean. We hopped on and off trains, stayed in squalid hostels, and partied with the locals, hoping to find our dream men. I viewed travel as a vacation from my job, graduate school, and the stressors of real life. I abhorred tours and couldn't understand why anyone would want to be told what to do and where to go when they were on vacation. Also, "old people" traveled on tours.
In my 30s, I wanted to glean more from my travels than what Let's Go Europe and the local barflies had to offer. I decided to join a tour to China. The twenty-something inside of me was cringing, but along the way, I acquired a comprehensive education in Chinese culture from the local guides. I developed a tour addiction, not only for the inclusive aspect, but also because I met so many interesting people along the way. Instead of spending one evening socializing with a new acquaintance in a bar, I had at least a week or more to slowly become acquainted with my travel mates. Yes, most of these fellow travelers were at least old enough to be my parents, if not my grandparents, but they are now my cherished friends who gave me wonderful travel advice.
I developed a tour addiction, not only for the inclusive aspect, but also because I met so many interesting people along the way.
I've profiled just a few of my numerous travel mates. Every person you meet offers you some life lesson, some exclusive to travel and some not.
Lesson #1: You're never too old for an adventure.
I knew I'd made an impression on Edd when he sat down next to me during our inaugural happy hour of our Costa Rica 2008 tour. Edd was travelling solo at age 89, which fascinated me, and we shared aspects of our lives at home. I was most impressed with Edd's volunteering to ride a water buffalo and handling the zipline with a finesse far superior to my performance. Edd was complimentary and flattering the entire trip, the perfect gentleman. We still keep in contact through email and Facebook, and he was one of my greatest supporters when I recently decided to quit my job and travel extensively.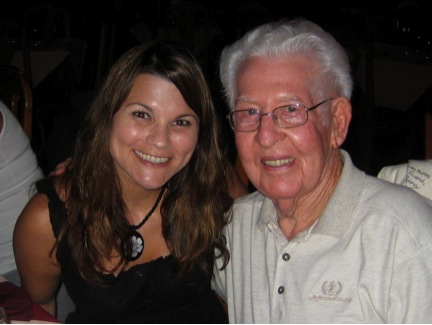 Lesson #2: Solo tour travel integrates the best of both worlds.
I'd encountered a limited number of solo travelers thus far, but Becky appeared on my 2009 tour to Egypt. A retired teacher, she and I had an immediate connection. It was mid-June, school had recently let out, and I was in summer mode. Though I knew I needed to stay alert for items to use in my Egypt teaching unit, I wanted to enjoy my vacation as well. It was Becky who asked if I could keep the papyrus used during the paper making demonstration, and she continued to point out photo opportunities with my students in mind. I think she missed being in the classroom. Not only did I gather some new teaching ideas from Becky, but her confidence and friendliness left an indelible mark. Becky influenced me to try the solo-tour combo on my recent Thailand trip.
Lesson #3: Be the one to ask what everyone else is thinking.
Upon first glance, I never would have guessed Nancy was 85 years old. She is a staunch environmentalist, an intellectual conversationalist, and shows a keen interest in everyone she meets. She entertained us by always wanting to have the most philosophical conversations in the most precarious situations. As we were strolling through the village of the Longneck tribe near Chiang Rai, Thailand, Nancy asked about the issue of procreation within the communal, non-insulated confines of the village. The Thai guide appeared flustered by the vocabulary. "You know…making babies!" she clarified while we all shared a laugh. Nancy and I maintain a regular correspondence.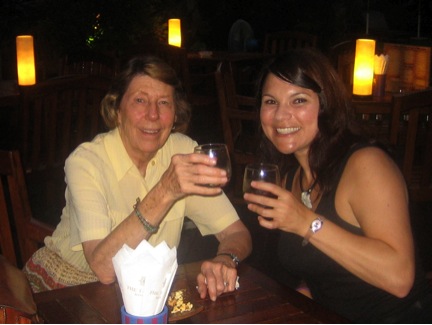 Lesson #4: It never hurts to infuse your travels with a bit of class.
Moni and Daphne, best friends and traveling partners, traveled on my 2013 Thailand tour. "You're in our group?" an astonished Moni asked as I sat down at the breakfast table at the Tawana Hotel in Bangkok. I glanced around the table and noticed that I was by far the youngest person seated. I was immediately impressed by Moni and Daphne's composure and sense of humor, in light of Thailand's debilitating humidity. In Siem Reap, Cambodia, we had a couple of hours to kill before dinner, so Moni suggested we drop in for a drink at Raffles Hotel. I'd heard of Raffles in Singapore, but wouldn't have dreamt of entering such a refined establishment on my own. It lived up to its reputation. These ladies have been such supporters of mine, constantly emailing to stay in contact.
Lesson #5: Treat new friends just as you would treat old friends.
Betsie and her husband happened to be sitting at the adjacent table as the catamaran rhythmically delivered us to the Great Barrier Reef in Australia. They seemed concerned that I was sitting alone, but unaware that I was merely enjoying my meditative state produced by the movement. I found it amusing that Betsie accompanied her husband on the day trip, in order to fulfill his lifelong dream of scuba diving. She wanted no part of diving or snorkeling, and was at the table to chat whenever I took a break. She exudes an immediate likability and is genuinely interested in others' lives. Maybe that's why she received over 100 birthday wishes on Facebook!
Each person is entitled to his or her own travel philosophy. Mine is an eclectic mix of viewing travel through perspectives that are both young and old, organized and spontaneous, experienced and dilettante, solo and accompanied. My "older and wiser" travel mates have profoundly influenced this philosophy. I wouldn't hesitate to travel with any of them again.