On Touring Through Florence at Night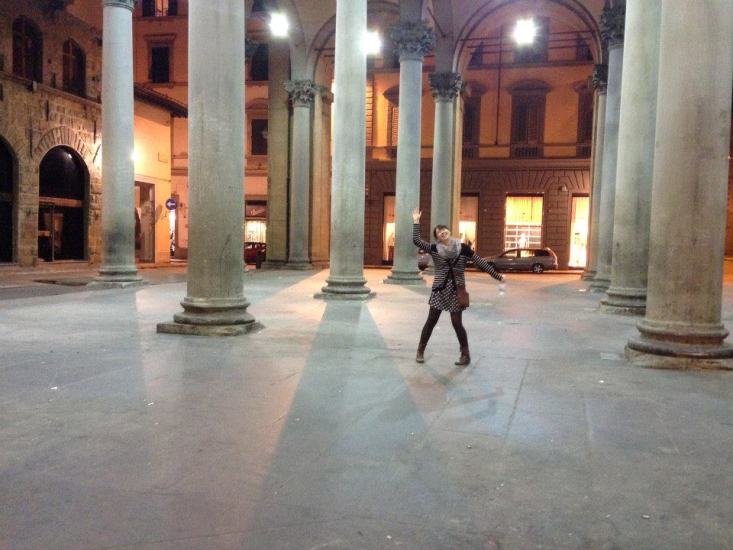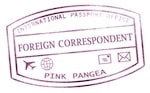 I've been living in Florence for about three and a half months now and have seen it several times (maybe a few too many–a girl has got to have fun) in complete darkness. I thought I'd done most of the things to do in Florence. But when my friend Trisha suggested that we take a night walk and see the city in a new lack of light, I couldn't help but agree. What I found was a new shade of a place that has been over-photographed and overrun with tourists, and a new appreciation for the city I have come to call my semi-permanent home.
My roommate Hannah and I awoke at the crack of three in the morning before taking a walk over to Trisha's apartment in Santo Spirito. It was a weeknight, but even then, people were out on the streets—either completely inebriated or completely sober. There did not seem to be an in between.
After we rang Trisha's doorbell and she grabbed her camera, we took to the cobblestone. Both Trisha and Hannah have an eye for photography, but I honestly could not tell you one end of the lens from the other. I mostly just enjoyed the walk and the different shadows and shades. Never before had Florence been so quiet to us. Streets that were usually filled with color and languages and life were now emptied and covered in silence. I had expected it to be more eerie, but was surprised to feel perfectly safe.
On Touring Through Florence at Night.
After passing Santo Spirito, we wandered over to the bridge of Santa Trinita, my favorite bridge in the city. Not only is it a bit of an architectural marvel (it's the first elliptic arch bridge in the world), but it's also one of the most perfect places to see the Ponte Vecchio, Florence's most famous bridge. Trisha and Hannah both captured some beautiful shots of its reflection on the water. The Arno glowed luminescent with the image of the bridge above it. We took our time crossing, feasting on the sight with our eyes and appreciating the view.
Continuing on, we made our way to the old leather market, which had been emptied completely. The statue of the boar, or Fontana del Porcellino, sat there alone. We went over and rubbed its nose—the Florentine way of ensuring that you will have good luck in your future. With the usual stalls packed away, the leather market was like some giant stage that Hannah and I took to, skipping and jumping and dancing.
Few people passed by, but all who did looked at us perplexed and confused. Trisha snapped photos, catching us in our silliness. We might have been just a little tired at this point, but as the light from the rising sun began to color the once-black sky, we found our energy renewed and took the opportunity to arrive at Piazza del Duomo.
The piazza had been filled with people only days before on Easter for the Scoppio del Carro, or the "explosion of the cart." (Florentines put on a firework display on the cart to celebrate a fruitful upcoming harvest). To see it so quiet and emptied was strange—the more people in the square, it seemed, the bigger it was. I took a moment to reflect on Ghiberti's doors on the front of the baptistery.
Blues and pale pastels I had never noticed before emerged, giving the structure an entirely different feel.
During the day, this hallmark of Renaissance art would have been blocked by the massive amounts of tourists crowding to take a picture or get as close as they possibly could. I had my own personal view where I could see the care the great artist had put into each scene. The Duomo itself appeared differently in the infant light, as well. Blues and pale pastels I had never noticed before emerged, giving the structure an entirely different feel.
Next stop was the San Lorenzo market, which did in fact, look eerily like it could have been the set for a black and white horror movie set in Florence. The carts had been emptied of their wares, and the coverings gently waved in the breeze. After a few moments of strolling through them, merchants began to arrive, beginning the day by opening up the carts or hauling them to another location within the marketplace just as they have done for hundreds of years.
The sky now cerulean, we decided on one last stop—the church of Santa Croce, near where Hannah and I began our morning back at our apartment. The residents of the area were now starting their days–we could see lights on in the windows. An adorable elderly woman wished us a "Buongiorno!" with a smile before toddling off with her fresh pastries, the smell of which lingered long after she was gone. After admiring the square and suddenly realizing how tired we were, we went in search of some coffee.
Three cappuccini later, the three of us marked our night walk as a success. Night walks have become one of our favorite things to do in Florence. Both Trisha and Hannah had captured some beautiful moments on film (all photo credits go to them), and I had experienced a Florence that few really have the privilege to see. It goes to show that adventures are more than possible within your own city–you just have to have the right lighting.