An Unexpected Paris Photo Shoot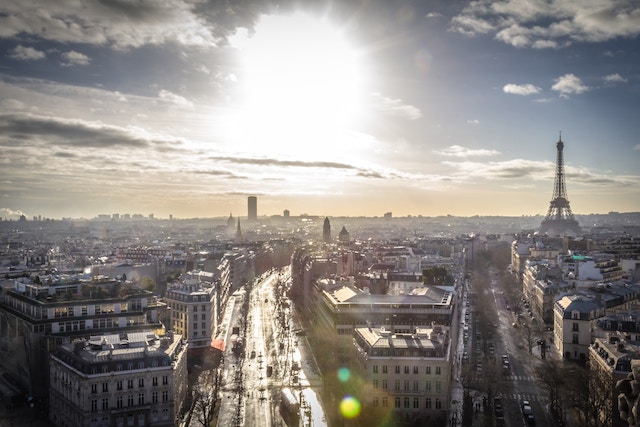 In 2011, during my sophomore year of college, I realized I wanted to spend a year abroad. Unfortunately, time was not on my side (or so I thought at the time) so I settled for a summer program to study Italian in Florence.
That same summer, my cousin was set to study in Paris, so I decided to head to Europe for a month before my classes started in order to explore and score some free accommodation at my cousin's dorm.
A week before leaving, I went to see my prosthetist. It was really hot and my leg was not looking great. I needed a new cover if I wanted to rock shorts and mini shirts. Apparently, a prothetic cover-up takes two weeks and since I was pressed for time (mostly procrastinating), I was faced with the choice of wearing tights and long pants to cover a not so great looking prosthetic leg. Otherwise, I'd have to take out the old cover, exposing the metal leg. I had already bought short dresses so I didn't have much of a choice.
I was faced with the choice of wearing tights and long pants to cover a not so great looking prosthetic leg.
I knew it was going to be a tough summer with all the stares, comments and ridiculous questions. But mostly, I was afraid that no one would even approach me. As I predicted, I had a hard time adjusting to my new look and wouldn't go out without a friend or two to avoid unsolicited remarks.
One day as I was getting off the metro near Cité Universitaire, a guy approached me. His name was Frédéric Bussière. He told me that he was a photographer and that if I didn't mind, he would love to photograph me. I took his card and promised to get in touch with him. I was set to leave France for Italy in a couple of days so we made plans to meet the next day.
An Unexpected Paris Photo Shoot
An Unexpected Paris Photo Shoot
First, we went to a museum for a exhibition on fashion and fast cars and then we had coffee. Then we went to Jardin de Luxembourg for him to photograph me. As I was being photographed, a guard approached us only to inform us that taking pictures for professional purposes was not allowed, so we pretended we were a couple. The guard was amazed by my leg and proceeded to tell us stories of an amazing South African Runner who has two prosthetic legs (Oscar Pistorius, a Paralympian who later became my role model until he killed his girlfriend in 2013).
Frédéric and I remained friends and three years later, I met up with him and his girlfriend at a small Brazilian restaurant in New York City for a drink. We vouched not to wait more than three years for our next drink, Wherever he is now, I have a feeling I'll see him soon.
Cheers to making friends abroad.
An Unexpected Paris Photo Shoot