3 Myanmar Destinations You'll Want to Visit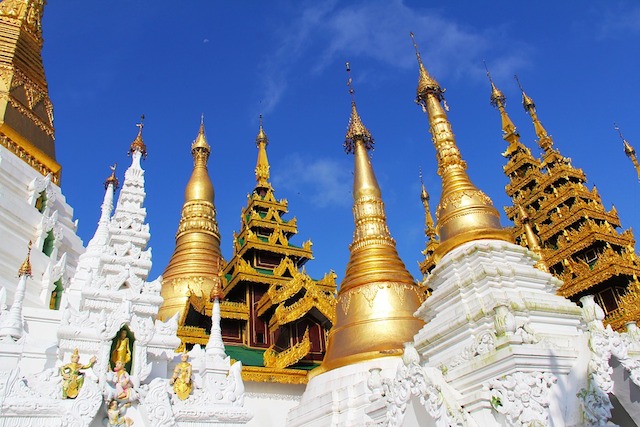 "This! You need. Military use!" The pharmacist slammed down a large, dusty orange bottle filled with large white pills on the counter.
"The whole thing?" I asked, eyeing the bottle warily.
"No, just one, whole week!" For an entire week of tramping through malaria-riddled regions in Myanmar, I only needed a single pill? This didn't seem right, but I didn't really have a choice. I dutifully paid the 40 cents for the pill. After reaching, ungloved into the bottle, the pharmacist pulled one out and handed it me.
Welcome to Myanmar, a gorgeous country that is slowly becoming more common on the traveling circuit.
Later, on the bus to Bagan, my headphones failed to drown out the sound of the screechy, inexplicable Burmese music videos playing on loop, and I considered the risks of malaria versus the risks of the unknown malaria pill. We had strong bug repellent, and I knew what malaria could do to me, whereas this pill was the equivalent of Russian roulette. Literally anything could be in it. I decided to risk the malaria.
This scenario was typical of what repeatedly played out through Myanmar: that despite all of our planning and precautions, we ended up rolling the dice and taking our chances. Welcome to Myanmar, a gorgeous country that is slowly becoming more common on the traveling circuit. The people are a joy, very kind and helpful, and furthermore, the elder generation of Burmese people, who grew up before Burma's independence from Britain, speak fluent English. So when you get lost (and you inevitably will), you can reach out to the locals for help.
During my time there, I visited Yangon, the capital, the Bagan temples and Inle Lake. We decided to skip the beaches, because beaches are everywhere in Southeast Asia, whereas Bagan and Inle Lake are places wholly unique to Myanmar.
Here's what to know about these incredible destinations:
3 Myanmar Destinations You'll Want to Visit
Yangon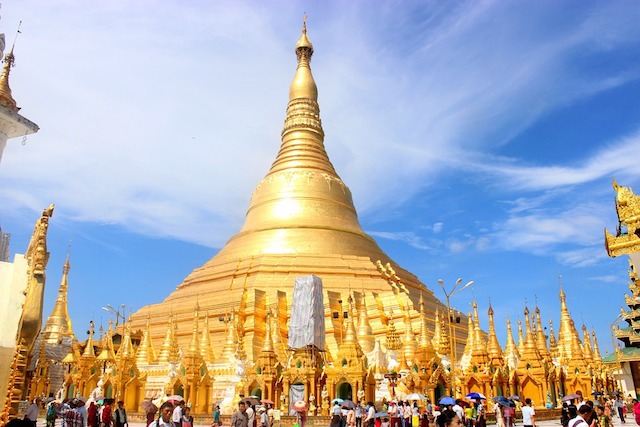 Yangon, also known as Rangoon, is a lush mix of British and Burmese influences. Yangon is fascinating, as it seems to exist in a time warp, with a hybrid of faded 1940s European glamour and hints of Burmese culture that is untouched by the rest of the world.
Hindu temples stand next to Muslim temples, safely ensconced behind British wrought-iron fences. Victorian mansions line the wide, leafy boulevards that lead to the Shwe temple. Downtown Yangon is made up of wooden British townhouses. Due to the humid atmosphere and the passage of time, the buildings' wooden structures have warped and are overgrown with a poison-green moss. The city is magical and beautiful, and in its decrepitude, it has acquired a melancholic, historical allure.
Rent a bike, and bicycle around the city. It is still tiny enough that one can get through most of the city in six hours, and it is worth it to see the juxtaposition of the influences, and to get an idea of the lifestyles in Myanmar.
Shwe Temple is also spectacular. It lies on top of a hill in the middle of the city, and is made up completely of white marble and gold. The atmosphere is that of a city park, and because it is the coolest place in the entire city, locals congregate there to hang out, nap and pay respect to their ancestors. Reserve at least three hours to walk around it. Bring sunglasses and an umbrella or you will be blinded. It is in the center of town, so it is a 10 to 15 minute walk from all parts of the city.
To go back in time to the 1940s, visit The Strand Hotel for a drink at its legendary bar. The hotel is a beautifully maintained piece of history; one almost expects Graham Greene or George Orwell to walk through the door. It is interesting because while The Strand is beautifully kept, there have been no renovations, meaning that the hotel looks exactly as it did during its heyday.
My suggestion is to eat your way through Myanmar. The flavors found in Myanmar are wholly unique, and worth discovering. The Burmese palate alternates between very sweet and very spicy. The traditional Burmese food is a unique hybrid of Thai and Indian flavors, and the Shan cuisine, originating from the Shan minority, is less spicy and focuses more on fresh flavors. For safety and sanitary reasons, I stayed away from meat, but luckily vegetarian dishes are plentiful. I highly recommend the Burmese hot and sour soup, as well as the Burmese potato salad.
Bagan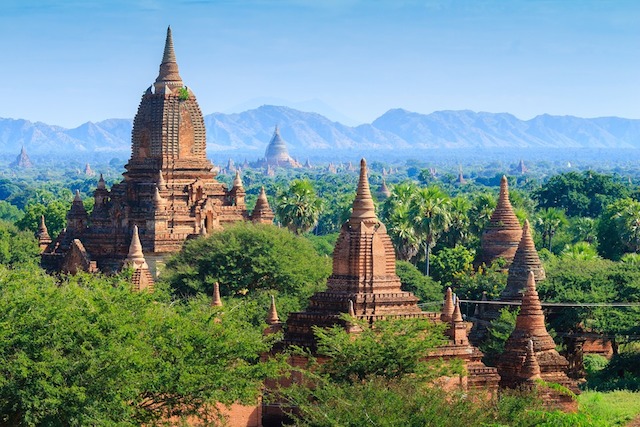 To fully experience Bagan temples, one must get up at 4 AM and travel to the temples for the sunrise. Sunset is also a great time to see the temples, but I would recommend arriving about an hour before sunrise, if possible.
Around 4:30 in the morning, visitors will hear a low hum that is the sound of the monks' early morning mediation in the distance. As the sun rises, it slowly illuminates the acres and acres of brick temples of all sizes and shapes. For $350 USD, visitors can take a hot air balloon over the Bagan temples–but only during the hot-air balloon season (October to June).
As for seeing the rest of Bagan, one day would suffice. Renting bicycles and biking around is the easiest way to travel, as most of the transportation in Bagan is bicycle or horse-based. We went to a puppet dinner show; it was as strange as it sounds, but provides interesting insight into the Burmese culture.
Inle Lake

When one envisions Heaven (or at least my version of Heaven), there are white clouds, bright colors, lush greenery, serenity–and it's insanely difficult to get to. Strangely enough, Inle Lake met all of those criteria for me. Very stressful and terrifying to get to? Check. Meringue-like, pearlescent clouds? Check. Vivid greens and bright blue water so clear that it reflects the clouds? Check. I found my personal version of heaven at Inle Lake.
The natural technicolor landscape is enhanced by incredible lighting created by the billowy clouds that filter the sunlight into a luminous glow. It is peaceful with few people present, and beside the occasional car, there is not much traffic.
When I was there, we rented bikes from the Teakwood Guesthouse and biked around Inle Lake for the entirety of our trip. We also hired a boat cab (about 5 USD per hour if you go down to the pier and bargain), to take us around the lake. The Teakwood Guesthouse is a cute, clean guesthouse, although the management can be pushy about booking activities. Avoid this; if you do it on your own, it will be cheaper for you, and the locals will end up making more money than if you paid for it through the hotel.
3 Myanmar Destinations You'll Want to Visit
It is absolutely worth bicycling out to Inle Lake View Resort for dinner and drinks on their outside balcony. The food is average, but the view is spectacular.
The only bad thing about Inle Lake is getting there; then again, if it were easy to get to, it would most likely be ruined by tourism already. From Bagan, it was a shaky hour-long flight on a 1940s-era double propeller airplane. I'm a nervous flier normally, but after seeing the airline's disconcerting motto of "You're Safe with Us" emblazoned on the side of the Yangon Airway plane, I was skittish, to say the least.
For our trip back to Yangon, we decided to take a bus ride. It turned out to be a 10-hour bus ride, and the first five hours included descending a narrow, dangerous road at breakneck speeds. Every sharp turn (and there were at least two a minute) placed us inches from plunging to our doom.
Photos by Pixabay.