Searching for a Place to Call Home in Jerusalem: Part II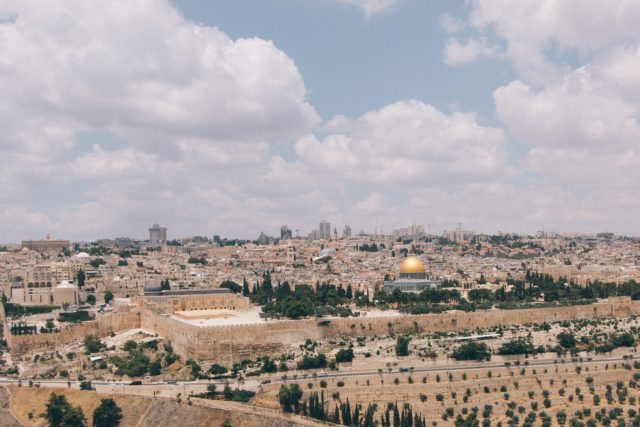 When last we met, I had signed a contract for my own little apartment in Jerusalem. Everything seemed perfect. I am now writing from my balcony, on a 25 shekel (about $8 USD) Ikea stool.
The sound of trees rustling in the wind and someone's dog barking in the distance remind me of home. Inside, all of my windows are open to let in the breeze, and I've got a fan blowing on high. There's an air mattress, a miniature table, and a pile of blankets and pillows bundled into a makeshift couch. It's not much, but I'm happy.
Getting to this point has been an awful balagan (Hebrew for mess, shambles, confusion. In short: a disaster). A few days after signing the contract, I went to the apartment to see if the renovations had been finished. They had not. There were no doors and no handles on the kitchen cabinets, and there was garbage all over the bedroom. It was only twelve days from my move-in date, so I wasn't terribly concerned.
About five days before my move-in date, there was a bedroom door that had been hastily installed. It didn't close. I was beginning to get nervous. Endless phone calls and texts to a very patient Realtor yielded very little results. There were a number of people involved in the renovations, and getting in touch with them was not easy. When they finally would answer my calls, communicating with them was next to impossible.
One night, I swung by the apartment to show some friends my new home, and all we found was a giant cockroach. It was a few days before the move and nothing had changed. The next morning, I waited for hours for the worker to show up. We had scheduled a 9 a.m. appointment, but he never arrived. I did, however, meet the building manager. He promised me that if the apartment is not ready by Sunday, he would do the fixing himself. I left the apartment reassured, but uncertain that anything will be done.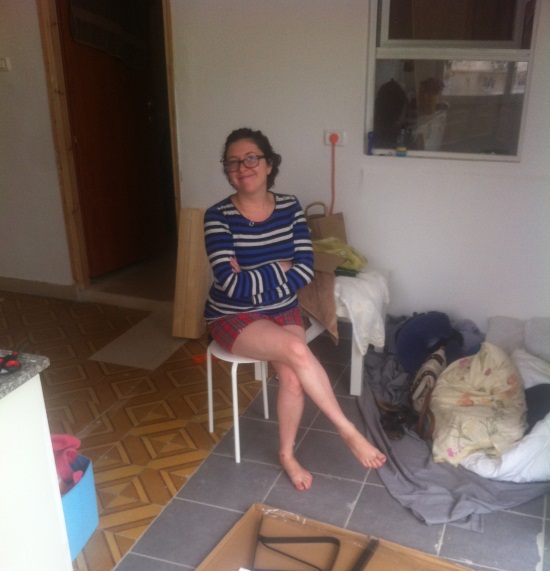 Sunday arrived. I got to the apartment in the mid-afternoon, and there were men working. The bathroom door had been installed, the bedroom door now closed, and the kitchen cabinets all had handles! "Tomorrow, it will be ready," they assured me. The paint from the door frame had to dry. I left the apartment satisfied, and mentally prepared myself to begin moving the next day.
I arrived the following day with a suitcase. The apartment was covered in a thick layer of dirt and dust, but it would do. I swept, and spent the rest of the afternoon taking trains and buses from my old apartment to my new one. I trekked all over town to every store I could find, pricing hot plates and fans. One store owner followed me out of his store shouting out numbers. "200! No? 180! 150! Come baaaaaack!" I decided I would go there later.
I love finding opportunities to bargain. When I returned, the store owner remembered me. I talked a stainless steel double hot plate down nearly 75 shekels, and victoriously carried my purchase down the street back to my new little home, when I realized how hungry I was. With no food, and no fridge I decided to head to Mahane Yehuda, the shuk.
I wiggled my way through the crowds, ducking through a collision of strollers and food carts. Vendors shouted their offerings, their voices competing in a beautiful cacophony of sound. The smell of fresh cooked bread wafted through the alleyways, mingling with exotic spices and vegetables that had been unearthed that morning. I stopped in the midst of it all-stunned. "I live here," I thought as the world spun around me.
Overwhelmed by the certain magic that comes with the flooring realization that I live in Jerusalem, I am grateful for my new home. I am grateful for my little apartment, which allows me to stroll into the city and meet up with friends on a whim. To suddenly find myself in the midst of the markets, surrounded by the messy excitement. My prior apartment in the student village required advanced planning as well as trains and/or buses to get into the city. It was a schlep and I'd always have to dash just before midnight, in true Cinderella style, in order to catch the last bus or train to get home.
After coming to, I ordered dinner and ate in silence, watching the passersby. As I packed up my leftovers, my friends walked down the alley and we embarked on a mission to find a shower curtain. Thirty minutes later, shower curtain in hand, we made our way to my apartment. They offered to help me set up my air mattress, but once the box has been unpacked we quickly discovered that the nozzle to attach the hose to the pump was missing.
An evening of hilarity ensued, as we made several attempts to blow up the mattress. Finally, we wrapped a bag around the hose where it attached to the pump. This move held the hose in place nicely, and we quickly pumped the mattress by foot. Next came the shower curtain. We screwed it into place with the small key to my mailbox. MacGyver would have been proud.
The next day, I headed to Ikea. After purchasing the cheapest bed frame, a shelving unit to substitute for a dresser, a clothing rack, a small table, a bathmat, a stool and two cushions, I was too overwhelmed to even consider a bathroom cabinet. Right then, my toiletries were thrown into a fabric box, and my towels were draped over windows and doors.
Furnishing an apartment is not an easy task. However, with the amount of inexpensive offerings on Craigslist and other sites, it's easy to find the basics. There's a dumpster chair on my balcony. I found it yesterday, and brought it back to the apartment to clean.
I spent my evening scrubbing floors with a sponge and bucket of soap water, ate dinner off my cushions, strolled into town around 11 for a drink (which would have been impossible at my old place), strolled home at around 1 a.m., crawled onto my air mattress and fell asleep. It felt good to be home.