On Traveling in Morocco–and Getting Lost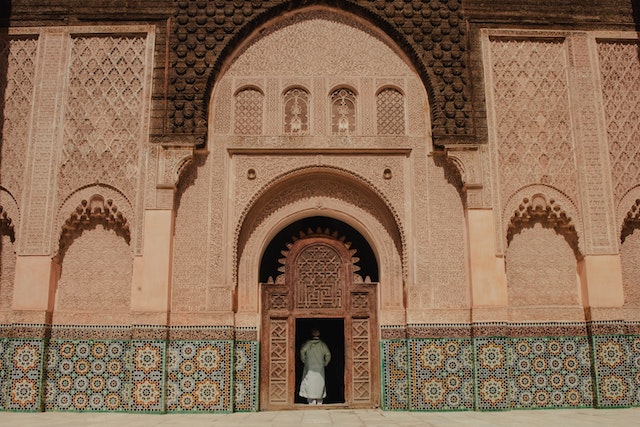 Myself and two of my best female friends decided to venture into Morocco by ourselves. It was ill-advised as females, but we felt practiced as travelers.
Let me explain how we ended up in Casablanca. It all started with this one ship called the MV Explorer, our home for the next four months. For sure, I have never been known to make the obvious choice. This deep-rooted pattern became even more obvious when I chose to enroll in Semester at Sea, a study abroad program, which brought me to eleven countries instead of just one.
Semester at Sea is for undergraduates and individuals who want to continue to learn more about the world. We began our voyage in San Diego, and continued onto Hawaii, Japan, China, Vietnam, Singapore, Myanmar, India, Mauritius, South Africa, Ghana, and Morocco, and then ended our journey in Spain. My friends and I took at least one trip in each destination without the "protection" of males. It's all about the street smarts, ladies, but I digress.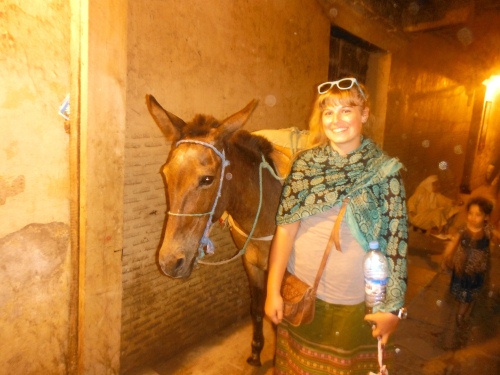 Getting lost can be a positive experience. It can be a fun way to learn more about a country.
Let's get back to the story of Morocco. As shown by this screen shot below, it's common to find "Traveling Morocco as a female" as a surge result. In Morocco, we knew we had to have our wits about us, which we were used to by this point due to previous three months of our trip.
One of our goals in Morocco was to get lost in the Medina, a massive marketplace filled with trinkets and food. Getting lost can be a positive experience. It can be a fun way to learn more about a country. With this, I do give warning: Continue to be aware of your surroundings.
When we arrived at our riad (our accommodation for the weekend) in Fes, we were instantly taken in by Noor, the owner. He brought us to a number of top tourist destinations and some local hot spots. However, he would not let us explore alone. Eventually we mustered up the courage to ask him why he insisted on accompanying us on all of our adventures while in Fes. He explained that some Moroccan men thought of Western women as being easy.
Traveling in Morocco–and Getting Lost.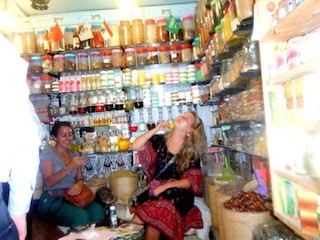 Once we convinced Noor we would be safe on our own, we got the chance to really explore the medina. We could stop where we wanted to and not feel pressured by a local who focused on point A to B. Sometimes you just have to be a tourist and getting lost in the medina was one of those things we were not ready to leave Morocco without doing. Winding through the streets of the medina, we bought camel leather shoes and purses and Moroccan spices and herbs. We explored an old school. I bought a fanny pack, ate couscous and pastries, and got lost.
During the daytime, we felt confident in our ability to avoid danger, but night time was a different story.
We spent the entire day in the medina and took advantage of every moment. We were in bliss…until we wanted to go home. There were signs, but they were not at all informative. We had a map but we seemed to keep making the wrong turns. We finally found our way out of the medina and thought we found our blue gate; but apparently, there is more than one blue gate. We had not found the blue gate that we had entered from our side of the medina, but one that was on the opposite side of where we needed to be.
It would have been very easy for us to panic, give up or let our guards down. but in times like these you need to keep aware of your surroundings. We decided it would be best to take a taxi back to avoid the confusion and because the sun was beginning to set. During the daytime, we felt confident in our ability to avoid danger, but nighttime was a different story.
After much confusion, with the taxi driver taking us in the wrong direction due to our language barrier and trying to increase the kilometers on the meter, we made it back to an area that looked familiar. Unfortunately, taxi drivers were not allowed inside the medina walls. We took to foot with the hope that we would find our riad.
Traveling in Morocco–and Getting Lost
Eventually, we knew exactly where we were, but had unintentionally collected three local male teens on our walk back home. To be honest, we were afraid of these teenagers. We knew giving them any attention at all, negative or positive, would encourage them to pursue us further. We quickened our walk and ignored their inappropriate catcalls. It was a pretty stressful battle, but eventually they left us alone and we finally made it back to our riad. Sitting on the rooftop patio, watching the sun fully set, hearing the mosque bells ring, and knowing we were safe was a miraculous feeling.
No matter where you are traveling, even in your hometown, you should always be aware of your surroundings. By doing so, you will be more prepared in case you encounter any sticky situations. This should be especially true on transportation and in markets. First, I would advise trying to blend in. It could be the most important thing you do to avoid a bad situation. Second, ignore any unwanted attention.
For those of you planning to travel to Morocco, keep in mind these pieces of advice:
1. Always be aware of your surroundings and try to blend in them.
2. Don't be afraid to try new things, get lost, or ask for help.
3. Having a male present isn't always necessary for your safety.
4. Have a paper map and a written address or directions to your accommodations.
Stay safe, my friends.
Traveling in Morocco–and Getting Lost
Related Reading
Two Extremes: Discovering the Paradox of Femininity in Morocco
Have you traveled to Morocco? How was your trip? Email us at [email protected] for information about sharing your experience and advice with the Pink Pangea community. We can't wait to hear from you,
Traveling in Morocco–and Getting Lost top photo credit: Unsplash.