How an Internship in Prague Helps Me Enjoy the City Even More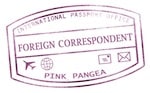 Thanks to the Academic Center at my host college here in the Czech Republic – Anglo-American University – I was able to schedule an interview with Prague Leaders Magazine months before I even landed here. Knowing that I'm the kind of person who likes to keep busy, I figured that participating in an internship in Prague would be a valuable way to spend my free time.
Before heading to my interview during the second week of classes, I made sure to do my research. Leaders Magazine is a magazine published both in print and online in English, with a focus on politics and business in Eastern Europe. Most readers are from "high society," such as government officials and high ranking managers that work in business, health and education. The founder and publisher is Swedish citizen Mr. Benke Aikell, who rarely contributes to the content of the magazine nowadays, but has worked hard to ensure the website receives its half a million page views per month, 65 thousand unique visitors and 35 thousand readers each month.
Since I have a background in both journalism and politics, I felt comfortable preparing for the interview. I was able to exchange emails with the office manager to plan for a time to meet and confirm the address, and then I was on my way. After approaching the office building and confidently buzzing the corresponding button, I was greeted by the office manager and escorted into a larger office. I discussed by strengths and what I thought I'd be able to contribute to the magazine, and was offered the position on the spot.
Knowing that I'm the kind of person who likes to keep busy, I figured that participating in an internship abroad would be a valuable way to spend my free time.
My first responsibility was to find my niche in the magazine. After flipping through the latest glossy issue placed before me, I noticed that the most interesting articles I read were from the Culture section. Since I'm new to Prague and am constantly learning more and more about the culture every day, I figured it'd be a great place to start.
After some research, I stumbled across a unique and new event offered in the city: MindMaze. This interactive game allows groups of 5 to be locked inside of a room with nothing but their wits to guide them out. I pitched the idea back to Leaders, was given the green light, and sent on my way to try MindMaze with a group of friends.
After enjoying our time at MindMaze with the actual game and taking photos/asking questions to the staff for the piece, I was able to set up a quick rough draft and send it back to Leaders. They offered to add some edits of their own and publish the article online in their next issue.
Just like that, I managed to complete my duty as an intern for Prague Leaders Magazine! I'm looking forward to contributing a few more articles during my stay here, mostly related to my travels to different countries while I'm abroad. I'm especially grateful that I was given this opportunity, as it is only further enhancing my experience in the Czech Republic as a student. I encourage any future study abroad students to actively search for an internship to participate in themselves.