Skiing in the Alps: 10 Things Women Shouldn't Leave Home Without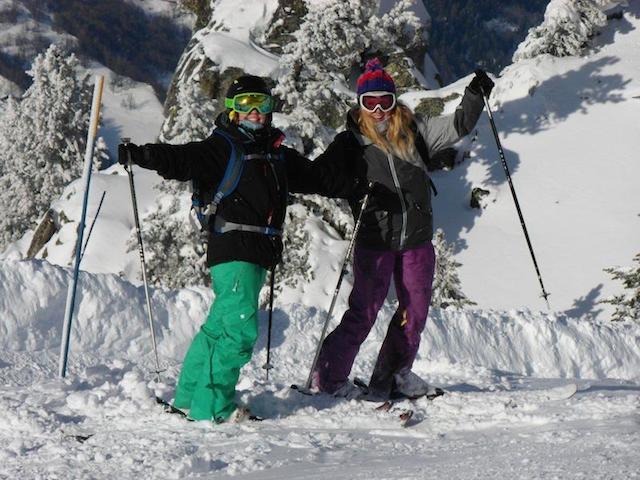 The Alps… Spectacular scenery, fresh air, ski pistes and hiking trails – it's any outdoor enthusiasts dream.
Skiing beneath the dramatic North Face of the Eiger is an image that will forever be captured in my memory – the sheer cliff, the high wall protruding upwards where only snow and ice can safely cling to its surfaces. The Eiger towers above all others in the Jungfrau region – and it's absolutely breathtaking.
I've only ever been to the Alps during the winter months, both the French and the Swiss. The mountains stay snowcapped throughout the year, which always makes for incredible photos. But from November to April the small villages and towns are transformed into winter wonderlands, encased in snow, thriving with activity and showcasing their best and most expensive ski gear.
I look forward to those few weeks every year when I can head back out to these wonderlands – to experience the refreshing mountain air, to hear the echo of the cowbells in the valley, and most importantly, to look forward to some fast and furious skiing on some of Europe's best ski slopes.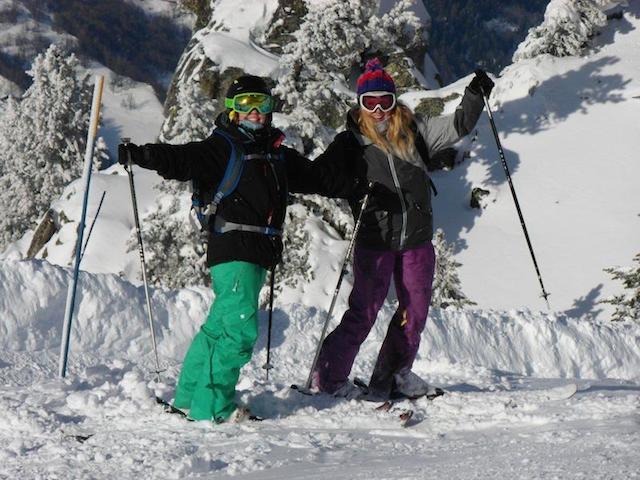 Here's 10 things you might not want to forget when travelling to the Alps. I have geared this mainly towards skiing, however it can also be adapted to hiking – two of the most popular activities that holidaymakers participate in when they head there.
Skiing in the Alps: 10 Things Women Shouldn't Leave Home Without
1. Sunscreen
Here's something you may never expect to need during winter – but it's an absolute necessity. A few years ago I forgot to put sunscreen on my chin, and because of the reflection of the sun on the snow, I came away with horrible sunburn that transformed into massive green blisters. To say it was unpleasant is a complete understatement. Don't make the same mistake I did. Apply generously every few hours.
2. Chapstick (at least SPF 15)
Chapped lips are a great big 'no-no' during the winter months. The cold air makes your skin dry, and especially affects this delicate area. While it's definitely good to apply lip salve often, it's vital to make sure your lips are protected against the sun – since burnt and dry lips are even worse.
3. Camera
The Alps is an area of outstanding natural beauty. Wherever you turn your eyes will be graced with phenomenal views of valleys, villages, forests and endless snowcapped peaks. The photo opportunities are never-ending–you'll come back with a full SD card and still regret not taking more. Whilst skiing I still managed to carry around my DSLR camera on some days when I knew the sky would be clear azure. Sometimes it's a faff, but it's always totally worth it.
4. CamelBak
Whether you're hiking or skiing, it's always a good idea to keep hydrated. Especially when cold it's an annoyance to stop, take off your gloves, undo your backpack, get out your bottle, unscrew the cap and then repeat this in reverse. Just imagine being able to drink on the move. It's so easy to simply grab the hose attached to the strap on your backpack – you can do this whilst skiing, when waiting around for the beginners, and also easily on the chair lift. Sometimes I wouldn't bother to drink much throughout the day, but dehydration doesn't do your skiing, or your health any good.
Now I have a water bladder–I'm always hydrated and always ready to out-run the competition. Make sure the hose is either covered by a thermal sleeve, or is able to zip up into the strap on your backpack (the Dakine Heli-Pack 11L is really good for this)–the water may become frozen otherwise!
5. Hand warmers
Even when your hands are encased in gloves throughout the day, sometimes the cold does become too much for the extremities. I always carry a couple of reusable hand warmers in my rucksack. A quick bend and click, put it in your pocket or glove, and there you have it – instantly toasty fingers.
6. Snacks
It's a misconception that skiers glide gently down the pistes, swanning around and drinking gluhwein all day. While this is sometimes true (for the Mums amongst us), skiing actually requires lots of energy.
The strenuous activity on your knees and hips, the long poling sessions on your arms when you have to hike back up a small incline – your body constantly needs extra help. I always have a couple of chocolate or cereal bars and also sometimes some energy tablets (like Lucozade or similar) in my rucksack. The sugar boost is often vital and gives you that extra oomph to keep you going for longer.
7. Moisturiser / Hand cream
Despite all the sunscreen and lip salve you've managed to apply to your face and lips – it's no doubt that you will get some burn, and even the dreaded goggle tan. Moisturiser is therefore a must – the skin on your face has been affected by the cold elements all day, and deserves a cool cleanse after a hot shower at the end of the day. Your hands will also suffer, despite being encased in gloves, they will become chapped and flaky – constantly treat them with hand cream throughout the day.
Skiing in the Alps: 10 Things Women Shouldn't Leave Home Without
8. Helmet
Whilst this one isn't everyone's cup of tea, skiing can be a dangerous business – crashes between two skiers do happen, and when they do you need to be fully protected. Everyone wears helmets nowadays, and paired with some snazzy oversized reflective goggles – you'll really look the part on the piste.
9. Warm clothing
Although this one is somewhat obvious, these are the most important items that you need to pack in your skiing suitcase. Don't forget the thermals, your trendy ski jacket and brightly coloured ski pants, along with a pair of mittens – I find these the warmest – and a neck warmer that can cover your whole head if needs be. Even if you forget everything else, including a warm change of clothes for the evenings, don't forget these. Otherwise you won't be hitting the slopes after all.
And last but not least…
10. A swimsuit
After your long and strenuous day on the slopes – your thighs are aching, your arms feel like they've fallen off, your feet feel dead from spending all day in your ski boots. Just imagine returning home and plopping straight into the hot tub. Most chalets and hotels have a hot tub and sauna – it's a great time to rest the aching muscles and to discuss the day's activities with your newly made friends. It's complete and utter bliss.
Skiing in the Alps: 10 Things Women Shouldn't Leave Home Without
Related Reading
Daring to Fly in the Swiss Alps
Have you  traveled to the Swiss Alps? Email us at [email protected] to share your experience and advice with the Pink Pangea community. We can't wait to hear from you.
Skiing in the Alps: 10 Things Women Shouldn't Leave Home Without photo credit: Jo Brown.