A Perfect Day at Lake Bled, Slovenia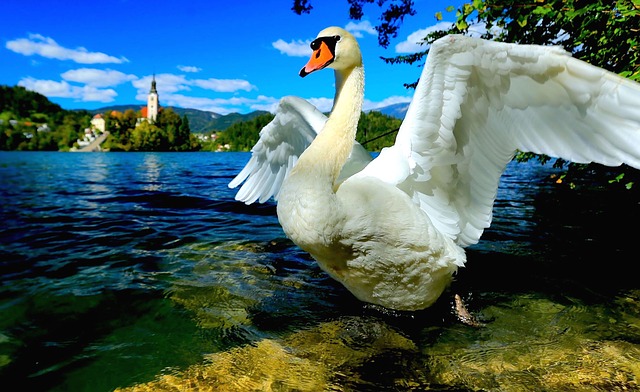 Slovenia is a tiny country, and one that could easily be overlooked when planning your travels. However, it shouldn't be. With only two million citizens and borders with Italy, Croatia, Austria and Hungary, it is incredibly diverse for a tiny country, both in culture and landscape, and has fast become one of my favorite places.
Lake Bled is one of Slovenia's travel jewels: a shimmering pool surrounded by trees and mountains, and just a short distance from the capital city, Ljubljana. It absolutely must be on your Slovenian itinerary. When you visit, you'll wonder why you didn't sooner. Here's what I think the perfect day at Lake Bled looks like.
Morning–arrival
Arrive at Ljubljana bus station, and take the bus as early as possible – at eight if you can. It only takes an hour, but you'll want to spend as much time at Bled as possible. An ideal time to go is on a Monday morning in April. It'll likely be sunny, and not only will you miss the droves of summer tourists, but also the weekend crowds of locals, who tend to leave the cities en masse every Friday evening. Relax.
Morning
Step off the bus straight into a real-life Disney cartoon: a technicolored paradise where blues look bluer, greens look greener, and a tiny red-topped castle peers at you from atop the nearby cliffs. You almost expect the swans and squirrels to start singing around you.
The lake lies just ahead, shimmering in the sun (or, potentially, lying regally beneath the fog–still beautiful!), and the breeze ruffles your hair. Amble down the slope, and stop at one of the cafés. Order a coffee and a slice of Bled cake. It might look too much when it arrives at your table: a tower of cream, pastry and thick custard and a dusting of icing sugar. Trust me, it won't be. Finish every forkful. Ignore the ducks milling about at your feet, hoping for a crumb. It's too good to share. Potentially even order another slice at the end of the day.
Head up to the castle. Be careful not to stumble on the stony path, and watch your step when admiring the view. Marvel at the sounds of the trees, the birds, the breeze. Explore the castle complex, and potter around the display rooms. Make sure to visit the wine cellar, tucked away underground, and try some free samples. Sit outside and admire the surroundings: the lake, the island, the Alps, the blanket of green trees, all laid out in front of you. Take photos – lots of photos – but take some time to be in the moment, too. When will you be here again?
Afternoon
Hike around the lake. It doesn't take long, an hour and a half at most. Stop and sit as many times as you like. Take more photos. Wonder if you have stepped into a postcard. Try and count how many shades of blue you can see in the lake. Try and put your feet in the water; wince at how cold it is (April is not the time for swimming. Wait until June). Look out at the Alps, sitting innocuously in the distance, dusted with snow. Smile at no one and nothing in particular. Feel ridiculously, insanely happy.
Rent a row boat out to the island, and visit the church. Struggle with the oars, but then eventually figure it out. Watch the oars slide through the water like butter. Wonder if the water has always been so clear, like glass. Avoid swans. Step inside the church, and feel centuries of prayers before you. Ring the wishing bell. Feel gratitude.
Evening
End your day with a large meal, well-earned after a day's exercise. Wash it all down with sparkling rosé. Sit and gaze out at the lake. You have time to read or write or look at your photos later. Wish that you had chosen to spend another day here. If you can, do.
Climb back onto the bus. Take one last look. Breathe it all in. Plan when you can come back.