Tour du Mont Blanc: In Conversation with Julie Rains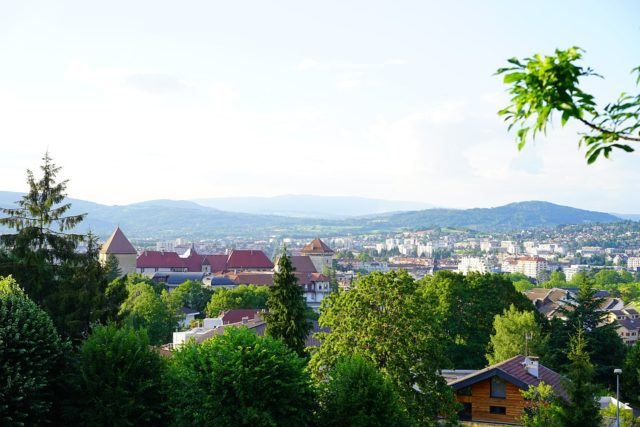 This month we're interviewing women from all over the world and asking them about their experiences traveling to France. We had the privilege of speaking with Julie Rains about her experience hiking through the Tour du Mont Blanc. Here's a glimpse into our conversation.
Tell us about yourself! What do you do when you're not traveling the world? Where do you live? What made you decide to go to your most recent destination?
I am a freelance writer in North Carolina, married with two college-aged sons. I write for online outlets, maintain my own blog (Investing to Thrive), and write ebooks (well, one so far: Hiking the Tour du Mont Blanc, available at Amazon.com).
In my free time, I love to ride my road bike and go hiking with my family and friends. I also run and swim, and have done a couple of triathlons.
My husband and I were looking for something special to do for our 30th wedding anniversary. I love active vacations and started looking at adventure trips. We landed on the Tour du Mont Blanc because it looked like a challenge but doable. Plus, it seemed like a cool way to see Europe. In addition, preparing for the trip gave us a great reason to hike and work out together.
How long did you go for? How did you spend your time?
The trip was a little over 2 weeks (17 days with travel time). We spent 14 days on the Tour du Mont Blanc, hiking most of the time, but also enjoying a few rest days.
Generally, our hiking days looked like this: get up and eat breakfast in the hotel dining room as early as possible, generally about 7 a.m.; start hiking at 8 a.m.; finish the day's hike between 3 p.m. (short days) to 7 p.m. (long days).
While on the hike, we absorbed the magnificent views; paused to rest, refuel, and rehydrate; took pictures; and occasionally talked with other hikers. On our rest days, we rested and explored the area.
What were your most memorable experiences? What were the biggest disappointments?
The entire hike was amazing. The views were incredible as we hiked, but breathtaking when we arrived at various high points on the trail. At these points, we could see multiple mountain ranges. I found it hard to believe that a generally in-shape person could arrive at these places without motorized support (chairlifts, helicopters, etc.)
For this trip, I didn't carry grand expectations — though I would NOT have been disappointed with this hike if I had carried high hopes. Still, I generally viewed any imperfections as part of the adventure.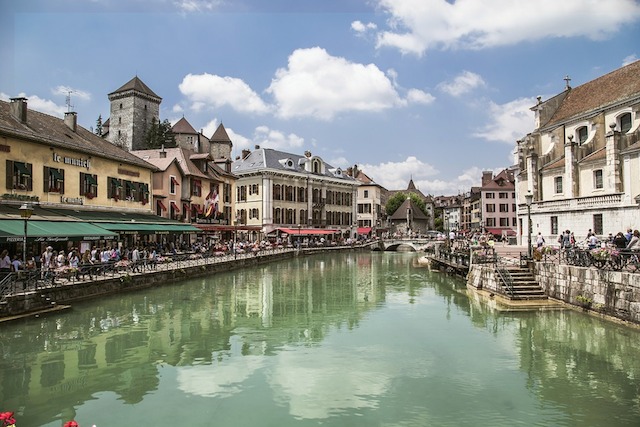 What do you wish you knew before you went?
I wish I had realized how steep the ascents and descents on the hike are, as we would have trained more for these specific conditions. I am accustomed to switchbacks but not straight up and down hiking.
I also wish I understood how accessible food and beverage services are along the trail. Mountain refuges and similar operations provide accommodation and excellent meals, snacks, beverages, and even wine. I never imagined that you could get a fresh green salad, fresh fruit, omelets, soup, and polenta high up in the mountains. If I had been more aware of these amenities, I think I would have relaxed more when planning the trip.
I studied French but wish I had focused more on travel French and not trying to master the entire language. Still, I was glad to have increased my knowledge, as many people in the remote areas along the trail don't speak fluent English.
Finally, I wish I was better at reading maps! We easily navigated with route notes and signs (generally, it was difficult to get lost). But if I had been more adept at reading and interpreting various types of map (topographical maps, for example), I could have had a better understanding of each day's route and its challenges.
Any favorite restaurants/hotels/hostels/sites you'd like to recommend? Tell us what made them great!
Nearly every place on the trail was magnificent. I especially liked the town of La Palud, Italy near Courmayeur. You can take an enclosed gondola to the top of the mountain there. My husband, son, and I enjoyed a magnificent meal with expert presentation at Locanda La Brenva (also a small hotel). The owner wanted to impress Americans and gave us special attention–for example, he served us free appetizers and took us on a tour of his newly renovated rooms.
A few of my favorite mountain refuges for meals were Refuge de Miage, Refuge du Lac Blanc, and Rifugio Elisabetta. Refuges offer accommodation for travelers, and also serve food. Nearly every meal we had while traveling was enjoyed outdoors. It was especially nice to savor excellent food and magnificent views at the same time, and these are available at most mountain refuges.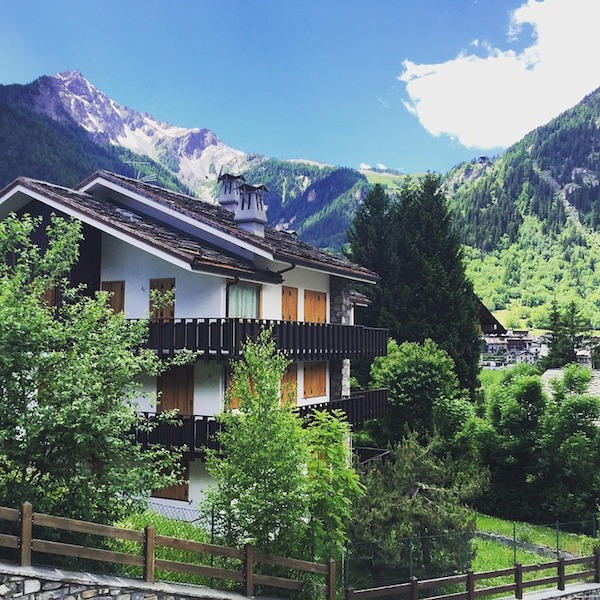 Is there anything that women specifically should know before they travel to your destination?
Women should know that dorm-style accommodations in the mountain refuges house both men and women in the same room. Showers and restrooms are often unisex. Fortunately, locks on the doors tend to be sturdy.
There are many public toilets on the trail, which you should use at every occasion as the trail is very open and it's typically difficult to dash in the woods for a restroom break.
Generally, there will be many people on the trail — I like seeing other people and felt safe in these conditions (though some like a more rugged, wilderness experience). Even though I traveled with my husband and one of our sons, I don't think I would have felt intimidated if I had been hiking without companions. Still, for general safety purposes, it would be good to have a hiking companion as you'll rarely have cell phone service and even though you'll find services on the trail, the area is somewhat remote.
Tour du Mont Blanc: A Conversation with Julie Rains