15 Important FAQs About Trekking in Nepal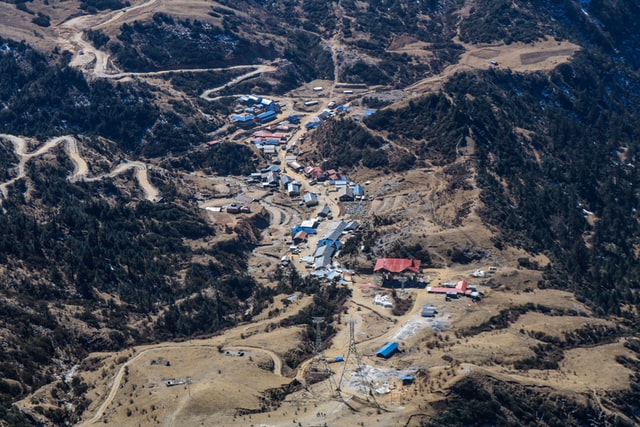 Friends sometimes ask me questions about trekking in Nepal that I had myself a few years ago, before I moved to Nepal and started trekking whenever I get the chance. This post is intended to answer some of those questions. If you had been curious about trekking in Nepal but didn't know where to start, the answer is: here.
15 FAQs About Trekking in Nepal
1. What's the difference between trekking, hiking and mountain climbing?
You can do all three activities in Nepal, but they are quite different things. Trekking is a multi-day walk, where you stay overnight (or several nights) at the place you've walked to. Hiking generally refers to a one-day walk. It might be two hours or eight, but if it takes place within a single day, it'll probably be referred to as a hike.
Mountain climbing is another thing entirely. It takes special equipment, training and comes with more risk. Neither trekking nor hiking require any special skill, other than the ability to walk.
Neither trekking nor hiking require mountainous terrain, although this is common. In Nepal, both activities are primarily done in the hills and mountains.

2. Why should I go trekking in Nepal?
In the whole world, there are fourteen mountains above 8000 metres; Nepal is home to eight of them. This means that while trekking in Nepal, you are likely to get some awesome mountain views that are difficult to match anywhere else.
But beyond the aesthetics, there are also good practical reasons for choosing to go trekking in Nepal. The country is set up well for trekking. On many of the routes, there are abundant lodges, often called 'tea houses', where you can stay and eat cheaply. These are generally not expensive (although there are fancier options in some places) and are usually clean, safe and comfortable. You will usually get a private room, or only need to share with your travel companions.
In other parts of the world known to be good for trekking, such as New Zealand or Japan, it is far more common to need to take your own tents, or share very basic huts with other trekkers. Unless you want to trek somewhere particularly remote in Nepal, you don't need to camp or sacrifice a good, peaceful night's sleep.
Also, trekking in Nepal is pretty cheap, even if you hire a guide and porter. Costs are generally lower in Nepal than other countries where trekking is popular, so once you've paid for your flights here, costs will be comparatively low.
Once, while trekking along a remote stretch of trail with my pretty expensive camera dangling from my neck, and quite a lot of cash in my bag, a group of young guys came towards me and my companion.
Finally, Nepal is safe. Sure, accidents happen–earthquakes, freak weather events–and some dodgy characters exist, like anywhere. It's never a good idea to trek solo. But if travelling with a friend in Nepal, whether you're male or female, young or old, you will have no reason to feel threatened by the Nepali people. Once, while trekking along a remote stretch of trail with my pretty expensive camera dangling from my neck, and quite a lot of cash in my bag, a group of young guys came towards me and my companion.
I realised after they'd passed how easy it would've been for them to rob us and run away. This might've happened in any number of other countries in the world, but not Nepal. I've never heard of anything like this happening (although obviously it's possible, and there have been a couple of high-profile disappearances in the last few years).
Let's hope Nepal stays that way, because this is what many people love so much about the country.
3. Is it difficult?
This is very difficult to answer definitively. I never considered myself a fit person, as I had never been sporty at school, and have never enjoyed running, or anything like that. On the other hand, I've always been pretty healthy, a non-smoker and not overweight or suffering from other problems that might make trekking difficult, such as joint problems.
When I first went trekking in Nepal, I had been practicing yoga consistently for about three years, but that was my only form of exercise. I managed perfectly well, although some of the uphill and steps was quite challenging. Fast forward a couple of years, in which time I started to do more regular vigorous exercise (mainly barre classes), I have found the last two treks considerably easier.
So, is trekking difficult? If you are reasonably fit, then trekking is challenging but not exhausting. By reasonably fit, I mean that you like to walk whenever possible, that you do some form of mild exercise regularly (even just yoga, swimming or long walks on the beach) and your joints, lungs and heart are in good condition. I am sure there are exceptions, and that some 'unfit' people do treks perfectly well. But like everything in life, you'll probably find it easier and more enjoyable if you are reasonably fit.
4. How many hours per day do you walk?
This varies enormously, but is usually no more than six. In fact, six hours of walking would be a long day. Obviously this depends on your pace, too. At higher altitudes above 3000 metres, it's not safe to rise more than 400 metres in one day, so walking days may become shorter to avoid this.
Walking usually starts early in the morning, around 8am or before, to avoid walking in the heat of the day, and so that you get to your destination by the early afternoon, leaving enough time to explore or relax.
5. Will it be cold?
This depends entirely upon where you go, and in which season. Not all treks require going very high, but some do. This past week (mid-late April) I went on a trek that got to 3300 metres, at its highest point. Overnight, at that altitude, it got down to about four degrees celsius, so a woolly jumper and a good blanket were required. But in the daytime it was sunny and hot (predictably, I got a bit of sunburn) and as we descended it got even hotter. Last November, on the Everest Base Camp trek, it snowed on us one day.
But because I was walking, I stayed pretty warm. Much of the time, on any trek, you can walk in just a t-shirt in the daytime, even if it gets cold at night. However, my guide on the most recent trek said that he did the Everest Base Camp trek in January, and it got down to minus fifteen degrees celsius.
I had to laugh when, in the midst of winter in Buffalo NY–which gets to minus twenty degrees quite easily–someone suggested that I would be cold in Nepal.
So, it depends entirely on the season, but you can expect to need some warm clothes at the higher altitudes, whatever the season.
Contrary to the belief of many people, Nepal is not uniformly a cold country. Some of the towns at higher altitude stay chilly year-round, but still thaw in the summer. And it shouldn't be forgotten that Nepal borders the plains of India to the south, which are very, very hot in the summer. I had to laugh when, in the midst of winter in Buffalo NY–which gets to minus twenty degrees quite easily–someone suggested that I would be cold in Nepal.
6. Do I need a guide, or can I go on my own?
Both are possible in most places. I have done it both ways (although I don't mean alone–I was always trekking with another person). The first couple of times I went trekking in Nepal–on the Poon Hill trek and the Langtang trek–I didn't get a guide, and organised my own permit from the tourism office in Kathmandu (permits are only required in some areas).
Both treks are popular, with many lodges along the way, few opportunities to get very lost (although it's always possible) and are definitely not remote.
The last two treks I've done–Everest Base Camp and the Annapurna Community trek–I've had a guide and a porter, because these trips were attached to work assignments, and I didn't have to pay the costs myself.
What's the benefit of going alone? Simply, it's cheaper. This is why I didn't get a guide the first two times. But if you can afford it (and it's not very expensive) it's a good idea to get a guide and porter. I have a friend who got very bad altitude sickness on a trek in the Langtang region, to the point where she was hospitalised in Kathmandu. She believes that things wouldn't have gotten so bad if she'd been with a guide. She mistook the symptoms for a regular cold/flu, and by the time she and her friends realised that she had to descend fast, it was the middle of the night.
Guides know the routes and the potential dangers, and are trained with how to deal with sick clients and unpredictable weather. If something did go wrong, you'd definitely want a guide on hand.
She is now a strong advocate of always trekking with a guide, and I generally agree with her. Guides know the routes and the potential dangers, and are trained with how to deal with sick clients and unpredictable weather. If something did go wrong, you'd definitely want a guide on hand.
But yes, it is possible to go trekking in Nepal without a guide on many routes, and health issues and freak weather aside, it is not dangerous to trek without a guide if you are prepared. Although most routes don't have signs along the way, if you have a map and are following a well-trodden route, the way will be pretty obvious. It also helps if you know Nepal quite well.
I only went trekking in Nepal without a guide the first couple of times because I'd been living here for several months at that time. If I'd just flow in and had never been here before, I doubt that I would've attempted to go without a guide. The logistics would just be more challenging and probably more exhausting.
(You can't, however, trek without a guide in the Mustang region.)
7. Will I have to carry my own stuff?
If you hire a porter, no. If you book your trip through a travel company, they will likely arrange for a guide and porter. The standard is one porter for every two trekkers. You can also hire porters only on some of the more frequented routes, which is obviously cheaper than going through a company. But then you have to do the negotiating yourself. Your bags may be carried by the porter himself, or even by yaks/donkeys in some places.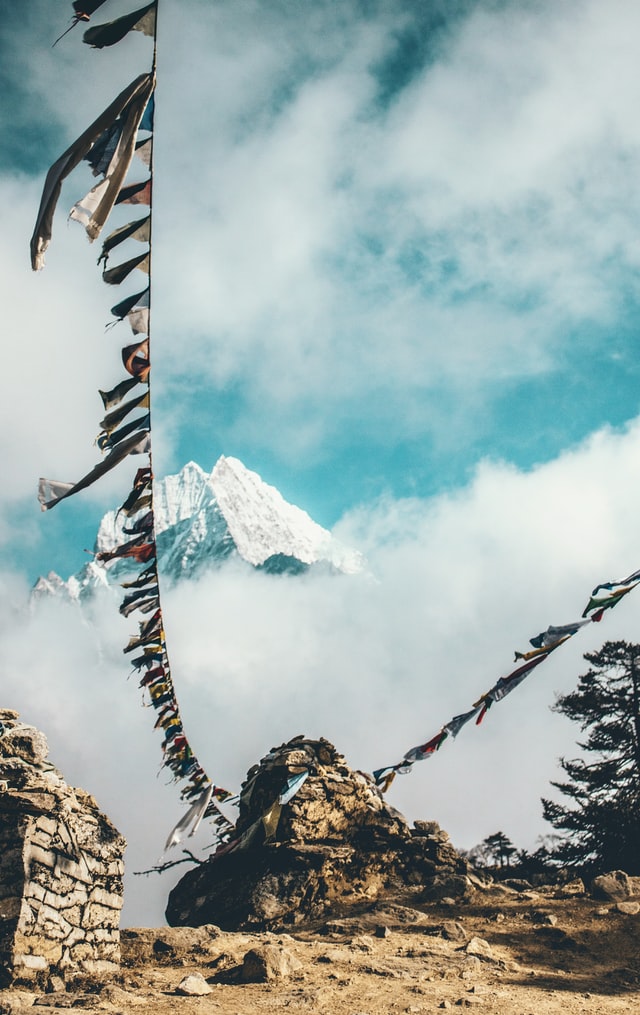 8. Is it expensive to go trekking in Nepal?
There are opportunities for both luxury and budget travel while trekking in Nepal.
If you're short on funds, you can opt to go alone and not hire a guide (although see my advice, above). Simple lodges in many well-traversed regions are around Rs 200-300 (US$2-3) per night, but this is often negotiable. Some places will let you stay for free, or for as little as Rs 50, if you buy all meals from them. It's expected that you eat at the lodge where you're staying, anyway.
If trekking alone, food is likely to be your biggest cost. It's not that cheap, and gets more expensive the further up the mountains you go. You can easily spend Rs 1000 (US$10) or more per day on meals if you're not careful.
I've really enjoyed the guides I've had and know that whatever money you spend on them will be worth it.
On the other end of the spectrum, in some places you can stay in very nice hotels, such as the Everest Summit Lodges along the Everest Base Camp trek. These are still quite simple lodges, but come with heating, hot showers, art on the walls, table service in the dining hall. If you can afford to stay in such places, it is a great idea as being well-rested. Clean and warm can really improve your overall trekking experience!
As for hiring guides and porters–I'm going to be honest and say that I don't know how much these cost, as I have only ever trekked with them when my travel expenses were being covered, as part of a work trip. I've really enjoyed the guides I've had and know that whatever money you spend on them will be worth it. And Nepal is generally not an expensive country, so I believe the cost would be less than in many other parts of the world.
Related: for information about snow, land and water sports review visit Globo Surf.
9. Where will I stay?
As I mentioned above, you can stay in fairly luxurious hotels with hot water and tasteful decoration. Or you can stay in scungy lodges where rats run across your feet while you sleep (true story). I've done both. On average though, the accommodation is simple but clean and comfortable.
In general, the cheap lodging is still of a good quality, with clean rooms and linen, and running water (if not often hot). The only good reason that you will have for staying in a ratty place is if you're travelling alone (without a guide), you arrive in a village after dark and it is the only place left with a bed. Best avoided.
On the last trek I did, the Annapura Community Trek, I even stayed in a couple of homestays in villages. These were rooms in ordinary villagers' homes, set up to accommodate guests. They were lovely, very clean, and only cost Rs 250 per night. If you organise a trek with a travel company, they will arrange the best accommodation for you within your price range.
10. What will I eat?
In most places you will get a variety, and can choose from a menu: pasta, momos, dal bhat and veg curry are all common. For breakfast: pancakes, porridge, eggs, potatoes.
The food isn't especially cheap. This is particularly true as you get higher, as everything needs to be grown or carried up a mountain. But it is generally tasty and of good quality, if sometimes a bit random (egg curry made with Italian pasta sauce comes to mind!)
11. Will I get altitude sickness?
The effects of altitude are quite random, and not necessarily related to how fit you are. The friend I mentioned above, who was hospitalised for severe sickness, is also one of the fittest people I know. I've never had anything more than a mild headache and shortness of breath–and that was at 4900 metres, so understandable.
The trick to avoiding sickness is not to over-do it. The effects of altitude are mostly likely to come on once you're above 3000 metres. Once you're at that height it's not wise to ascend more than 400 metres per day. Sometimes that will mean short walking days of only a couple of hours, but if it means you don't ascend too high, too quickly, this is necessary.
Some people choose to take a drug called Diamox, which speeds up your body's acclimatisation, but you should get medical advice before doing this.
12. How long should I go trekking in Nepal for?
This depends on the route you want to take, and what you want to see. Some treks are as long as 20+ days, such as the Annapurna Circuit or Everest Base Camp trek. Some can be as short as three days, such as the Poon Hill trek, or some around the Kathmandu Valley. I've done nothing longer than six days, and that length is perfect for me.
Right now I couldn't imagine doing anything much longer, as I hit a tiredness wall around day five. But I could probably train myself to push through this. Maybe one day.
13. What should I pack?
I'm a notoriously bad packer, and will always end up taking either too little or too much on any trip I go on, whether to the beach or the city. But I've become quite good at trek packing through trial and error.
Otherwise, here is a summary.
A trekking pole. You may think they look silly, but only if you've never tried one. You won't regret it, as it will save so much pressure on your legs.
Quick-dry t-shirts. I much prefer cotton in the heat, to soak up sweat, but when trekking, synthetic materials are best. Sometimes the sun can be strong but the air chilly, and cotton stays damp for a long time. Cold, sweaty clothes are not only uncomfortable, but can be dangerous if you meet bad weather conditions.
Khaki cargo pants. Nepal is a dusty country, and even if you don't expect your clothes to stay clean on a trek, khaki-coloured pants merge with the colour of the dust! The pockets are also helpful. Hey, I never said this was a fashionable packing list!
Wet wipes. You may not be showering for several days. Hot water isn't available everywhere, and bathing in cold water when in chilly high altitudes is not fun–or safe. Wet wipes will be your shower. They will also be your toilet paper in many places.
Good hiking boots. It should go without saying, but I've seen people in regular trainers. Sure, they may be comfortable, but you need something sturdier to decrease the risk of a rolled ankle.
A down jacket. The main benefit of down over wool or fleece is that it's very light to carry.
A waterproof poncho. Proper rain gear is good, but it is often hot while you're trekking, and showers brief, so donning full rain coat and/or pants may not be comfortable or necessary. A disposable poncho is easy to carry in a day pack, and can fit over all your other clothes.
14. Were the trekking routes damaged by the earthquakes in 2015?
Some of them were. The most popular trekking area to suffer extensive damage was the Langtang Valley. The village of Langtang was obliterated by a landslide, and the village of Kyanjin Gompa also fared badly. Trekking is starting up again there, but lodging is more limited than it used to be.
An avalanche at Everest Base Camp caused by the earthquake killed several mountaineers and destroyed some lodges, but the rest of the Everest Base Camp trek was relatively unaffected. When I visited in November 2015, I saw this for myself.
Some other trekking routes in the central region of Nepal, especially those in Gorkha district, were badly damaged and it's still not advised–or possible–to go there. But further west, the country wasn't affected at all. The Annapurna region, accessible from Pokhara, is fully functioning.
15. Where are the best places to go trekking in Nepal?
Aah, so many choices! I can't answer that for you, I can only make recommendations. Different places offer different highlights. Keep in mind, all will have great mountain views (weather permitting) and will give some kind of look into rural life.
These are the treks I've been on:
The Poon Hill trek
The Poon Hill trek, in the Annapurna region. We did a three day route, but this can be extended. The highlight is meant to be walking from Ghorepani to the summit of Poon Hill (3100 metres) before dawn, to catch the sunrise. However, it rained when I was there, and I didn't go up Poon Hill. This region is quite popular, lodge are abundant, and trails busy.
The Langtang trek
The Langtang trek. This remains one of my favourite Nepal travel excursions. The weather was perfect the whole time and we got stunning floor-to-sky mountain views. A major highlight of this trek is that on the last couple of days, you're walking through an open valley, and the mountains spread out before you. It's also quite near to Kathmandu, so doesn't require a lengthy trip to Pokhara. Many other treks do. Very sadly, as mentioned above, the Langtang Valley was badly affected in the 2015 earthquake. The village of Langtang was wiped off the map by a landslide, and the village of Kyanjin Gompa also fared badly. Trekking is starting up again there, but lodging is more limited than it used to be.
The Everest Base Camp trek
The Everest Base Camp trek. Truly a classic. I only did the first four days of the trek, as I was on a press trip and we had limited time. The full thing takes 20+ days. This trek has everything–massively high mountains, Sherpa culture, colourful Tibetan Buddhist prayer wheels, mani stones that reflect the shape of the mountains, a ridiculously exciting and terrifying flight to Lukla… If you have time, money and stamina, you can't beat this trek.
The Annapurna Community trek
The Annapurna Community trek. This is the most recent trek I've done, and it was gorgeous. We passed through terraced Magar villages, stayed in homestays, watched sunrises and sunsets over Macchhapucchre (Fishtail), Langtang South and Dhaulagiri (8100 metres). And, we were the ONLY tourists on the trail! This is a little-known trek. My friend and I benefited from having the place all to ourselves (along with our great guide and porter). It passes through similar territory to the Poon Hill trek. But, it isn't nearly as busy, and doesn't require a permit. However, it's essential to go with a guide, as you just wouldn't find the way without one.
I hope this post answers every single question you could possibly have about trekking in Nepal! If it doesn't, let me know and I'll happily answer your questions.
This post originally appeared on the author's blog, Wilderness Metropolis.