A Guide to Traveling Safely in Colombia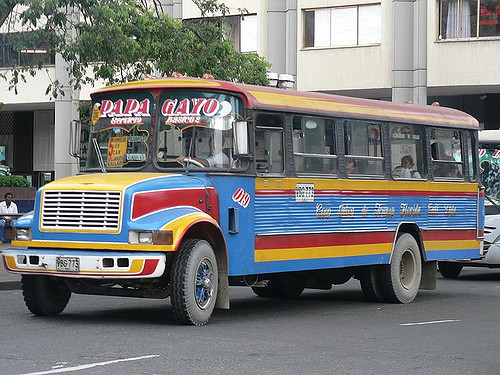 There are those times while traveling when I take a minute to zoom out of a situation to ask: "How did I get here?" Sometimes, that question is also coupled with a gnawing sense of doubt: "I might not make it through this." Maybe this is a bit dramatic, but when I found myself on the side of a Colombian road in front of a drugstore with my two friends and our backpacks–in the dark–those were the thoughts running through my mind.
Our journey had started in Cartagena and then taken us to Minca, a small town in the tropical mountains. Our next destination was Parque Tayrona, a famous national park along the coast. However, our eco-hostel was located past the park, down the road to the east.
Upon reflection, what turned into a risky, harrowing journey from Minca to our destination on Costeño Beach could have been avoided with a better knowledge of Colombian systems of transportation and some additional adherence to safety tips (sorry parents!)
The way from Cartagena to Minca was very smooth. For adventures between Cartagena, Santa Marta and other cities, there are private vans, or transportes, which can pick you up at your hostel and drop you off at various destinations. For travel within Cartagena, especially to and from the airport, and then from Santa Marta to Minca, it made the most sense to share regular taxis. For this option, it is best to establish a price with the driver beforehand.
Looking around, we noticed we were the only gringos on the bus and at this point, it was getting dark.
From Minca to Tayrona (or in our case to Costeño Beach), things felt like they were going awry. We headed into the center of Minca at sundown expecting to find jeeps, which ran frequently down to Santa Marta. Unfortunately, we were too late and these were finished for the day. Instead, we were ushered to jump in a random man's car, which was actually a colectivo. Colectivos are like carpools for both locals and tourists.
The public bus stop where the colectivo dropped us was actually a small median between a large gas station and a huge highway. As soon as we stepped out of the truck, we were immediately hassled by many people and felt very overwhelmed. Luckily, our colectivo companions sensed our confusion and waited with us until the public bus arrived and then helped to make sure we got on the correct bus.
Yes, we made it on the bus, but we still were not entirely sure where our eco-hostel was, only that it was not in the Park. Looking around, we noticed we were the only gringos on the bus and at this point, it was getting dark. As my friend tried to communicate to the bus driver where we needed to go, the other two of us were attempting to corral our three huge backpacks as inconspicuously as possible.
Although the bus paused at the entrance to Costeño Beach, the passengers decided that it was not safe for us to walk down the pitch-black path. Instead, they came to the consensus that we would take mototaxis. One of the passengers told us to wait for his friend Tomás.
This is how we came to be standing on the side of the road, not in front of an official mototaxi stand, as my friend thought we would find. Instead, Tomás and two other men stopped for us on their motorbikes and whisked us off, backpacks and all, into the night. As I began to ease my grip and get over the fact that I was not wearing a helmet, I turned around to see that my friends were nowhere in sight. I began to panic as we drove down the dirt path, past the other hotels along the beach. Finally we arrived, and soon my two other friends emerged as well, safe and sound.
Although the journey made for an adventure, I realized several lessons upon reflection that are applicable for traveling in any country:
A Guide to Traveling Safely in Colombia
Research the types of transportation that are common for a country—colectivos and mototaxis don't have to be terrifying.
Never do anything that you feel uncomfortable with.
Trust your gut when judging situations and the characters of helpful strangers.
Don't be afraid to ask, "Está seguro?" or, "Is this safe?"
Memorize maps and directions to and from your destination until you know them backwards.
Leave time to arrive during the day.
Colombia is an amazing place with so much to offer beyond the major cities. After this experience, I now know that next time I will travel surely and safely as I continue to explore the hidden treasures of this gorgeous country.