48 Hours in Salento, Colombia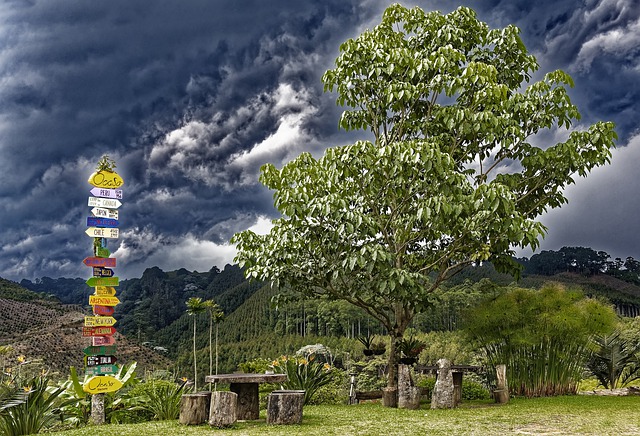 Salento, Colombia is a small town at the heart of the Coffee Region in the Quindio Department. It offers a friendly, welcoming charm to all travelers. While this town's warmth will tempt you to stay longer, here's how to make the most of 48 hours in Salento.
48 Hours in Salento, Colombia
Afternoon/evening arrival
Arrive after what is supposed to be a 6.5 hour bus ride, but which will probably take around 8 hours, with a whole bus of new friends! Stop for a delicious street hamburger in the main plaza before heading to your hostel (there are plenty of excellent hostel options, ranging from 22000COP to 35000COP. After you've checked into your hostel, explore the main square, if you're not too tired, and enjoy some salsa dancing at the corner bar.
Day 1 Morning: Cocora Valley Hike
Wake up and take in the incredible view of the mountains. See if you can spot Nevada del Tolima, with its snow-capped peak. The entire hike takes about four hours, with 20 minute jeep ride there, so plan your day accordingly.
Head to the main square to catch a Willy (a jeep) to take you to the start of the Cocora Valley hike. It should cost 3000COP. Bring some snacks, water and money for the jeep. The jeeps leave every hour or when they're full (8 people minimum).
Enjoy the tiny foot bridges, amazing fields and jungle walk. But be warned, if there's any rain it will be muddy! Consider renting boots at the entrance to the hike. You can also buy snacks and water at these stores and the restaurants open up later in the day.
Visit Aaime, where you can take a lunch break, enjoy a bird reserve with more hummingbirds than you can count and have a drink. Aguapanela, hot chocolate and cheese or cafe (if you're feeling creative, make a mocha and ask to mix both) are some drink options. At both places you can get a lunch of rice and eggs.
Hiking up the mountain is stunning and the entire trek through the valley will give you the sensation that you've stepped directly into a Dr. Suess book! The palm trees are as high as 60 meters (200 ft). Just don't dawdle too long taking pictures because the last jeep leaves the valley at 6:00pm (3000COP to return to Salento).
Day 1 Evening: Dinner and Tejo
After your hike, check out Brunch (despite its name, it's open until 10pm), which has a wide array of international food. But dessert is the real reason you're here! After a long day of hiking you've earned the peanut butter brownie dessert that is worth all the rave reviews it gets!
Take a quick rest at your hostel and prepare for an evening of Colombia's national sport: Tejo! At a bar called Los Amigos you'll find beer and cocktails– but most importantly, a Tejo court. Here, 6000COP can get you a beer and a game, plus a lesson if you need it. This game consists of throwing metal weights at a clay backboard in an attempt to hit small packets of gunpowder. That's right: you're attempting to create explosions while consuming alcohol. What could possibly go wrong?! It's an absolute blast and quite an addicting sport. You'll end up playing until the wee hours of the morning.
Day 2 Morning: Coffee Tours
If your hike and late night of Tejo left you tired, use this morning to leisurely make your way to one of the many coffee tours in the area. Coffee farms such as La Serrana (6000COP), Finca El Ocaso Salento (10,000COP), and Finca Don Eduardo Coffee Farm (30,000 COP) offer tours ranging from 30 minutes to 3 hours. These tours offer the chance to harvest your own coffee cherries and learn about the many stages that coffee goes through before it arrives in your cup. And, at the end you can enjoy a delicious cup of fresh brewed coffee with a beautiful view.
Day 2 Afternoon: Waterfall Hike
Now that you've woken up with some of the freshest and finest coffee (and become a coffee snob), enjoy an afternoon hike to a waterfall. If you're still sore from yesterday's hike, consider taking a tour on horseback. You can start from Boquia and follow the trail up to Hacienda Santa Rita, paying a small fee of 2000COP to access the waterfall (as it's on private property). The trail turns into an Indiana Jones adventure from here, cutting through dense vegetation, bridges and tunnels before reaching the beautiful waterfall.
After another full day in Salento you could do worse than finishing off your visit with another evening of Tejo with friends at Los Amigos, where you will be welcomed back as just that, un amigo.
If you're not tempted to stay longer, maybe go for another cup of coffee or brownie, but if you're on a time crunch, then you've truly made the most of your 48 hours in Salento!
Photo for 48 Hours in Salento, Colombia by Pixbay.