Travel Colombia: In Conversation with Kach Howe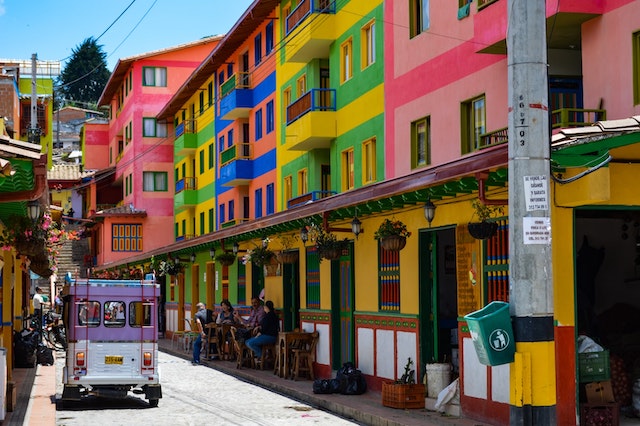 This month, we're interviewing women from all over the world and asking them about their experiences traveling to Colombia. We had the privilege of speaking with Kach Howe about her experience traveling through the country. Here's a glimpse into our conversation.
Tell us about yourself! What do you do when you're not traveling the world? Where do you live? What made you decide to go to your most recent destination?
Originally from the Philippines, I've been living, working and travelling in different countries for over 6 years in the Middle East, South East Asia, and South America. I met my fiancée while backpacking in Laos and we've been travelling together ever since.
We don't have a permanent home, but we're currently living in Bogotá for several months, while we work on our travel blog, Two Monkeys Travel. We decided to come to Colombia after living in Costa Rica for three months because we we had heard so many stories about the country's recent history, but also how much it had changed in the past 15 years.
In fact, we wanted to find out for ourselves how Colombia has managed to outgrow its reputation for drugs and violence usually portrayed in the media and big budget movies. It has, in all kinds of ways!
How long did you go for? How did you spend your time?
We've been here for about a month now; we've already explored the mountains in the west of the country and the home of Salsa, Cali.
Now that we have our apartment in Bogotá, we're getting to know the city, the culture and all the little quirks you can only learn by staying put to dig deeper under the skin. We're planning shorter trips out of the city to explore the rest of the country, and then in about 3 months, we'll be heading south to Argentina to catch a cruise to Antarctica!
What were your most memorable experiences? What were the biggest disappointments?
Just over an hour outside of Cartagena, we dove out to the El Totumo Volcano for what we had heard was the best hot mud bath in South America. We laughed when we arrived, as the 'volcano' was really little more than a 20 foot high mound of dirt. Inside though, the mound was hollow and full of hot, thick mud, pushed up through the ground and heated by escaping volcanic gases.
We climbing down the ladder, we sank into the gloop, which had a strange property that was the exact opposite of quicksand – it pushed you upwards, so you bounced up and down! Local men gave us basic massages. Then we climbed out and walked down to the lake, where we were stripped naked and washed down by a group of local women. It was an awesome couple of hours!
We haven't had any disappointments or negative experiences here in Colombia. We love it here and if Patagonia de Chile suddenly vanished, it would be our favourite country in South America.
What do you wish you knew before you went?
I wish we had done some research, so we might have known that not all of Colombia is tropical. We sent all of our warm clothes home with Jonathan's sister when she visited us, and now we're living in Bogotá at 2,640 m (8,660 ft) and it's cold! Jonathan cut the sleeves off most of his shirts and t-shirts in Costa Rica and I only have flip flops.
I have a good excuse to go shopping though, so it's all good in the end!
Travel Colombia: In Conversation with Kach Howe.
Any favorite restaurants/hotels/hostels/sites you'd like to recommend? Tell us what made them great!
Our one favourite place in the whole of Bogotá is a family-run boutique hotel where we spent three nights before moving into our own apartment. Hotel Cottage La Colina is owned by a mother and son and is like a luxury home away from home. On a hillside just outside of the city, away from the traffic, noise and pollution, La Colina is like a little haven of peace.
Everyone in the family has been an artist or involved with art and the entire property is like being in a private gallery of abstract paintings and eclectic sculptures. Our evenings were spent in the living room around the fire with Marta and Federico, with a glass of wine and a lot of great conversation.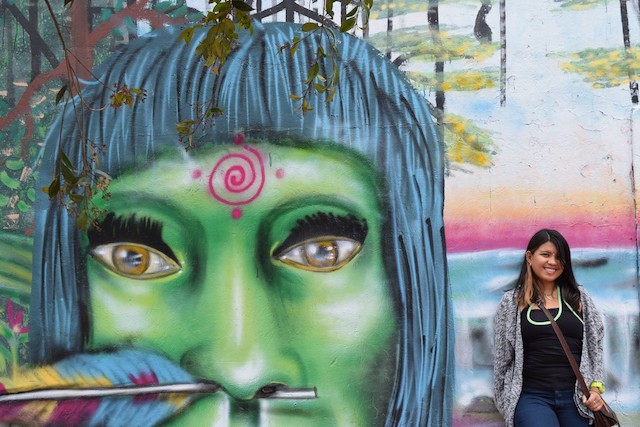 All of the food was home cooked and incredibly delicious. The best thing about staying here, though, was the energy and atmosphere. If you come to Bogotá, then plan a couple of days outside the city and stay here. You'll be glad you did!
Is there anything that women specifically should know before they travel to your destination?
The most important thing to know, as a woman travelling in Colombia, is that you are safe. There will always be areas not to walk alone late at night and the occasional comment or wolf whistle no matter where you are. Simply take with you the same common sense you would take anywhere else and you'll find all Colombians, men included, to be extremely respectful, friendly and helpful.
The next important thing to remember, is that Colombians love to dance! If you go out and people are dancing, you'll probably be asked to dance, but that doesn't mean they're looking for something else. In a salsa club in Cali, you'll see everyone dancing with everyone and changing partners 20 times in a night. They really love to dance!
Top photo credit for Travel Colombia: In Conversation with Kach Howe by Unsplash.