Moving Abroad: An Uphill Climb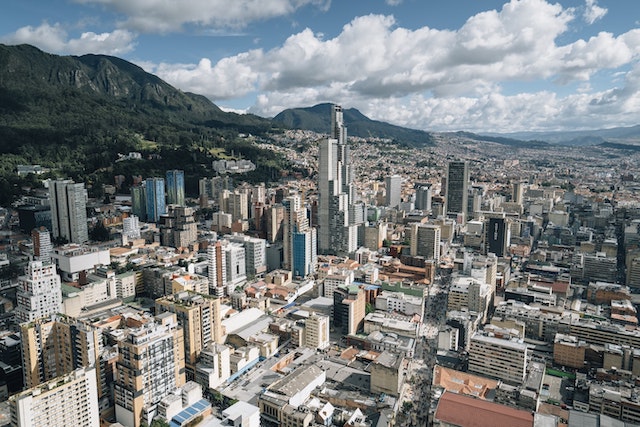 Every morning I climb the mountain behind my apartment to work. I've been here almost a month and somehow that climb isn't getting any easier. As I huff and puff my way straight up, I think to myself, just keep putting one foot in front of the other. This is exactly how I feel about my life right now. I have moved abroad five times and each time it is no less humbling and terrifying and overwhelming. It's also wonderfully exciting but that comes before and it comes after… in these first few weeks, it's just overwhelming.
There is a clear pattern to the transition of moving abroad and setting up life somewhere new but somehow I tend to forget that when I'm in the middle it. The stages go something like this. First, there's the excitement and the fantasizing about what life will be like in this new place.
This time, I was moving to Bogota and it looked amazing. Mountains, blue skies, and crisp fall weather all year round. Parks on every corner and a neighborhood full of great little restaurants and markets. I would be living the good life, surrounded by beautiful scenery and the vibrant soundtrack of Colombian culture.
First, there's the excitement and the fantasizing about what life will be like in this new place.
The first few days I reveled in the honeymoon period of experiencing everything for the first time. I wandered around wide-eyed marveling at our beautiful neighborhood even as we were shuffled through logistics like setting up cell phones, bank accounts, and getting our national ID cards. I started getting oriented to my new teaching job while my husband started wrapping his head around staying home with our toddler full time.
As we sat through HR orientation, we started to notice that not everything was as we expected. The lesson here is ask lots of questions during the hiring process. You might feel like you don't want to ask too many questions because you want the job and you're excited about the possibilities wrapped up in this new place but you do want to ask questions because you want to know what you're signing up for.
As we moved into our new routine, I started to enter the next stage of transition: culture shock and homesickness. All of a sudden, I wondered, why did I think this was a good idea? Why did I think I could move here without a word of Spanish? Why did I leave my friends and family and familiar surroundings for a place where I feel completely out of sorts and alone? I can't feed myself, I can't get myself around on public transportation, I can't talk to my neighbors, I don't know where to go if one of us gets sick, I don't know how to buy produce at the farmer's market, and on and on. Everything feels hard. I'm tired of everything feeling hard.
In addition to that, my toddler takes my hand each day and pulls me to the door of our apartment trying to leave and asks, "home"? What have I done? I thought Bogota would be a good environment for my toddler, which in many ways, it is, but I neglected to see this move from his perspective. No matter how nice Bogota is, I still uprooted him from everything he's ever known. I took away his people and his apartment and his routines and he is not a happy camper. Mama guilt city.
One day I will wake up and I will know how to have a conversation with the doorman of my apartment building.
But I would be wise to remember that making a big transition takes time. Yes, we will muddle through the phases of culture shock and homesickness and they might last a long time. But one day I will wake up and I will know how to have a conversation with the doorman of my apartment building. I will walk confidently up the mountain to school and hopefully won't be breathing so hard. I will know how to order myself lunch at the school cafeteria and I will come home to a happy toddler.
As I break down and cry in my new boss's office during the first week because I'm not sure how I'm going to make my life here, I would be wise to remember that I won't always feel this way. I should probably do that crying in the bathroom where no one will see me or judge me, knowing that before long I'll have my act together. But then again, maybe it's okay to cry in front of new co-workers and friends. Maybe that vulnerability is just what I need to start building new relationships and feeling at home here. The mountain still looms between my apartment and school but each day it looks a little less daunting and a little more beautiful. Here's to enjoying the climb.