Bali Travel: Six Days on a Magical Island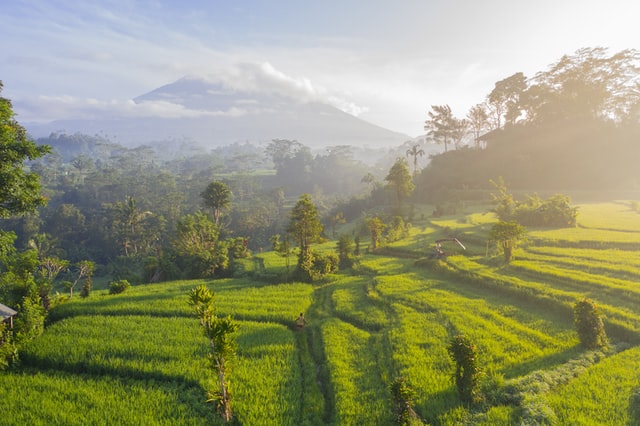 Bali is truly indescribable. I knew it would be full of beauty and culture but I was not prepared for the spirit and the magic.
I planned my Bali travel adventure with one of my best friends. While we knew we wanted to go to Bali, we weren't sure the best way to travel. I did research and found that there are two main ways that people explore Bali:
1. Move from hotel to hotel around the island
2. Stay in one hotel and explore with day trips
For ease/convenience, we decided make the beach town of Kuta our home base and stay at the Sheraton Kuta. With our hotel booked and vaccines gotten (make sure to find out vaccines you may need!), we were off to Bali via Hong Kong. Twenty hours later, we landed at the Denpasar Airport. And FYI, there is an entrance visa that you have to pay at the airport upon landing.
Bali Travel: Six Days on a Magical Island
Day 1: Seminyak
Exhausted from traveling, we spent the day relaxing at the hotel and then went to Seminyak (Kuta's trendy neighbor).
After watching the sunset, we roamed down the beach and found several bars with beanbags chairs on the beach. It was the perfect way to enjoy a Bintang (local beer), listen to the waves and wind down.
Day 2: Taman Ayun, Banjar Hot Springs & Git Git Waterfall
We booked a full-day tour of Bali's highlights, which included our own driver and English-speaking guide, Ketut. We explored Taman Ayun, a beautiful temple in the heart of Mengwi and Ketut explained all of the Hindu traditions and cultures.
From there, we drove through the scenic rice paddies on our way to the Banjar Holy Hot Springs. We then drove and hiked to the Git Git waterfall, which was absolutely worth it.
Since we had so much fun, we booked Ketut for our adventure the next day – and since we didn't book through the hotel, the rate was $30 per person for the entire day!
Day 3: Ulun Danu & Kuta
This time, we let Ketut lead the way. He took us to the Ulun Danu floating water temple first. The scenery was spectacular and we also got to observe their processional delivering daily offerings to the Gods.
Ketut then took us to his favorite tea and coffee place for a tasting of what they grow and harvest. They are famous for the kopi luwak or "poo coffee," which is made by feeding coffee beans to cats, which they "pass through" and the Balinese roast.
Once we got back to Kuta, we went to Warung Made for an amazing meal.
Day 4: Elephant Ride, Chocolate Factory & Ubud
We booked Ketut again and this time started the day in the jungle on an elephant ride!
We then headed to Big Tree Farms, the only chocolate factory on the island and also an eco-friendly structure made of bamboo!
After our fabulous tour and tasting, we hit the road to Ubud. It's a unique city, set within rice paddies, steep ravines and a monkey forest in the middle. We had an amazing lunch, took in the sights and the headed to the monkey forest.
The Ubud Monkey Forest is a beautiful forest filled with adorable, yet crazy monkeys! Perhaps they are just being protective over their forest, but warning: they will steal your food, sunglasses or camera if you're not careful!
Ubud is also known for its spas so we also booked a massage before we left. Massages in Bali are very affordable, from $15 to $40 for a massage in a high-quality spa.
Day 5: Ganung Batur, Uluwatu & Jimbaran Bay
Back out with Ketut, we attended a Barong dance performance. It was beautiful and the costumes, dances and emotion of the performers were unlike anything I had ever seen.
We stopped to see some local artisans and then headed to Ganung Batur, which is an active volcano on Bali that has a double caldera and is surrounded by a volcano lake. We drove down to the basin and took in the breathtaking sights.
Our next stop was Uluwatu, a cliff-side temple with jaw-dropping views of the surf and sunset. While it was beautiful, we watched the sunset beachside while enjoying seafood BBQ at Jimbaran Bay. There are a lot of restaurants that line the bay and provide a similar experience. We ate at Teba Mega Café and it did not disappoint.
Day 6: Nusa Islands
Since we had already explored so much of the island, we booked a jet boat cruise to the nearby Nusa Islands that included a seaweed farm visit, snorkeling and beaches.
We then went back to Kuta Beach to watch the sunset. Words don't even do this amazing sight justice – the colors of the Bali sunset are unparalleled.
From there, we capped off an amazing day with dinner at Poppies Restaurant, a romantic spot for our last night in Bali.
It's always bittersweet coming to the end of an amazing adventure, but this trip really shifted my perspective. I saw the extremes that countries like Indonesia face. It was amazing how friendly and happy the Balinese people were, despite having so little (some of the people there survive on $1 per day). I am so grateful to Ketut for sharing his experiences, culture and island with us.
Have you traveled to Bali, Indonesia? How was your trip? Email us at [email protected] for information about sharing your experience and advice with the Pink Pangea community. We can't wait to hear from you. Photo by Unsplash.