8 Must-Do Things in Medellin, Colombia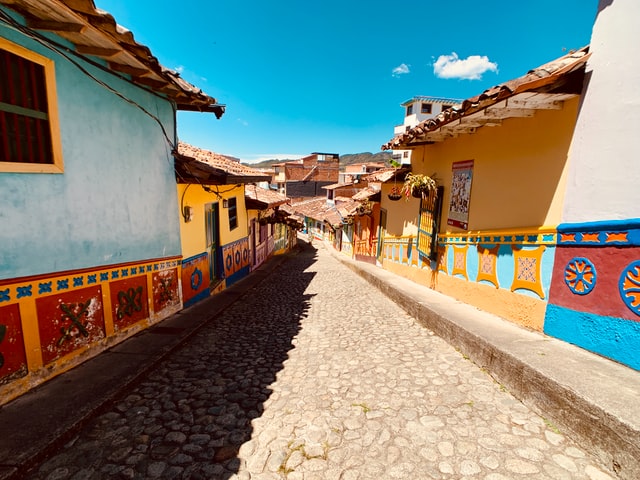 Medellin, Colombia has an incredibly rich history and has seen rapid development, which brings this city to life. It has been transformed from one of the most dangerous cities during the Colombian civil war, a center for drug cartels, to a city of life and vibrant joy. Medellin has truly transformed, and here are the top eight activities so you can make the most of your time in Medellin.
8 Must-Do Things in Medellin, Colombia
1. Free walking tour
Medellin has one of the best free walking tours I have ever taken! The passion with which the history and culture is shared shines through at the Real City Tours. This three-hour tour takes you through the city center, sharing incredible food, art and secrets of the past. The tours are incredibly busy so be sure to book online before you go. You can even join them for an exotic fruit tour to learn about the many flavorful options here in Colombia.
2. Museo de Memoria
Located in the city center, this free museum tells the stories of the Civil War, which raged for nearly 50 years. From personal stories to the impact that the war had on the whole country, this museum walks you through the conflict that has shaped the history of this beautiful country and Medellin itself.
3. Metro-Cable (San Javier)
A part of the incredibly efficient and seemingly brand new metro system of Medellin, these cable cars take you high into the mountains in Medellin. From the cable car you can see incredible views not only of the city, but also of the Barrios, which are still the roughest areas in Medellin. At the top is the Parque Arvi, with a lovely little market (so bring some cash for shopping!) Keep in mind that this area is safest and best enjoyed during the day.
4. Jardin Botanica butterfly garden
If city life is too overwhelming, take a walk through these stunning botanical gardens and admire the incredible architectural design while getting a breath of fresh air. It's free and a fun place to learn about the amazing biodiversity of Colombia. Don't miss the butterfly house, where there are wildly colorful butterflies as large as your face. But be warned: it takes patience and some i-spy skills to find them all.
5. Shopping in Carabobo Pedestrian Street
Taken over by street markets, this area is where you can find any (knock-off) name-brands you're looking for! It's a friendly haggling area, so be sure to barter, but do so with kindness or the prices will never go down. Enjoy many food street vendors and some of the most divine Medellin coffee.
6. Graffiti tour
Also called the tour of transformation, this walks you through what used to be the most dangerous barrio in Medellin: Comuna 13. This beautiful area is a testament to the development of the entire country and this tour shows you what an incredible role art played in this transformation.
7. Eat a Bandeja Paisa
This traditional Paisa dish is more of a team activity, so invite a friend (or two!) It consists of three types of meat, rice, beans, avocado, a tiny salad and an arepa (corn cake). Your tastebuds will love you; your stomach might hate you, but you can't leave Paisa-land without trying it at least once.
8. Guatape
OK, this isn't actually in Medellin, but this city is well worth the short bus trip. While most make it only a day trip, it's definitely worth putting your bigger belongings in hostel-storage for a day and taking an over night bag out to this stunning lake-side town. Visit La Piedra for a 762 step climb up a massive rock overlooking the countryside, and visit Pablo Escobar's old house, where you can join a crowd of travelers to play a game of paintball. Yes, that's correct, you can play paintball in Pablo's place.
Medellin's magic will draw you in for many reasons and while there's a plethora of popular activities, be sure to include these top eight in your itinerary.
Photo credit by Unsplash.