From Costa Rica to DC: We Have to March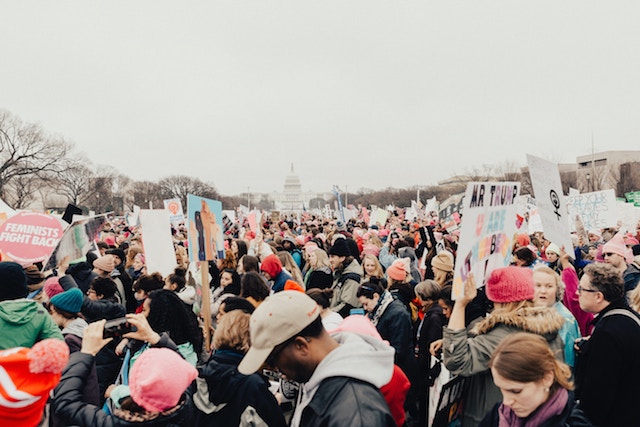 The words jumped off the page into my heart: We have to march.
For the previous few weeks I had been attempting to soothe my deep fears over the recent election by reading a blog group of women sharing their dismay. Those words spoke to my anguished feelings dark helplessness. Here was something to do, something to do together.
A certainty took over, from my soul to my entire body. I would march. At that time I had no idea how this one short sentence from an unknown woman would explode, worldwide, including where I now make my home, Costa Rica. I just knew I would travel to Washington DC to join others who also felt my urgency.
Emails went out to friends for a place to stay. Then my husband volunteered to come. In our younger days we had marched for other causes, so were both veterans. But I in particular had always felt a subtle sadness that I had not participated in Civil Rights marches.
I will not stand idly by as my granddaughter and great grand children face a return to the days of unequal rights for women.
Here was an inclusive march, initiated by women. My heart ached for more than one group, for all current minorities that were being threatened. Women, blacks, immigrants, LGBTQ people. We all shared the darkness and fear, the uncertainty of a future. This march could let us all shine our light. As my fears for us all rippled through my body, they energized me. I would march!
I would march for womens' rights. Memories swirled in my mind. Memories of the days when I was on welfare. In fact, memories of how I was treated with disrespect as I struggled to bring up four children alone, my husband refusing to pay child support. At the time of my divorce, 1974, women could not take out a loan or open a bank account without a man signing for her. As a single woman I feared pregnancy, knowing I would have to get a dreaded abortion.
Planned parenthood would be the only option to help me care for my other children. When my oldest son was caught smoking pot in school, officials would not let him return home unless his father came in. His father refused. My son never completed high school. I will not stand idly by as my granddaughter and great grand children face a return to the days of unequal rights for women.
From Costa Rica to DC: We Have to March.
As the big day arrived I was filled with anticipation, excitement and admittedly some trepidation. The plane from Houston was almost completely filled with women going to the march in DC. We joyously connected the entire flight. I was re-inspired. There were pink hats everywhere and I chuckled. Pink hats from across the nation. I proudly wore the pink "pussy" hat that my supportive grandson's wife had knitted and express mailed to the hotel for me. I also wore a long ribbon with the names of many friends who were with me in spirit.
As we walked up to the Metro I was transfixed by the crowds of pink-hatted women! The doors of the overcrowded trains were bursting, but still people pushed in. The weather even cooperated and gloves stayed in my pockets. I felt invigorated despite fighting some claustrophobia both on the train and in the smothering masses. We were packed like sardines, unable to move. The endless speeches blasted forth. No matter what direction I turned, words of wisdom from women of all ages filled my ears and heart. My eyes locked onto the creative signs.
A few of my favorites included:
Mockery is deplorable
Make America kind again
Women's rights are human rights
This pussy has teeth
From class to ass
Thank you Trump for making my daughter an activist
Her body her choice
Hands too small cannot build a wall
We are the granddaughters of the witches you could not burn
Here we were all together in huge caring community. The energy was totally uplifting as we connected in love. We marched so as not to go backwards in time. As a retired woman depending on hard-earned Social Security I marched! As a woman of Jewish Heritage, I marched. We marched for equality as all we blended as one. I belonged. We all belong. We will continue to march on in love to conquer hate. Those first words, "We need to march", were alive in the chants.
I went home feeling the peace of connected accomplishment in my heart and soul.
Photo credit for From Costa Rica to DC: We Have to March by Unsplash.com.