Preparing for the Borneo Rainforest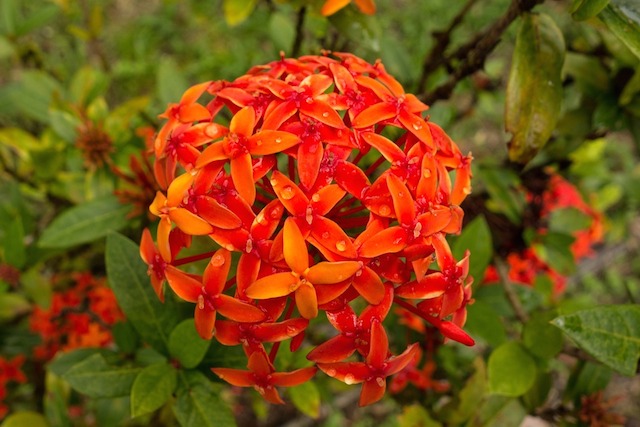 Sometime at the beginning of 2015, while reading travel blogs, I came across a very small but memorable mention of Borneo. I don't remember exactly what the words were, but the gist was something about Borneo being one of the most magical and remote places left on earth. I wrote the word BORNEO in my lined Moleskin notebook, in which I I jotted the things I wanted to remember or find out more about.
Borneo. Borneo. Magic and remote jungle. I couldn't find much about Borneo on the Internet. I learned that part of the Southeast Asian island of Borneo belongs to Indonesia and another part to Malaysia, and that its vast rainforests are in trouble like so many others. I read about a trek that followed the historical expedition of a Dutch botanist, Dr. Anton W. Niewenhius, who crossed the jungle border of West and East Kalimantan (in the Indonesian portion of Borneo). I started researching companies that offered guides for a similar trek. One description I found said, simply, "Not your grandma's jungle walk." That settled it, I was doing the trek.
I leave for Indonesia in 44 days. As you can imagine there is a lot to think about, decide, and plan for while getting ready for a 17-20 day trek through jungle, mountain, and river.
Which tour company to use?
I'm going with Kompakh, located in Putussibau. I like that their mission statement says that they promote and practice nature and cultural conservation, sustainability in the region, and responsible tourism.
Should I do the trek alone?
I decided that yes, I could do the trek alone but it would probably be beneficial, both financially and otherwise, to see if I couldn't find some other people to trek with. I Googled "Cross Borneo Trek" and came across a posting on Lonely Planet's Thorntree Forum. I immediately got in touch, and many emails and a Skype call or two later, we are scheduled to start the trek on the 9th of April. With four of us in the group, the price is significantly lower: around US$1300 each, for everything.
One description I found online said, simply, "Not your grandma's jungle walk." That settled it, I was doing the trek.
I don't have any real qualms about trekking through the Borneo jungle with three guys I don't know. We will have a guide and a porter with us, and I think that there are sufficient checks and balances to ensure I'll be safe.
Should I get travel insurance?
Yes, I always do. I take a lot of trips that involve outdoor activities like cycling and hiking. Being covered if I need to be airlifted off a mountain is something I think is important.
Vaccines
Absolutely. I went to my regular doctor, since most of the required vaccines are actually recommended in the US (and required if you work in a school system), so covered by my insurance. US citizens can look up information about vaccinations and other travel warnings on the Department of State website. The following vaccinations are important:
Hepatitis A and B. These require three rounds of shots, so it's good to plan ahead.
MMR (mumps, measles, rubella) booster. I needed one because I'm old enough that the MMR wasn't given when I was a child. I was just vaccinated against mumps and measles.
Tetanus, because you never know.
Typhoid. This was the most expensive one, at US$60.
My doctor also gave me a prescription for malaria pills, and an antibiotic for traveller's diarrhea.
Visas
Having a US Passport is always beneficial. 30-day tourist visas are available on arrival in Indonesia and Malaysia for US citizens. The Department of State has visa information, but I always like to check the embassy website of the country I'm visiting, just to be sure. Indonesia is here for US Citizens.
Gear – what kind and how much?
I've spent a lot of time on this one. I already own a backpack with quite a lot of miles on it. I love all the external pockets and rings and cords to clip things on. There is space for a 3-liter water reservoir also. I decided to get a hammock, which packs into a very small pouch, weighs only seven ounces, and is incredibly sturdy. I have a mini water filtration system and a folding solar power screen to charge my devices. I'm still researching sleeping bags but am leaning towards a light one. Other things in my backpack include: trekking poles that fold up small, a squishy bowl and cup, a multi utensil, a towel, extension straps for my hammock (to get around really big trees),  waterproof stuff sacks, a first aid kit (with band-aids, Neosporin, anti-itch cream, and ibuprofen), plastic flip-flops, a sun hat, bug spray, rain poncho and a cover for my pack.
Mental State
I'm excited and a bit nervous. I can't help but hear all the worries, protests, and fears of my friends and acquaintances. People have lots of opinions about things they've never done and that they are afraid of doing. I try to be kind and nod and say thank you and file the advice away. "That sounds so exciting," they say, "but I would never do that. What if something happens? What if you get hurt? There are so many things that could go wrong."
I understand that there are many people who would never think of going off to Indonesia by themselves to trek through a jungle. And some days I even understand why. But evil and bad things live close to home, just as they do in faraway places and I choose my own way to burn.