Bike Trip Tips: 10 Things You Shouldn't Leave Home Without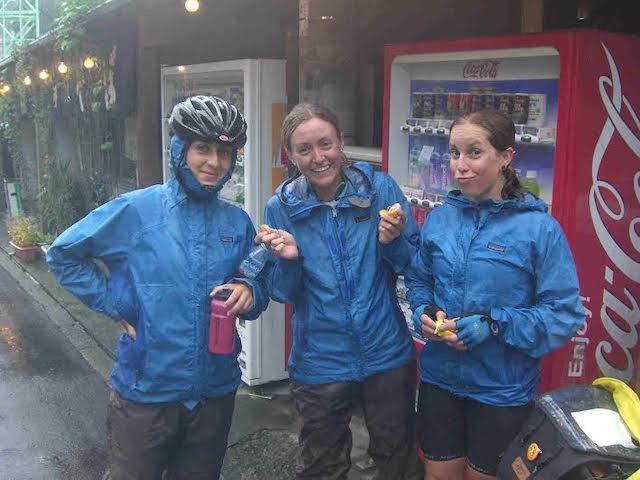 Bicycle touring is my favourite way to travel. I think this is largely because riding a bicycle through a place gives you enough time and proximity to really, viscerally experience it. It is part of the nature of riding a bicycle. You can't help but take in the scents, sights, sounds and nuances of a city or country from your bicycle. At the same time, seeing you will often evoke the curiosity of locals.
If you've been thinking about going on a bike trip, there are some practicalities to consider. Bicycle tours can range from the very cushy to the very DIY-off-road-roughin' it. There is no right or wrong kind of bike trip. You really have to choose the type that best suits your style, experience, and interests. That said, here are 10 items that you will definitely need for pretty much any kind of bicycle tour.
Bike Trip Tips: 10 Things You Shouldn't Leave Home Without
1. A bike
Obviously, right? But what kind of bike? That is the question.
I've been on tours with people riding proper touring bikes, fixies (single gear), fold-ups, vintage bikes with shift levers, racing bikes, etc. There is a lot of variety when it comes to the perfect touring bike! The single most important thing about picking out a bike for a long tour is the fit. If you ride all day for several days on a bike that doesn't fit you, it will become very uncomfortable very fast.
Most bike shops will be able to match you with a good fitting, suitable bike for the kind of touring and riding you want to do. If you purchase a bike, many bike shops will offer a free fitting to fine tune your adjustments. But thrifty is nifty! You can also go to a bike co-op or used bike store, build your own bike, find a bike on kijiji, trade a prized possession for a previously loved bike, etc. The options are endless!
You can fit yourself by straddling the cross bar with your feet flat on the ground and measuring the space from the top of your cross bar to your crotch. (This should be roughly 2 inches for a straight cross bar and 3-4 inches on a cross bar that slopes downward, as on a mountain bike.)
It is also important to ensure that the handlebars are properly adjusted so that you aren't resting all of your weight on your hands, which can cause numbness, and aching wrists, shoulders and backs.
This is often an issue when women ride bikes originally designed for men (the majority of bikes!). Women tend to have shorter torsos and arms than men of similar stature so women-specific bikes usually have smaller frames and a slightly sloping cross bar to fit women better. But it isn't always necessary! The best thing to do is spend a few weeks test riding your bike before you go on your bike trip. If you have pain, don't ignore it! Research online, post in a forum, join a local cycling group or bike co-op, or check out a bike shop and explain where the pain is. Someone should be able to help you out.
2. Helmet, safety vests, lights, and reflectors
It's important to be safe when you are on a bike. Period. A helmet can go a long way in protecting your head from serious damage. For real. It doesn't matter how short your ride is. No matter how slow you are going, if you stop short because a car backs out of their driveway in front of you or you lose control and hit a curb and do an endo (end-over-end), there is a good chance you could land on your head. If there is no helmet there, your skull takes full impact. Why take that kind of risk with your head?!? (Preserving even the most immaculate hair-do is not worth permanent brain damage!
But if you don't like the idea of smothering your curls or if you feel cramped in a helmet, you could always try a hovding! It only takes a couple of seconds to put on a helmet. You can get a good helmet for less than $100 which, I'll admit, is a bit pricey, but worth it for a head that remains intact!
Lights (red for the rear and white for the front) and reflectors are absolutely essential before/at dawn and at/after dusk. It's important to take every possible measure you can to be seen by cars, especially at night. Bright flashing lights may seem obnoxious, but an annoyed motorist is a motorist that sees you and has plenty of warning to go around you.
For added precaution, it's also a good idea to wear a safety vest. They can be customized with pins, buttons, patches and lots of other fun stuff to increase the cool factor! (Glasses that protect your eyes from the sun/bugs/wind and shoes with hard soles or those that clip in to pedals are also worthwhile investments but you can arguably survive without them.)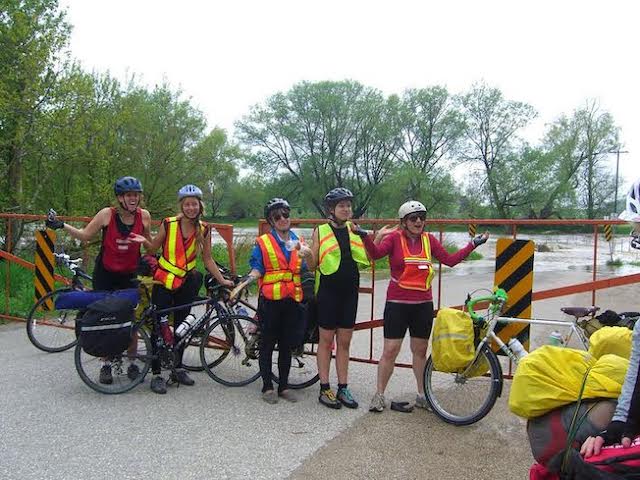 3. Waterproof panniers (pan-yays!) to pack all your gear in.
Whether top of the line 50L capacity waterproof panniers or homemade canvas sacks strapped to your back rack with bungee cords, you've gotta carry your gear somehow (unless you have a team car driving your gear to your next destination each day!. . .*cheater*). And again, I've seen all sorts of panniers on the tours I've done.
But I would argue that the most important aspect is waterproofing! No matter what kind of panniers you have, wrap everything in an extra layer of grocery or garbage bag. Even the best panniers are prone to springing a leak sometimes, and arriving to a campground after a long, cold, rainy day in the saddle only to find that your panniers have leaked, your camera/phone with all of your non-backed up photos is dead, your journal is mush and all of your clothes are wet is not something I would not wish upon my worst enemy.
4. At least two Chamois (shammies)
One for the day's ride and one to strap to your bike rack to dry out for the next day. For the uninitiated, chamois are the padded shorts that keep a cushy layer between your bum and your saddle. Please note: Although you may be skeptical at first, there should be no other layers between bum and chamois, unless you consider the optional "butt butter" a layer.
The chamois is designed to make long days in the saddle more comfortable and prevent chaffing but since it is worn like underwear, it needs to be washed daily. Wearing underwear underneath a chamois, wearing only pants and no chamois and/or not washing your chamois properly can all cause saddle sores and/or yeast infections, which you definitely don't want to have to deal with on an 80km ride, up a mountain, through the rain, and on a gravel road.
Bike Trip Tips: 10 Things You Shouldn't Leave Home Without
5. Friends (or strangers)
You certainly can do a bicycle tour by yourself, and I've picked up lone cyclists on some of the tours I've done–all of whom were thrilled to have joined up with other people, even for a day! Touring by yourself can get pretty lonely, it turns out.
But cycling in a group, even with your best friends, can also be challenging. Significantly more so if your tour is entirely self-sufficient. While some people are naturally inclined to help out and contribute to the overall functioning of a group, others need some practice in getting the hang of team work.
In my experience, making a group work takes intentional communication and frequent check ins with all group members. It takes flexibility, self awareness, honesty, understanding and often, a lot of time. I would suggest a nightly go around that gives all team members an opportunity to recount the best and worst parts of each day. This can be painfully slow and, as the tour goes on, emotionally charged, but it's ultimately worth it. If relationships are maintained throughout a bike tour, they will reach family-like closeness by the end. Guaranteed.
Bike Trip Tips: 10 Things You Shouldn't Leave Home Without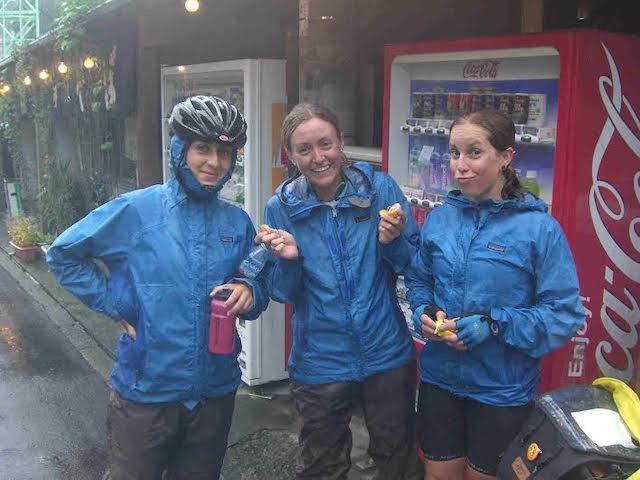 Bike Trip Tips: 10 Things You Shouldn't Leave Home Without
6. A flat pack, containing Spare tubes, a patch kit and an Allan's key for road side bike repairs
Don't know how to patch a tire? Never changed out worn break pads? Rough gear shifts getting you down? While it's best to practice some basic bike repairs before your tour, it's never too late to learn! While on tour, expect to go through at least a few inner tubes and brake adjustments (or brake pad changes depending on how long you're going for). You'll also need some chain lube to grease your chain after a few days or a rainy ride. It's also a good idea to have a couple of spare cables and maybe even spokes. Some things will need more specialized help and may require a trip to a bike co-op or a bike shop but it's amazing how much you can learn to do yourself!
7. Sunscreen, water bottles and snacks for the road
Cycling can be a deceptively cool sport. If you're clipping in at a fast enough speed, the wind can wipe away your sweat before you even realize it's there and make an extremely hot sun seem comfortable. That's why it's especially important to be vigilant in protecting yourself from the sun and dehydration.
Apply sunscreen 30 minutes before going outside and reapply every couple of hours. You can also wear long sleeves and knee covers to protect yourself from the sun. Fabrics like merino are light-weight, breathe well and offer plenty of protection on very sunny days.
For water, carry more water with you than you probably need. Drink about a litre an hour before you get on your bike and continue drinking for a few hours after you finish your ride. While riding, drink at least 500ml/hour. If it's a really hot, sunny day and you know you're sweating a lot, you can drink up to 4 times that much.
Another crucial point is nutrition. Cycling burns a lot of calories and can cause you to "bonk" really quickly if you're not used to it. One big contributor to "bonking" is your food intake en route. You need to replace the calories you burn with food and should either be constantly snacking on energy bars as you ride, or take a break every hour of so for a high calorie snack.
8. A journal
There's nothing like a journal to keep a record of happenings and reflect on your everyday thoughts. This becomes a great treasure down the road, years after your bike trip when you dust off the cobwebs and are transported right back to those sun-soaked riding days or the one day when you showed up at your destination covered head-to-toe in a layer of mud and had to wash and wring out your clothes in the bathroom before giving a presentation.
9. A map/GPS/phone with mapping capabilities
Sometimes a bike path is more suitable for mountain bikers than touring cyclists. Sometimes a highway is busier than the map suggests. Sometimes the weather makes your scheduled ride impossible. And sometimes you're lost in the middle of nowhere with no signal. In any case, the ability to reroute at a moment's notice is often a reality on a bike trip and unfortunately, locals often seem just as confused as you are about how to get around!
10. A big smile
A smile goes a long way when you're stranded on the side of the road with three broken spokes and no phone signal. The people you meet are some of the best and most memorable rewards of a bicycle tour. You will remember the cycling team that stopped in the middle of their ride to help you out when the bike repairs you needed were way over your head; the lady at the coconut stand who laughed and laughed when you pulled up in your little bike shorts and bought all of her coconuts; the man at the grocery store who dropped off a bag of fruit to your team as they were sprawled out, resting in a corner of the parking lot; the couple that was headed backwards down the exact route you were travelling, but who were walking the whole way; and the restaurant owners who brought out dish after dish of their best items to help satisfy your enormous appetite and didn't even charge for it!
Bike trips are challenging and require a lot of perseverance and determination, but they offer insight into the world that would be difficult to acquire otherwise.
Bike Trip Tips: 10 Things You Shouldn't Leave Home Without
In modern times, when we are so busy and bombarded by Facebook likes and shares, images and news that often propagate fear and distrust, touring allows you to reconnect with reality. You pedal each kilometer of your journey. You appreciate how much food and water and effort and inner tube changes it takes to get from one place to another. In fact, you forge an intimate understanding of the landscape and have time to ponder the great glacial migrations—the sheer amount of time required to shape this escarpment or that.
You develop a connection with the rivers and lakes and creeks, smell and see their health from your bicycle seat. You stop to smell the roses and have a chance to wonder at the divinity that exists naturally in everything. I've been consistently amazed by the people I have met on cycling tours and incredibly inspired by the diversity of lifestyles that real people are really living.
So, the smile will probably take care of itself.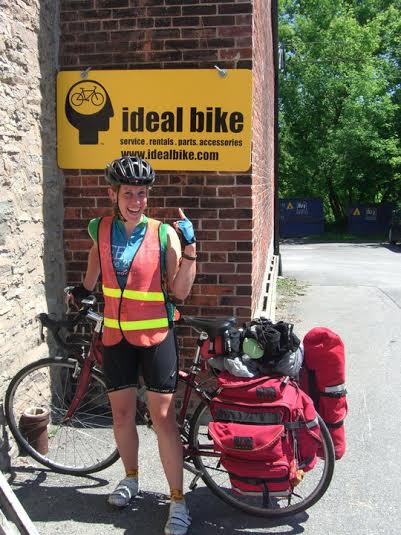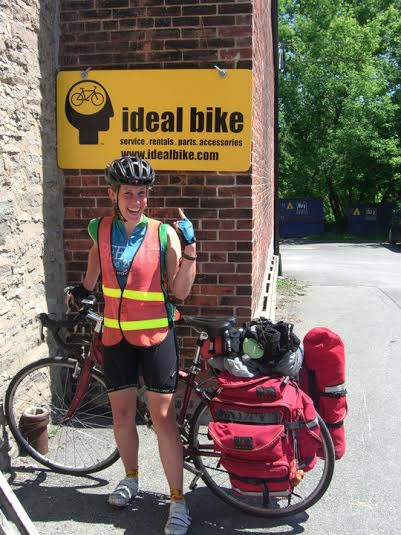 Bike Trip Tips: 10 Things You Shouldn't Leave Home Without