Fifteen Minutes with Angela King, New Orleans Artist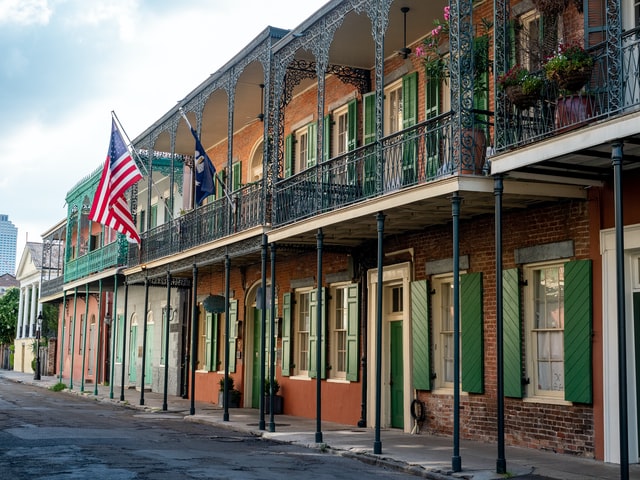 As I walked down Royal Street in New Orleans, a figure in a window caught my eye. It was a beautiful piece of African-inspired artwork. The sculpture, which I later found out was the work of Woodrow Nash, appealed to my sense of self. I'm sure it is because I have been interested in my ancestry and have been researching it for years. I have often wondered about who my ancestors were, and where specifically they came from. Being able to see these breathtaking life-like sculptures stirred emotions in me that I didn't realize were there until I saw them.
I don't normally visit the galleries in New Orleans because I'm usually visiting the city for other reasons. However, on this particular day I could not resist entering this gallery and I'm happy that I did.
I was immediately impressed by the scope of artwork on display in the Angela King Gallery. I am inquisitive by nature so when I found out that Angela, the Gallery Director and Owner, was working in the gallery that day, I asked if she was available for an impromptu interview. Even though she was preparing for an upcoming show, she was gracious enough to grant me fifteen minutes of her time.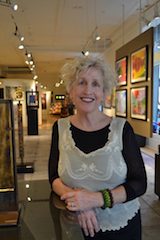 How did the Angela King Gallery come about?
I started out in the late '70s in a California burl furniture craft group out of Berkley, California. After opening two burl furniture stores in Los Angeles and San Francisco, I came to New Orleans to open a third. After that first delivery of crafts to New Orleans, we began selling art and its history after that. I intended on staying for 6 months and soon fell in love with the city and eventually settled in for my adult life.
I opened up with partners at the first gallery located at 229 Royal Street in 1977, which remained opened until 2005, and a second at 523 Royal for several years. I bought out my last remaining partner in 2006 after Hurricane Katrina, then relocated a few doors down to our current location after an extensive remodel at 241 Royal Street.
How was your gallery affected by Hurricane Katrina?
We did not have damage from Katrina but foot traffic in the area saw a significant decline. We primarily stayed alive during the years after Katrina via online sales. Then things started to pick back up just before the recession of 2008-2009. And then again in 2011, the gallery began another uptick, and continued to grow to 80% of pre-Katrina business.
What lessons did you learn, if any, from the city of New Orleans during Hurricane Katrina?
A disaster such as Katrina in 2005 and the levee failure that resulted in the flood of New Orleans was unimaginably awful at the time. As with all tragedy, there is always goodness the rises from the depths of despair. Opening my own gallery, for example; the relationships that blossomed during that difficult time, the growth and spirit of the city in the years that followed…
The greatest lesson that Hurricane Katrina taught me was that adversity doesn't build character, it reveals it. That's a life lesson and extremely illuminating.
There are a lot of galleries on this street. What makes your gallery different from others on Royal Street?
The Angela King Gallery shows 25 artist at all times. It is the only gallery on Royal with that many from around the world at one time. We pride ourselves in unique and excellent quality painters, sculptors and mixed media artists from all over the world. The bar is set rather high here and we provide the finest contemporary art to our collectors.
When is the best time to catch a show in your gallery?
We generally host six shows a year. Opening the art season in October for Art for Art Sake, then a November show. March, April and May are beautiful months in New Orleans and we host three exhibits in the spring. There are several art walks on Royal St and we always participate… the Food and Wine event in May and Dirty Linen in August.
We see all of our local folks out for those two evenings. Several of our artists are a treat to see and meet so when a celebrity artist comes, it's always an event.
Fifteen Minutes with Angela King, New Orleans Artist top photo by Unsplash.