Bus and Taxi: Safety in Nicaragua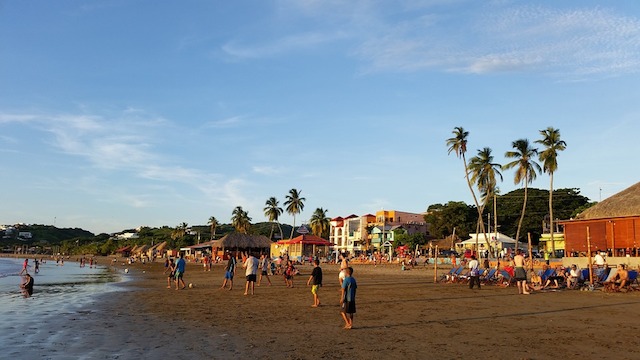 Nicaragua is a beautiful country often overlooked by its neighbor, Costa Rica. With both a Caribbean and Pacific coast, it is the perfect location for lazy days in the sun or trying your luck at surfing. There is also plenty of colonial architecture for those more interested in culture. Most tourist destinations are all relatively close to the Pacific Coast, including the colonial town of Granada; León, great for volcano boarding; San Juan del Sur, perfect for surfing; and Isla de Ometepe, wonderful for relaxing. With short journey times, getting around is easy (hooray!).
Although safety in Nicaragua has dramatically increased in the last few years, it's still important to take precautions. Below are a few tips to help you out so you can sit back and enjoy the amazing landscapes that you'll see while travelling around Nicaragua!
Bus and Taxi: Safety in Nicaragua
Buses
Nicaragua is mostly served by the famous "chicken buses," which are repainted, old US school buses that try to cram as many people in like battery-farmed chickens. But don't panic–these buses are surprisingly fun! Since they are privately owned, people are helpful and keen to have you on their buses.
Buses usually have a driver and a conductor who comes around to collect your fare, so you can sit down first and then pay. The bus network is very comprehensive, since not many people own cars and most depend on buses. And they don't run on "Latino time"–they're usually on schedule!
I travelled a lot by myself on these buses and never had a problem. Conductors always told me when we arrived at a destination. Still, I did usually remind them when I knew we were close, and I never missed a stop!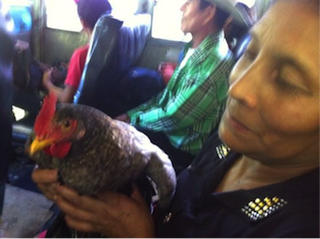 To avoid problems, make use of the following safety tips:
1. Sometimes conductors are a bit too pushy.
So don't be afraid to tell them you're okay and don't need help while you work out what you're doing.
2. Keep your bags on you.
Some drivers want to put your bags on the roof, but I always kept mine with me or at the back of the bus where there was often room. It's also okay to put bags on the seats in the back. If not, there's always your lap!
3. Sit back, relax and enjoy the ride.
From the music and scenery to the people, taking buses in Nicaragua is a great experience!
As tourism increases, so do tourist intercity buses, which are obviously a lot comfier and quicker, but about 10 times the price of local buses and half the fun.
Bus and Taxi: Safety in Nicaragua
Taxis
Taxis in Nicaragua have a bad reputation, especially in Managua. However, I feel things are improving as tourism becomes more important to the country. A common horror story heard is of taxi drivers taking you to a cash machine and getting you to empty your bank account. Although a commonly told story, it rarely happens and below are some safety precautions to avoid this.
1. Ask the driver to use the meter or ask for the price before you arrive at your destination.
It's best to get advice on cost from a local person so you can avoid being ripped off.
2. It's the law for taxi drivers to carry ID, so always ask to see it.
If they don't have it (or for any other reason), don't be afraid to refuse the ride and find another taxi.
3. It's common for taxi drivers to pick up other passengers if they're going in the same direction as you.
However, you can pay a little bit extra and ask the driver not to do this; you'll pay more, but since taxis are so cheap anyway, it's not that much more. I found at times it was worth it for my peace of mind.
4. Ask hotels and hostels to help you with arranging a taxi.
My experiences of of getting around in Nicaragua have been great. The bus rides are all very scenic and there is always some lovely Latin music to keep you entertained! Stay safe and enjoy what Nicaragua has to offer!
Have you traveled to Nicaragua? How was your trip? Email us at [email protected] for information about sharing your experience and advice with the Pink Pangea community. We can't wait to hear from you.
Bus and Taxi: Safety in Nicaragua photo credits: Meg Pickard and Pixabay.