How to Make the Most of London on a Layover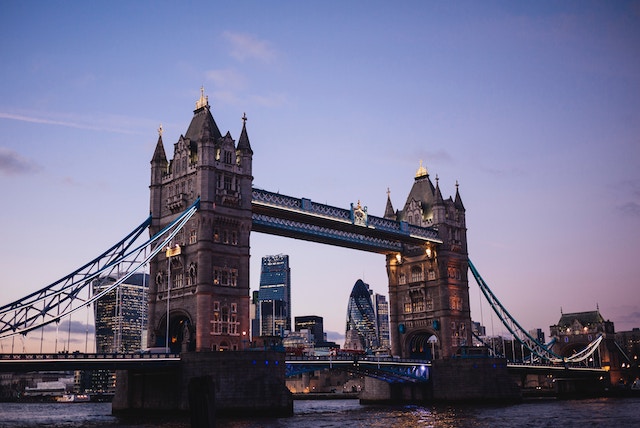 In May of 2014, I volunteered in Cape Town, South Africa for 6 weeks. This meant that my trip involved two flights—the longest travel I've experienced thus far. It took about 8 hours from Chicago to London and a final 10-hour flight into Cape Town's airport. I decided that instead of waiting around in Heathrow International during my layover, I would take the opportunity to see as much of London as I could. I had vacationed there with my family when I was 6, but 14 years later, I obviously had a much different appreciation for traveling.
After landing, I had trouble figuring out where the Heathrow Express was located (a rather expensive shuttle that takes you in and out of London within 15 minutes), but soon enough, I was on my way. I met my friend Joe, a London local, in central London around 9:40 in the morning. Estimated time in London: 8 hours. Hours I had gone without sleep: 24. Eight hours sounded enough to me, but would I be awake enough to do it all? We'd soon see.
Westminster: James' Park, Buckingham Palace, and the Horse Guards Parade Grounds
St. James' Park was our first stop off the Tube (London's Underground). It turned out to be a beautiful park to walk through as we made our way to the Buckingham Palace. Unfortunately, if I wanted to see more of London, waiting for the changing of the guard could not make it on my list, so after taking some photos and admiring the sight, we made our way to the Mall. We soon reached the Horse Guards Parade ground. Essentially, once a year, in honor of the Sovereign's birthday, there is a parade of horses complete with a very traditional, British ceremony. This was not that day, however, so I instead took in the view of the parade ground with the Eye in the background. I was under the impression we were close, but Joe laughed and said, "Not at all," drawing attention to the supposed immensity of this famous Ferris Wheel.
Palace of Westminster
Elizabeth Tower, or "Big Ben," came into view after quite a bit of walking. The Palace of Westminster might be one of the most iconic parts of London, and I treated it as such with a multitude of pictures and plenty of admiration. We proceeded to cross the River Thames in order to take in a broader view of the city sights. I was suddenly filled with immense sadness to only be visiting for 8 hours, but I quickly reminded myself that a short trip was better than no trip at all.
St. Paul's Cathedral
Our next stop was going to be the top of St. Paul's Cathedral, which I had read showed a gorgeous 360-degree view of the city. It was about 13:30 now, though, so after walking since 10 am and seeing the price for walking up almost 400 more steps to get to the top of the cathedral, we promptly passed on the opportunity. We did take some time to give ourselves a tour of the inside of the cathedral, though, and it was as beautiful as I had been told.
The Tower Bridge and Tower of London
Time: 16:00. This was right about the time when 30 hours of no sleep began to settle in. As we paid for lunch at a pizzeria, I couldn't keep my eyes open. Despite this, we set out to see the last of the sights on my list: the Tower Bridge and the Tower of London. The Tower Bridge is a magnificent site even to a girl as sleep deprived as I was. We walked across it until we arrived at the Tower of London across the river. Visiting the Tower of London would have been a 4-hour commitment so I was forced to opt out, but still took a few photos.
At this point, we took the Tube back to Paddington Station and said our goodbyes. My shoulders were covered in bruises after carrying around my heavy backpack for 8 hours, my feet were ready to give out, and I thought I'd fall asleep standing up, but no part of me regretted going into the city that day.
Although I feel my trip was successful, I didn't see absolutely everything I would have liked to. If given the opportunity, I would have stopped in at the London Zoo, watched the changing of the guard, visited the Tower of London, and ridden the Eye. I might have even walked up to the top of St. Paul's Cathedral if I hadn't been so tired. However, my trip only reinforced my desire to visit London for a longer time in the near future, and this was enough to make me happy for the time being.
Not every layover trip goes as smoothly as mine went, but here are some tips that will hopefully help you plan your next quick trip into a layover city:
Tip #1: Have a friend help you see the city
This is the single most important thing you can do for yourself if you want to see a lot in a short amount of time. Obviously, this isn't always possible, but if it is then I HIGHLY recommend it. I probably wouldn't have gotten to see more than half of my list without Joe to help me navigate.
Tip #2 Do your research
One might say it's part of the fun of traveling to a new city to have no idea where you're going, but there is sometimes too much to see to simply walk around without a plan. I got on the plane with a plan of what I wanted to see, within reason, and a relative idea of where I was going. Not enough time to gawk at a map!
Tip #3 See the big sights, return later to live like a local
If I want to take part in local culture, I will spend more than 8 hours in a city, and as a huge fan of England, I know I will one day. However, if I have less than one day to take it all in, I know I won't experience what you might call "life as a local" meaningfully.
Join Pink Pangea's Travel Writing, Hiking and Yoga retreats!