Maintaining a Long-Distance Relationship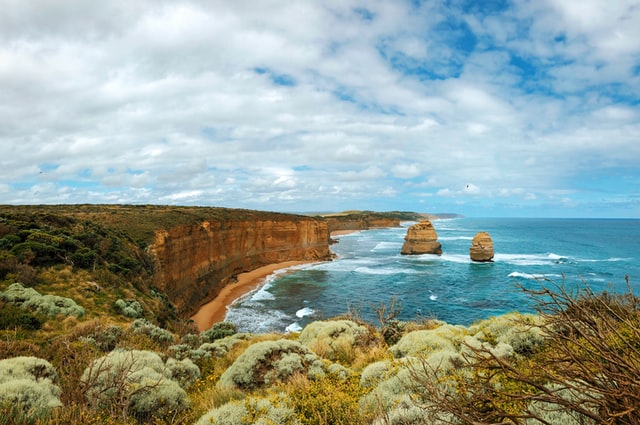 In 19 days I will have finished my first semester of my intense masters degree here in Australia and will go on vacation for two months. While I am looking forward to the break, I am more excited for what will happen in 40 days from now. In 40 days, my boyfriend will have landed here from a 21-hour flight from New York City to visit me for two weeks. I have not seen him in over four months, and the idea of being with him soon gets me giddy. I am so excited.
I confess that I did not originally want to have a long distance relationship while I was living abroad. The last time I tried a long distance relationship, it crashed and burned with dramatic fireworks. That relationship has taken a long time to heal and has left me with some emotional scars I still feel once in a while.
There are days when I just want to have physical intimacy, but that is impossible when your partner is 9,626 miles away from you.
When I met my current boyfriend I already knew I was heading off to Australia to do academic work, so I made it clear that I had no intention of being committed to anyone while preparing for my departure. He understood, supported my travels completely, and agreed that he was not interested in a long-distance relationship. We had decided that we would part ways prior to my departure, and stay friends as life moved forward.
But that is not really how the heart works, does it?
Once the time came for me to get on the plane with my life packed into two 25kg bags, neither of us felt ready to break up. So we embarked on an experiment to see what would happen if we just kept going.
And we just keep going.
Of course, being in a long distance relationship is difficult and can try anyone's patience. Working on a relationship is hard enough; when you put ocean bodies between you, the work gets a lot harder. There are days where I get frustrated because text messaging doesn't feel like enough of a connection. Sometimes I over-interpret his writing as callous even though I know he's just exhausted or low.
Maintaining a Long-Distance Relationship.
We have a 14-hour time difference, which makes finding time to chat challenging and inconvenient. Sometimes I wake up extra early in the morning to catch him before he passes out, or I stay up late to see how he's feeling after a long night's rest. There are days when I just want to have physical intimacy, but that is impossible when your partner is 9,626 miles away from you – short of large investments on strange modern technologies. It can really test the connection when the intimacy is limited and focused on conversation.
There have been some surprising perks while being in this long distance relationship. For starters, I feel like not having the pressure to date has minimized my stress and allowed me to focus all of my energy on my studies. I can hang out with friends and enjoy their company a lot more without wondering if I should go out and meet potential partners.
There is also something comforting when I talk to him while experiencing culture shock or a difficult time abroad – he has been incredible at supporting me and encouraging me when the going gets tough. Being an outside observer to my partner's life gives me the chance to see him in new lights and gain insights on how I can interact with him differently for both of our benefits.
I am not sure if my boyfriend and I will end up staying with each other for the long haul, but I can see that, when a person is worth it, long-distance relationships can work. Here are some of the things we do to make our long-distance relationship work:
WhatsApp & Skype
Thank goodness for the internet. Without being able to text him every day and Skype him whenever he is near his laptop, maintaining our connection would be infinitely more difficult. I doubt I need to elaborate much on this, but it's worth noting that I will never underestimate the power of remote contact ever again.
Sending Pictures
I send him pictures of me walking to class and he sends me pictures of him going to work in suspenders. I send him pictures of me drinking hot chocolate, and he sends me pictures of getting diner food. It gives us a chance to be with each other when we don't have the time to Skype. Similarly, we share pictures of cute animals with each other. He knows that when sending pictures of cute fluffy animals to me, any sadness I have will melt away. I know that he likes feeling my excitement when I send him pictures of cute puppies on the street. Though they sound like mundane images of life, it helps us stay connected and remember what normal life around each other is like.
Open Communication
When I had a dream that I slept with Matt Damon and fought with my boyfriend afterwards, I tell him. When I am feeling insecure and fat because I ate a bag of Oreos in a sitting, I tell him. When he is not feeling up for talking because he is having anxiety about his job, he tells me. Being apart means that there's less time to understand what is going on in my boyfriend's head – or him in mine – so being upfront and communicating clearly about what we're thinking and feeling has been crucial to making it work.
Surprises
Once, when he was having a rough week, I surprised him by ordering chocolate-covered strawberries to his office. It's something I would have done for him if we were physically close, so I can manage to figure out how to do it while I'm far away. It seemed to have put some skip in his jump afterwards, and I think it's because it reinforced that I still care for and support him, even if he can't see me.
Photo for Maintaining a Long-Distance Relationship by Unsplash.