6 Kyoto Attractions That Will Make You Fall in Love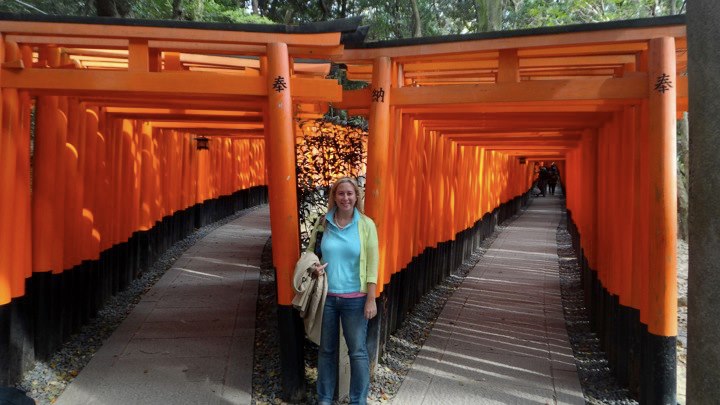 I must admit, that after my first visit to Kyoto in 2007 with Semester at Sea, I thought it was just 'OK'–even though others had raved about it. I might have missed the infamous, tourist-filled cherry blossom season but the temples scattered around the city were mystic and gorgeous all the same. Then I moved to Japan in 2008 as a participant on the Japan Exchange and Teaching (JET) Programme, and every Japanese person I met proceeded to recommend Kyoto to me. I smiled slightly and simply confirmed I'd been there before and yes, it was nice.
Instead of being fascinated with the romanticism of Kyoto, I found my curiosity piqued by the less frequented corners of Japan. But then I rediscovered all of the amazing Kyoto attractions, too:
6 Kyoto Attractions That Will Make You Fall in Love
1. Arashiyama's Bamboo Forest
I did not return to the former Japanese capital until three years later when a friend from Vietnam hopped over on one of Air Asia's new flights to nearby Osaka. Upon meeting at our hostel, we first ventured to Arashiyama's whimsical bamboo forest, getting lost in the tall green stalks and hoping we would find our way out. Instantaneously, I felt like I was a character in one of Ghibli's, the Japanese Disney, films, on the brink of epiphany.
The juxtaposition of the quiet stillness and the swaying stalks temporarily transported me to another "continent" – far away from my southern urban stomping grounds of Kitakyushu and Fukuoka.
2. Uji's Byodoin Temple
In the afternoon, we scooted over to the Uji area of Kyoto, a part of the region often left unscathed by non-Japanese tourists. Indeed, unlike me, my friend had done her homework. Not only was Uji the green tea mecca of Japan, but it was also home to Byodoin, an long and narrow, open-air temple set atop a floating platform on a lake.
I appropriately pulled out a 10 Yen coin to see the magnificent Byodoin imprinted on one side, as if to say, "The fact that this temple is on the coin makes it pretty alright." Enthralled by its uniqueness, I was finally pulled off the garden bench by Trang to bus over to Fushimi Inari Shrine in the southern part of Kyoto.
3. Fushimi Inari Shrine
With the mid-February dusk setting in, I raced up the preliminary steps to the main area of the shrine made famous by a certain running scene in Memoirs of a Geisha. This was my first visit to the tunnels of red Japanese torii gates and a piece of me wanted to create the movie scene all over again. I kept walking and took notice of all of the family names etched in kanji, Japanese characters, on the side of each gate.
As darkness encroached, we no longer had fellow tourists in front or behind us, getting in the way of our Instagram-esque photos. The lanterns lining the gates had come on and illuminated the gates, inviting us to stay just a few more minutes.
4 & 5. Golden and Kiyomizu Temples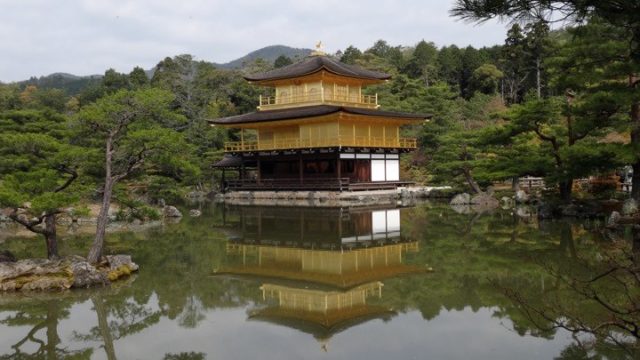 Fast forward to two years later and I was in the middle of preparing to transition from Japan to the UK with a six week pit-stop back home in the US. I had "max-ed out" my time on the JET Programme and was looking to make the most of my last few months. It was also sakura, or cherry blossom season and hanami parties to celebrate the pinkish-white flowers were in full swing.
Feeling like I should see Kyoto one last time before the big move, I caught the overnight bus there for the weekend with a fellow JET Programme teacher. We indulged in scenic views from Kiyomizu Temple and fought for photo opps with fellow tourists at the breathtaking Golden Temple, a spot I originally experienced solo back in 2007.
The latter struck me once again with its shimmering purity and untouchable-ness positioned across the lake from the main viewing area. Inadvertently following that previous 2007 route, we used our nifty 500 Yen bus day passes to commute over to Heian Shrine, situated between another giant red torii gate and the Kyoto National Museum, one of three national museums in Japan.
6. Heian Shrine
Kyoto Travel: 6 Attractions That Will Make You Fall in Love
A photographer's dream, Heian Shrine consists of brilliant red and green architectural accents that would make it a perfect feature of a Japanese Christmas card.
I watched visitors to the shrine cleanse their hands with ladles of water and then write wishes for the year on the small wooden placards sold at the shrine. Others wandered to the garden to the side of the main, sand-laden shrine area. Sensing the circuitous route I had just taken, my mind drifted back to 2007 and that day I roamed around Kyoto alone because all of my friends wanted to do different things. Since this was long before I was used to traveling solo, I felt like I had just been proud to have found it all by myself!
This time, however, was different. In seeing Kyoto with new eyes, I was at last able to recognize its traditional, evolving beauty amidst Japan's contradicting modernity. It pieced together my inaugural experience as a solo traveler, a phase of feeling comfortable in my Japanese home, and reflections on half a decade of growth. It's almost as if Kyoto was waiting to cast its spell on me.
So my friend and I jokingly took snapshots as part of Japan's Dragon Ball photo craze that year. And we then wandered under the canopy of cherry blossoms in the adjacent garden.
Did Kyoto change my mind? Yes. Yes, it did. But if you choose to venture down to Kyoto from the megacity of Tokyo, I can guarantee your mind won't need changing. In just checking out these six sights, you'll fall in love the way I did, though I imagine it won't take as long.
Kyoto Travel: 6 Attractions That Will Make You Fall in Love
Have you traveled to Kyoto? What were your impressions? Email us at [email protected]pinkpangea.com for information about sharing your experience and advice with the Pink Pangea community. We can't wait to hear from you.