Honeymoon in Gyeongju: Doing It on Our Own Terms
I never anticipated the wonderful experiences and people I would encounter as a teacher in South Korea. One of those most incredible people I met was a man named Chris. He was a fellow American teacher I met in front of the elevator in my new apartment building. He was handsome with dark hair, pale skin, and a very elegant posture. He was so confident, at home in a foreign country, whereas I was just eager to find anyone and anything that looked familiar. We struck up a conversation, and the next thing I knew, we started dating each other exclusively.
Chris and I had a whirlwind romance, but the truth is we just knew that we would fit together. Being in another country either tears people apart, or brings them closer together. I think being abroad highlights some of the strengths of your character, as well as your weaknesses. As a result, Chris and I came to know the beauty and the darkness in each other very quickly.
Being abroad highlights some of the strengths of your character, as well as your weaknesses.
He proposed marriage, but when we thought about the kind of wedding we wanted to have, we both realized we really didn't have any idea. All we wanted was each other, and the knowledge that we were together forever. We got married at the American Embassy in Seoul, dressed in jeans and jogging pants, and our wedding lunch included delicious cheeseburgers at a diner in nearby Itaewon (and yes, those burgers were delicious!).
Chris and I didn't want a lot of fuss, but we did want to go on a nice honeymoon. Since we were working in a Korean hagwon, where vacation days were valuable currency that were rare to obtain, we decided to take a weekend getaway in Korea.
I am a huge history buff, and I wanted to get outside of Seoul. I heard about a little town located in the south called Gyeongju. Gyeongju was the capital of one of the Three Kingdoms of Korea. There were supposed to be these beautiful temples, a Buddha in a grotto, large hilly burial mounds, and gorgeous scenery.
Sign us up!
We took the train down south, in a smooth comfortable ride where we read a French book with Korean instructions, took pictures, and got to know each other as newlyweds. When we arrived in Gyeongju, we realized that we both had no idea how to get to our hotel, the Hotel Hyundai, and we didn't have any reservations.
Just two minor details.
Luckily, we knew enough Korean (okay, Chris knew enough Korean) to get a general idea of where the hotel was. We squared our shoulders, hefted our backpacks, and hiked to the lake, where the Hotel Hyundai rose in a beautiful sprawling white complex. As we hiked through the landscape, I had fantasies of the views I would have out of our hotel room's windows.
The hotel staff was very friendly, which I had come to expect in Korea. What was unexpected was the fact that they took us in without a reservation! They had an empty room on the top floor. "However, you won't have a lake view," they apologized with perfect courtesy.
"That's fine," we assured them. And once we saw the beautiful autumn foliage spread out below our window, we knew it was more than fine.
Another thing I loved about the Hotel Hyundai was the atrium lounge and dining area. We could sit and enjoy drinks and our meal, and admire the lake before us. I wish we could have stayed longer, but the overnight stay was what we needed. We had a comfortable rest before setting out to tour the next day. I wasn't leaving this historical town without checking out the sites.
Our wedding and our honeymoon set the tone of our marriage: we did it together on our own terms.
Even though it rained the next day, we didn't let it keep us from visiting Bulguksa, a gorgeous temple complex and a UNESCO World Heritage Site. We climbed massive stairs, peeked in the rooms where priests and devotees used to spend time, and gazed in awe at massive colorful statues of temple gods. We felt they were happy to see us and blessed our marriage. We continued our hike to find the burial mounds, peaceful ponds where royalty visited, and the Buddha in a grotto (which was behind glass for protection. Slightly disappointing, but understandable). All too soon, it was time to catch our train and return to Seoul.
A honeymoon can be a charmed, romantic time, but I think they can also give couples a chance to really spend time together and get to know one another. Since Chris and I didn't plan the exact details of our honeymoon, including our hotel reservations, we experienced wonderful acts of kindness, and we were also able to journey around Gyeongju on our own terms. Our wedding and our honeymoon set the tone of our marriage: we did it together on our own terms. And I am happy to say we left Korea with Gyeongju being one of our fondest memories of the country. We continue to be married and to teach our son to live a life that is open and full.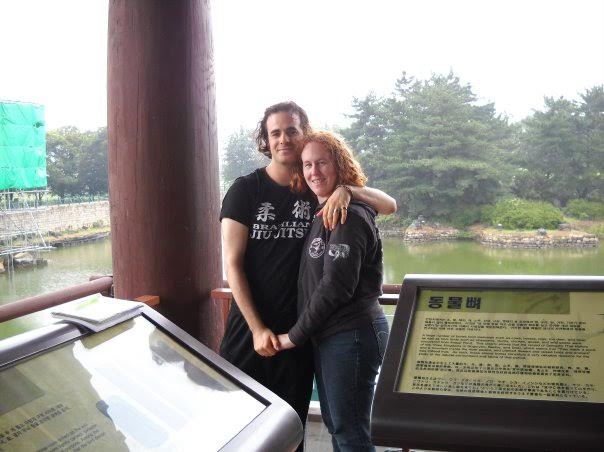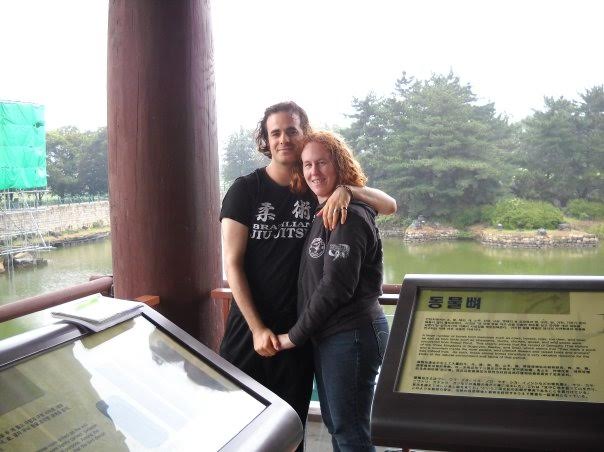 Top Photo By Jason Teal