An Extraordinary 48-Hour Iceland Stopover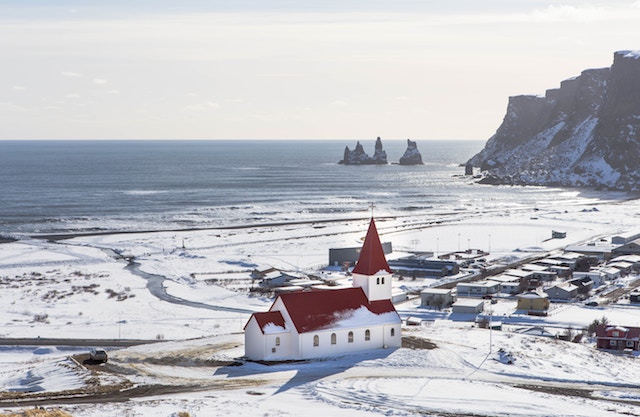 On my way to New York last week, I discovered a glorious thing – an Iceland stopover. I am a big fan of multi-stop trips, just staying long enough somewhere to not get bored, and leaving with the desire to return and do more. I last visited Iceland 12 years ago, so a return trip has been long overdue. When my Icelandair flight offered the opportunity to stay for a few days at no extra cost, I had to take it!
I had just over two days to fill and decided to try not to repeat the things I did last time I was in the country. My last trip involved camping and walking up mountains, so this time, I based myself in central Reykjavik for a slightly more sedate stay.
An Extraordinary 48-Hour Iceland Stopover
Iceland Stopover: Day One
Golden Circle Tour
The Icelanders have got this tour business well sorted out. No need for me to mess about finding my way to a meeting point for the tour, they send a minibus to pick me up at my hotel and take me to the coach.
I first really heard of Iceland thanks to my A Level Geography teacher, who showed us photos from her trip there. I thought then that the country looked amazing, but it took a good number of years before I had the opportunity to travel there myself.
First stop on the tour was to Pingvellir, where the American and Eurasian tectonic plates meet, or rather don't meet, as they are being pulled apart, making Iceland approximately 2cm wider every year. Moving away from each other means volcanic activity rather than earthquakes. It is possible to walk down a path between the two plates, rock faces towering on each side. The viewing point overlooks a massive lake, circled by mountains, which was absolutely beautiful.
Next stop was Geysir. I could have stayed there all afternoon. Watching Strokkur was fascinating and maybe even astonishing. The spout of water gushes upwards every few minutes, accompanied by gasps from the watching crowd and the ripple of camera shutters clicking, then whoops of 'Yay, I got a great picture,' or tuts of 'No, I missed it.' Sometimes the water leaps up very high, sometimes, much lower. You never know exactly how long it will be between spurts, which always makes it surprising when it happens!
I've been to Niagara Falls, but this was even more spectacular.
I tried, but failed, to take a Geysir selfie. My camera was not quite pointing in the right direction and by the time I'd adjusted it, all that was left was steam hanging in the air. Yes, there would be plenty more chances to take one, but you never quite know when the water will gush upwards and it's tiring on the arms to stand, holding the camera out at arm's length, waiting!
The final stop was the breathtaking Gulfoss Falls. I've been to Niagara Falls, but this was even more spectacular. The waterfall has a double drop and is located in a steep-sided canyon. The sheer power of the water flow over the second drop is incredible. A few views of the falls are possible.
A set of wooden steps takes you down to a path along the river canyon, where visitors are drizzled with the spray from the falling water. The path leads to a rock platform, that feels scarily close to the water's edge, with stunning views of the first drop. It is also possible to get a view over the falls by the first drop, so you can see the waters from above.
Iceland Stopover: Day Two
Having spent much of my first day on a coach, I decided to take in more fresh air on day two, conducting my own short walking tour of Reykjavik, taking in a few of the major sights of the city. My tour took me along the bay, then up into the city itself. The sun shone all day, but there was a very bracing wind coming in from the sea. The first part of my walk was along the exposed bay – good thing I brought warm clothes with me!
Volcano House
A fascinating film about two volcanic eruptions in Iceland, one in the Westman Islands in the 1970s and one of a volcano whose name no one outside of Iceland can pronounce, in 2010. The footage from 1973 was startling and the devastation caused was immense. The 2010 eruption didn't cause destruction to any properties–just to the air network of Europe! Well worth seeing to get a feel for the perils that the Icelandic people face.
Harpa Concert Hall
View from inside Harpa Concert Hall. This convention centre/concert hall is located right by the sea and is a striking piece of architecture. What's great, is that you can go inside and walk around for free. The window design is unique, with a few coloured panes dotted among the clear glass and nice views across the bay from the higher levels.
The Sun Voyager
Probably one of the most photographed sculptures in Reykjavik and if the city has an iconic image, this is a contender. Its shape is based on a Viking longboat and it stands on the edge of the bay, choppy seas and imposing cloud-covered mountains in the background. A constant stream of visitors arrived at the sculpture, touching it, walking round it, posing for photos, but I did wait patiently to get a photo without it being photobombed by another tourist!
Höfdi House
The political significance of this property is immense, but if you didn't know what it was, you'd think this was just another house on the bay. This is the place where Reagan met Gorbachev in 1986 and started ending the Cold War. There's a stone plaque to commemorate this, plus a small information panel telling the story of what happened, albeit very briefly.
I would have thought this was something that a museum could be devoted to, but the whole thing is very much downplayed. As I stood in front of the house to take a picture, I saw the curtains of a downstairs room twitch. There were children's bikes to one side, so I wondered if someone lived there now. Maybe a constant stream of visitors would not be so welcome, hence the lack of signage.
Maybe a constant stream of visitors would not be so welcome, hence the lack of signage.
Hallgrímskirkja
Another lovely piece of Icelandic architecture, this church is one of the few tall buildings in Reykjavik. Unlike most churches I've seen before, the design is quite plain. There are no ornate carvings, gargoyles or other intricate stonework, just pure lines, both inside and outside.
No stained glass windows telling biblical stories, just plain, clear glass, making the inside bright, even on a cloudy day. It is possible to get a small lift to the top of the church tower for views across the city.
Laugavegur
One of my favourite holiday pastimes is shopping, with the ideal place to do this being the main street of Laugavegur. There are plenty of places to buy souvenirs of your trip, as well as anything else you might expect from a shopping street, but without the hoards of people you might normally expect to find in a capital city. If you long for a shopping centre, there are free shuttle buses to take you to Kringlan, a mall a little further out of the centre.
Tjörnin
The final stop on my walking tour was a nice sit down by the city lake. A very quiet place to stop (apart from the plane departures from the nearby domestic airport. Fortunately, there were not too many of these. Not that Reykjavik is a loud, bustling place that you need to escape from, but the peace and the number of benches to sit on were welcome after a day of walking.
And then….
Something I didn't expect to see on this trip – the Northern Lights! I wasn't aware that they'd be visible at this time of year. I thought they were very much a winter phenomenon. A truly spectacular end to my two day stopover in Iceland.
An Extraordinary 48-Hour Iceland Stopover Related Reading
Have you traveled to Iceland? How was your trip? Email us at [email protected] to share your experience and advice with the Pink Pangea community. We can't wait to hear from you.
An Extraordinary 48-Hour Iceland Stopover photo credits by Karen Ramsay and Unsplash.