Travel Iceland: In Conversation with Leah Missik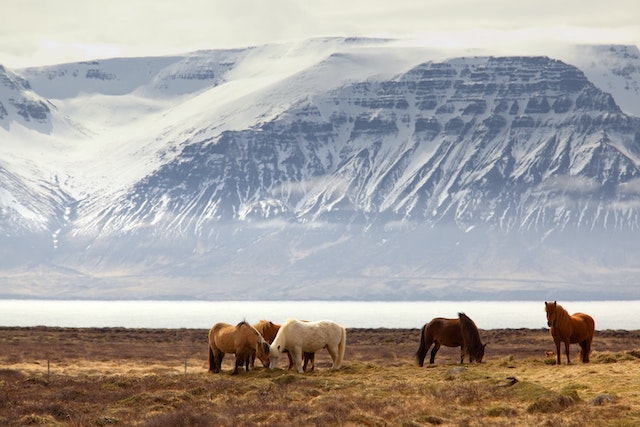 This month we're interviewing women from all over the world and asking them about their experiences traveling to Iceland. We had the privilege of speaking with Leah Missik about her experience traveling through the country. Here's a glimpse into our conversation.
Tell us about yourself! What do you do when you're not traveling the world? Where do you live? What made you decide to go to Iceland?
I traveled to Iceland between finishing college and beginning my master's degree. I had been entranced with Iceland for a while – the feeling very much encouraged by the Icelandic music I listened to – and I decided to take advantage of Icelandair's stopover offer while flying to Helsinki to attend Flow Festival. I had been looking at photos of Iceland for long enough that I couldn't miss the opportunity to see these sights for myself.
Now, when I'm not traveling, I'm working in the sustainable development field. I also read a lot (often about travel, of course), listen to music and attend concerts (including those of my favorite Icelandic musicians).
How long did you go for? How did you spend your time?
I was in Iceland for about a week. I spent a couple days in Reykjavík where I wandered around town, got to know my Couchsurfing hosts, and was introduced to the nightlife. I also spent a day going around the Golden Circle, which includes seeing Geysir (a geyser), Gullfoss Waterfall, and Þingvellir National Park (site of the first Parliament and home to the continental drift between the North American and Eurasian tectonic plates).
With a Couchsurfing host, I spent a couple of days visiting the Westman Islands, camping and hiking. I also spent a day in Akureyri wandering around and meeting people, and then a day in Húsavík, where I took a whale watching tour.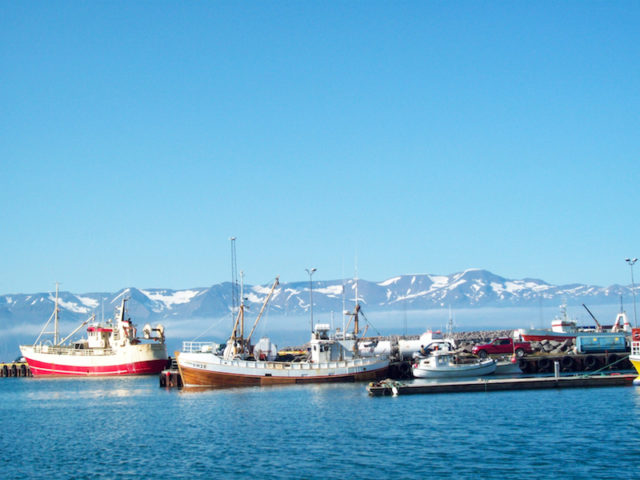 What were your most memorable experiences? What were the biggest disappointments?
All of Iceland was memorable! One great part was spontaneously deciding to head to the Westman Islands to camp with my Couchsurfing host. After we got dinner there it started to rain and we had to hitchhike back to our campsite. The next morning, we decided to postpone our ferry ride back so we had time to hike to the top of Eldfell, a volcano that destroyed the town and caused an evacuation of the island in 1973.
I also enjoyed wandering around in Húsavík and Akureyri. Both towns are not very large, and it was quite easy to find quieter, beautiful areas.
My biggest disappointment was not being able to stay for longer! I would love to return to Iceland and travel everywhere – particularly to more remote areas in the interior.
What do you wish you knew before you went?
I wish I had given a little more thought to the difficulties and expense of getting from Keflavik International Airport into Reykjavík. The international airport is actually not very close to the capital, and since my flights were at odd hours, I didn't have many options other than taking an expensive bus. I slept half of the night in the bus terminal in order to catch my incredibly early bus back to the airport, which given the amount of people in the terminal, wasn't unusual.
Also, bring layers! Weather can change quite quickly and, even in summer, it can get pretty chilly if you're outside. I got very cold when I was on the sea whale watching, despite wearing several layers. I wish I had brought even more!
Travel Iceland: In Conversation with Leah Missik
Any favorite restaurants/hotels/hostels/sites you'd like to recommend?
I was traveling on a tight budget, so I hardly ate at restaurants. Instead, I enjoyed buying skyr (similar to yogurt) from the grocery store and adding wild blueberries. I had absolutely wonderful Couchsurfing hosts and would definitely suggest giving it a try.
When in Iceland, it is a must to go see some of the incredible natural areas. Some of the smaller towns (such as Húsavík) are worth seeing, too. I was very happy with every single place I visited. If you have a limited amount of time, I would suggest at least seeing the capital, Reykjavík, another town, and an area where you can go hiking.
Even though the Golden Circle is packed with tourists, I enjoyed the sights there – you can see a lot in just one day. It is possible to take a bus around the Circle for a lot cheaper than a normal tour would be. You won't have a guide, but I prefer reading about areas and wandering through them on my own.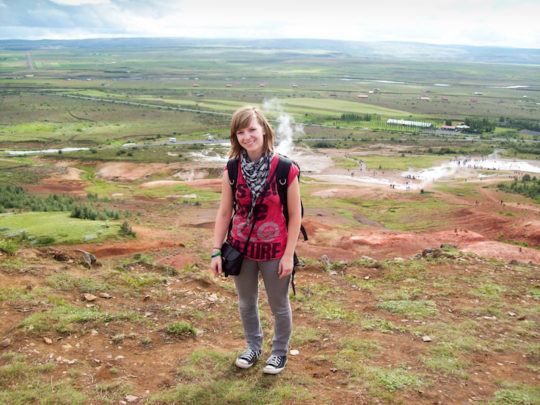 What's next on your travel list?
I'm heading to the Pacific Northwest of the United States in about a month. I plan on visiting Seattle and Portland and hiking and camping in some of the amazing areas nearby.
Travel Iceland: A Conversation with Leah Missik
Related Reading
How to Make the Most of a 24-Hour Stopover in Iceland
Have you traveled to Iceland? Email us at [email protected]pinkpangea.com for information about sharing your experience and advice with the Pink Pangea community. We can't wait to hear from you.
Travel Iceland: A Conversation with Leah Missik photo credits: Leah Missik and Unsplash.