Travel Russia: In Conversation with Leah Missik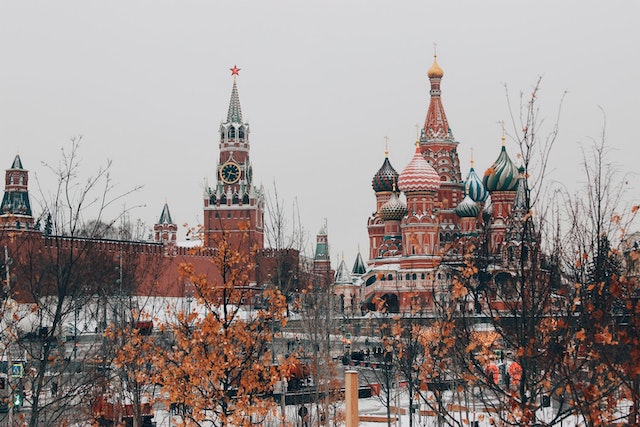 This month we're interviewing women from all over the world and asking them about their experiences traveling to Russia. We had the privilege of speaking with Leah Missik about her experience traveling through Russia. Here's a glimpse into our conversation.
Tell us about yourself! What do you do when you're not traveling the world? Where do you live? What made you decide to go to Russia?
I first decided to travel Russia to study abroad in Saint Petersburg during the spring of 2009. At the time, I was attending college in Ohio where I was majoring in languages and international studies.
I went back in August 2014 to volunteer with Great Baikal Trail, an organization that is building an ecotourism infrastructure in the region near Lake Baikal. I had not yet been to Siberia and my work contract as a Renewable Energy Analyst in Nashville, Tennessee had just ended, so I took the opportunity while I didn't have any other commitments.
How long did you go for? How did you spend your time?
When I went to Russia to study abroad, I was there for four months. I spent much of the day in class, but after school I participated in several activities: tutoring English, taking balalaika lessons, and even working as a DJ in a club. I also spent a lot of time wandering around Saint Petersburg, visiting various museums, and hanging out with Russian friends. I also visited Moscow, Velikii Novgorod, and Pskov.
It was an interesting – though not always easy – experience to be in a situation where history seems so alive.
Most recently, I was in Russia for two and a half weeks. Almost the entire time was spent volunteering with Great Baikal Trail on the Olkhinskoye Plateau, which is a couple of hours by regional train from Irkutsk. We spent much of the day trail building, but we also hiked in the area and went on an excursion to Lake Baikal, where we walked part of the old Circum-Baikal Railroad. I also had a couple of days in Irkutsk before and after the volunteer project. In Irkutsk I mostly walked around with friends. We took a trip to Listvyanka, a town right on Lake Baikal.
What were your most memorable experiences? What were the biggest disappointments?
I had plenty of memorable experiences the semester I studied in Russia, given that I was there for so long! One was being in the city for Victory Day, when Russia celebrates the defeat of Nazi Germany during WWII. While I was in Saint Petersburg, I lived with two blokadnitsi, or women who survived the Siege of Leningrad, the most lethal siege in military history. As a part of Victory Day, WWII veterans and those who survived the siege march in a parade. It was an interesting – though not always easy – experience to be in a situation where history seems so alive.
A completely different memory was attending a concert in Saint Petersburg by one of my favorite musicians who gave his first concert there while I was in town! It was an interesting show, because the artist is rather alternative and also gay, so the crowd he drew included many from the Russian counter-culture.
The first time I was in Russia, I was disappointed with how rude people can be on the street (or so it seemed to me). Sometimes I got upset when people would be pushy on the metro, or would knock me out of the way just while walking on the street. It was also hard for me to reconcile some of the political history with my living situation. Particularly before Victory Day, some people would stand on the main street and hold up portraits of Stalin that read "Stalin – our hero." The father of one of my hosts had been sent to the Gulag under Stalin, so seeing support for him was hard for me to stomach sometimes.
The second time I went to Russia, to work on Great Baikal Trail, was incredible and honestly, it is hard to pick out memorable moments because it was all so great. A few things that stand out are swimming in Lake Baikal (yes, it was cold), running from the banya (sauna) into a frigid Siberian river, and sitting around the campfire singing songs by the Russian band DDT. My only disappointment during this trip was the food served on the Siberian Airlines flight to Irkutsk, which was not very edible.
What do you wish you knew before you went?
If you think and care about politics and political history a lot, Russia can be somewhat tough. It is important to go in with the knowledge that you will be very frustrated by some things. Also, in general, it is not a good idea to discuss politics unless you are with someone you know and trust, as it is very touchy.
I also wish I had been better prepared for the brusqueness of people on the street. This applies more to Saint Petersburg and Moscow than smaller cities, but on public transportation you need to be prepared to stand your ground. People don't smile at each other on the street as doing so is considered odd. I do want to note that though Russians can seem quite cold on the street, this doesn't mean that they are unkind people at all! It is just that their demeanor in front of strangers is less warm than what I am used to at home.
Sometimes I got upset when people would be pushy on the metro, or would knock me out of the way just while walking on the street.
I drink a lot of water, and if you do as well, keep in mind that Russians generally drink tea and don't often drink water by itself. You may want to bring a water bottle and keep it filled with filtered water, or buy a large bottle of water to refill it with. In Moscow and Saint Petersburg, it is not safe to drink water directly from the tap, so getting clean drinking water takes a little more planning.
I speak Russian, but I can imagine that it could be tough to get around without knowledge of the Cyrillic alphabet, since usually signs only have names in Russian, with no transliteration. If you don't speak Russian, it would be helpful to learn the alphabet before you go, so you can at least read the names of the streets and metro stops.
Any favorite restaurants/hotels/hostels/sites you'd like to recommend?
Saint Petersburg is famous for the Hermitage, but if you want to go to an art museum, I would highly recommend the Russian Museum. It has a lot of amazing paintings, and if you are on a limited schedule, it is less daunting than the Hermitage; it's so enormous that even after three visits, I still hadn't seen much of it.
An interesting, casual club to go to is Fish Fabrique, which is near the Ploshad Vosstaniya metro stop. It is an alternative bar that has live music. The courtyard it is located in also houses a Yellow Submarine mural, and an artists' collective.
If you are in Saint Petersburg in the summer, it is fun to see the drawbridges lift up at night to let the ships pass under. Just be sure to plan how you'll get back to where you're staying, because public transportation closes at midnight.
Of course, Saint Petersburg has many monuments, museums, palaces, and churches that are interesting to see. Many are located in or near the city center, so if you have limited time, you will be able to see a lot just by walking along Nevsky Prospekt, the main street.
Travel Russia: In Conversation with Leah Missik.
Even though it is the stereotypical tourist site in Moscow, I think Red Square is very much worth seeing. I also enjoyed Novodevichy cemetery. Kruschev and Yeltsin are buried there, for example, but I thought many of the gravestones were interesting. Gorky Park is also worth a visit – there are walking paths, cushions to relax on, fountains, live music sometimes, and free WiFi everywhere! Arbat is a pedestrian street that is quite touristy, but there are booksellers who set up stands in the street with old Russian books and postcards that I think are interesting to browse through. I have stayed at Ivan Hostel, which was very nice and in a good location – within walking distance from Arbat and Red Square.
While in Irkutsk I stayed at Balalaika Hostel, which I would recommend to others. The staff was very helpful and friendly, and also spoke English. The hostel is clean and conveniently located not far from the train station. There are also outlets by every bed, including by the top bunks! Be sure to get to Lake Baikal if you're in the area.
If at all possible, I would suggest that people go to other cities in addition to Saint Petersburg and Moscow, just to get a fuller view of Russia. I loved Irkutsk and the area around the incredible Lake Baikal and would love to go back and see more of Siberia.
What's next on your travel list?
I'm going to the Pacific Northwest in a month!