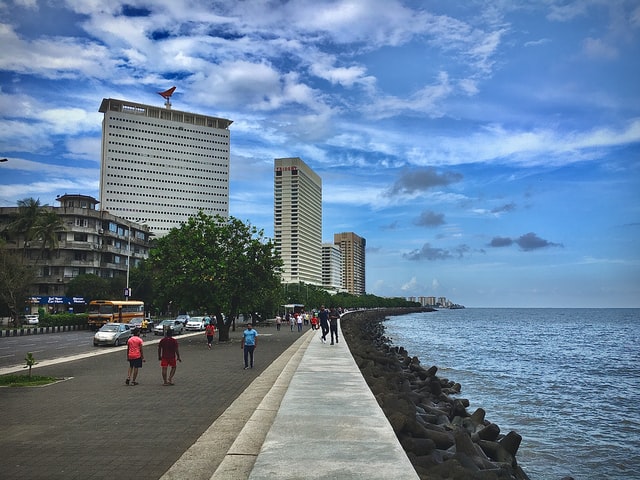 Mumbai has an amazing entrepreneurial vibe with more and more people working from home, cafes, and shared work spaces. Especially when you are traveling, it's good to know the spots that you can count on for WiFi and perhaps a little people watching and networking! Here are my five favorite work spaces and cafes in Mumbai:
Saltwater Café
Location: (Bandra West near Lilavati Hospital)
This place is definitely a staple for work and being social! Here you'll find big tables, an open space, and of course, WiFi. It's well-lit and there's a constant flow of people. Once you have been here a while, it's impossible to go here and not run into someone you know!
The staff is generally pretty good at remembering who you are and what you ordered the previous time (on the weekends, I always order an extra spicy bloody Mary and the Greek salad with no onions). If you have a sweet tooth, or even if you don't, I seriously recommend the Banoffe Pie. Saltwater Café is a great place to have a meeting or just sit all day, ordering from the delicious tea menu and getting your work done.
If you're looking for a sense of familiarity, there is a Starbucks next door. But be prepared to be elbow to elbow with the other customers, and good luck finding a seat.
Suzette
Location: Bandra West opposite Gold's Gym
Suzette is known for its French crepes, and its quaint atmosphere. It is small with only eight tables–a few inside and a few outside, so get there early and set up shop. If you are there between November to March, sitting outside is ideal. You'll find a great breeze and a good view of all of the gorgeous people (mostly the Bollywood set) coming out of Gold's Gym across the street. Suzette serves superb food that's mostly healthy, as well as delicious coffee. But it's not a great space if you need to take a call–everyone will be listening.
Social Offline
Locations: Multiple locations around Mumbai also with outlets in Delhi and Bangalore
This place is super cool with exposed brick, big tables, a full bar, and fantastic food. The best part? It's set up to be a social office space. All your needs are taken care of with WiFi, a printer, a scanner, a fax machine, pens, and paper! There is a huge networking vibe here, and at night, it turns into a regular bar scene. So you can start your day with work and end with drinks–just as life was meant to be. The mastermind behind it all, Riyaaz Amlani, owns all of the chic places to chill in Mumbai, and in many other big cities, as well.
The Yoga House
Location: Bandra near Rizvi College
Mind, body, and stomach! The Yoga House is a very shanti (peaceful) place to hang out, do yoga, and get work done. Offering five to six yoga classes a day, you'll get a good mix of people coming in and out. The food is a healthy organic mix of salads and fresh juices. There is a very Goan feel to this bungalow oasis. A lot of expats hang out here, so it's a good place to meet foreign locals for their insider tips.
Pali Village Café
Location: Bandra, Heart of Pali Village
Pali Village Café (PVC) is a much more romantic work space. It's effortlessly chic and casual with an upscale menu and a delightful wine list. I can imagine writers creating deep beautiful poetry, photographers editing their already stunning photographs, and fashion designers creating their latest runway collections.
If you are looking to seclude yourself, there is an upstairs area where you can be alone with your thoughts and work. If you want to be seen, the downstairs has a calm flow of people and a very attentive staff. There's great natural lighting and it never gets too crowded. At the end of the day, I recommend treating yourself to a delicious sangria!
With so many scrumptious options, you can choose your spot based on your mood. PVC is great to be productive and fantasize about life, and then walk outside and be smack in the market hub of Bandra. If you find yourself at The Yoga House, you are just a short distance from the Carter Road promenade. Social is hip and cool, but not overly pretentious. Suzette has a mini French vibe in the middle of the Bandra chaos.
And lastly, my personal favorite is Saltwater Café with beautiful natural lighting from its floor-to-ceiling windows. If you can, scoop up a big booth that is perfect for sprawling out, fully set up your office and take meetings. Warning! They have so many delicious teas that you might be needing the loo. Luckily, they have one for men and one for women.
Photo for 5 Best Cafes in Mumbai by Unsplash.