The Hottest Mumbai Neighborhoods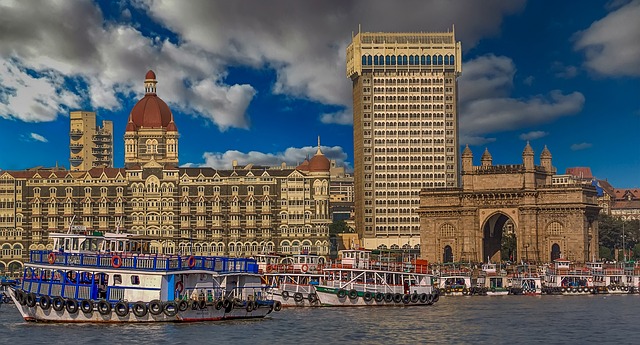 So you're off to Mumbai! Before you begin exploring, it's important to know a bit about the many Mumbai neighborhoods. Mumbai is divided into areas, the two major ones being "South Bombay" (SoBo) and "Mumbai Suburbs." Mumbai's suburbs aren't generally what we would think of as suburbs–fewer soccer moms and minivans, and more ladies of leisure and chauffeured cars.
Not that I am biased, but there is a little East Coast/West Coast thing going on between SoBo and the suburbs. There are "the people from town" (SoBo), the Bandra "bubble" (the chicest suburb) and the far, far away lands like Andheri, Powai, and Malad.
South Bombay
South Bombay is old school cool. You'll find amazing architecture left over from British rule; a gorgeous sea promenade called Marine Drive, also known as The Queens Necklace because of the way it is lit up at night; and of course, the beautiful Taj Hotel, where you must partake in afternoon tea at some point. You will feel like you're part of the high society in old time Bombay.
The downside of South Bombay? It is filled with tourists, as well as jacked-up prices with someone trying to overcharge you at every turn. Especially on the Colaba Causeway, you will find a sea of hawkers selling knick knacks and tchotchkes. Anyone who has read Shantaram will want to go to Leopold's, a restaurant where author Gregory David Roberts spent his time. Just be aware: it is the biggest tourist trap in Mumbai!
Bandra
There are many other suburbs which I am sure have their own charm, but I stay in Bandra, and I love it! Also, many articles, including some by the Times of India and Maxim Magazine India, agree that Bandra is the coolest.
Bandra has an amazing young and entrepreneurial feel. It's filled with art, fashion, and music, and of course, it is the home of Bollywood and its elite. For instance, you can see Bollywood stars, like Shahid Kapoor, Sonam Kapoor, Katrina Kaif, and Ranveer Singh, out and about on Thursday nights at Olive.
Bandra has phenomenal street art everywhere you turn. There is always something to see and do. If you don't want to be a mega tourist, come to Bandra to find a fascinating mix of foreigners and locals.
Juhu
Just north of Bandra is Juhu, the beachy suburb. Do not lounge on the actual beach! It is, in fact, quite dangerous, even for foreigners just walking there at night. I would recommend checking out one of these hotels, The Sea Princess or Sun N Sand, if you are looking to spend a day by the pool, admiring the beach. These are great places to watch the sunset while sipping fresh coconut water or cocktail.
Powai and Madh Island
Missing Western chain restaurants and ready to venture a little further? Check out Powai, which has gorgeous lakes, high rise apartments and every fast food restaurant you can imagine, including Pizza Hut, Taco Bell, McDonalds, Papa and John's. It's beautiful to walk around and very safe, but Powai doesn't quite have the Indian feel.
Or take a little weekend getaway over to Madh Island, which is located just on the other side of Malad. Madh Island is probably the closest place you can go to for a mini vacation–while still being in Mumbai.
I admit that I am totally biased–I love Mumbai! After five years of passionately exploring this amazing city, these are the insider tips I would give to anyone planning a trip to this awesome town that I call home.
Photo credit by Pixabay.