A Conversation with Travel & Fashion Blogger Alexe Bec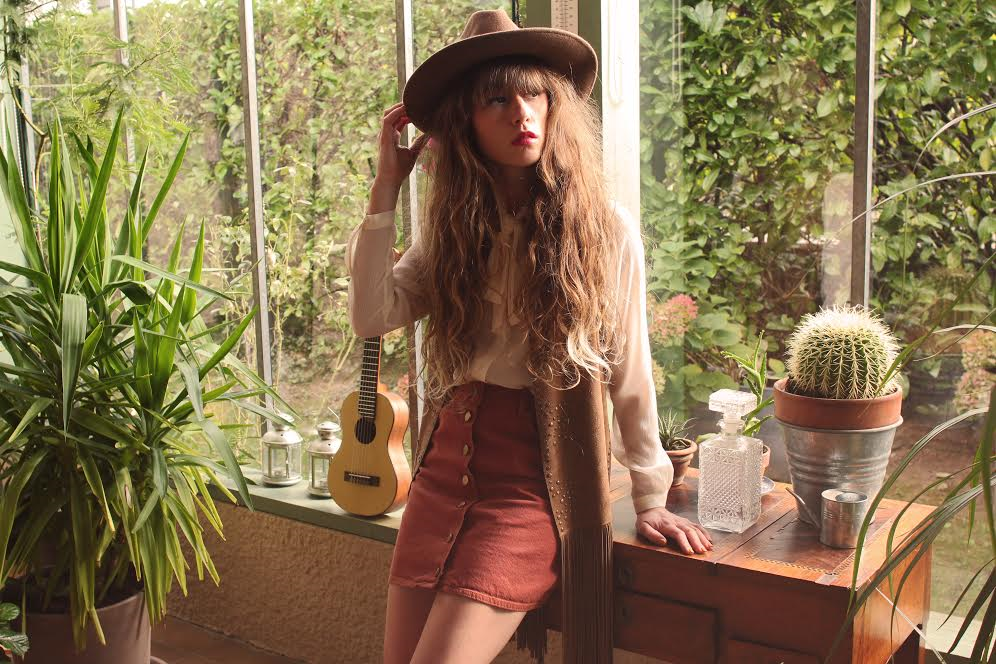 Alexe Bec, a Melbourne-based French travel and fashion blogger at Doll Poupée is inspired by the people and materials around her. When I visited her at her apartment, I caught her in the middle of working on her designs. She welcomed me into her room-turned-studio, and I noticed that even while working she looked effortlessly fashionable. As she showed me some of her products from her Etsy Shop and photo shoots from her previous travels, we discussed travel, fashion, and the challenges of working on the road.
Tell us a bit about your work! What inspired you to start creating?
I've always been a creative person. Apparently, as a child I never played with dolls, but I made their clothes. With my grandma we'd make clothes with anything that came into our hands, like plastic bags, like black bin bags. I've always customized things. I always customized my own clothes, like put lace on the sleeve to personalize it. And so everyone will ask me where I bought this from and my friends and you know, I thought it would be a good idea to do it and try to sell my stuff. So, I opened my shop on Etsy three years ago.
What are you selling these days?
I sell mostly dreamcatchers and kimonos, because they're really popular. They're in silk, and I also sell feather headbands and leather hatbands, like a cowboy style, and I customize military jackets. I always do the Union Jack flag, so before I did it in a checkered pattern. My style is bohemian and vintage, like 1970s. And I used to make a lot of leather bowties, I still have them on my shop. They are unisex.
What designs are you most proud of?
Today, it's a dreamcatcher I just made. I like how it looks with all of the different materials. Sometimes you just like something and you can't explain it.
Right now you're based in Melbourne. What do you love about the city?
I love that it's so easy to live here. It's not a complicated city at all. It's easy to navigate and the transport is really good. I like all the cafes. I think this is one of my favorite things about Melbourne. You go down the street and you can enter any and they are all good, and they have a nice setup with music. I love that Melbourne is a really artistic city. It's very artsy here, like in Fitzroy and Brunswick.
Where can savvy shoppers go in Melbourne for the best vintage finds?
I really like Vintage Sole. This where is where I just bought a fringe vest. The selection is very good and the prices are good too. What you're buying is worth what you pay for. I used to live in Lyon (France) and all the vintage stores were so expensive, so there weren't any for me.
In Paris they can be really expensive also. In the ones where the prices are cheap they aren't good quality, and it's more like a second-hand shop. It's used, but not vintage. I'm still on the hunt for good shops. There is one I really like in Fitzroy on Smith Street called Vintage Garage. This one is a bit expensive but the stuff is really good. It's a bit too expensive for some things. This place is huge.
Where do fashion and travel intersect for you? What do you love about travel?
When you go to a country to immerse yourself in the place… when I go to Ibiza, everyone is hippie, and if you go to Spain you're in the mood for flamenco. Obviously the weather impacts the fashion in a place. What I am inspired by, and what my fashion is inspired by is the place, the mood, the weather, the people. This is probably the same for everyone and everything – if it's hot you want to have an ice cream, for example.
Now, travel is a drug. I really think it's a drug. You can't stop. Once you've started, you can't stop. That's crazy. Travel is a mind opener, to meet new people and get out of your comfort zone, because you're in new situations. Finding a job here [Melbourne] was stressful, so it wasn't inspiring like going on holiday is. But when I do go out I get new ideas for my designs all the times… in a new culture where they dress differently, and look differently.
A Conversation with Travel & Fashion Blogger Alexe Bec.
How does finding new materials in your travel destinations impact your experience there?
For the moment, here in Melbourne, it was really difficult to find new supplies. And I'm still looking for shops to buy new supplies and I've been here for almost three months. Sometimes it's not easy to find things. I'm living here now so I have to take time to find new places. If I'm traveling to a country for holiday, I try to find materials and fabric from the countries, to find their specialty.
What is the best place you've visited for finding good vintage stores?
I'm not very lucky at vintage stores because of my size. It's not usual to find XS, and even for shoes I don't wear the most popular size. Sometimes I'm lucky when I find something. It's easier for me for accessories and bags. There are good vintage stores in London and in Melbourne. I went on a road trip in the US for three months, but we didn't get a chance to go shopping that much. I have to go back for that.
What is the most challenging part of maintaining your blog and your products while on the move?
It's more difficult here because I don't have a sewing machine with me. It takes longer because I have to do everything by hand. It's going to be difficult to work when I'm living in the van, where I'll live soon. When I don't have enough space at my home. My studio all fits in my suitcase. In the US it was difficult to maintain the blog because when you're traveling in a car you never have the day off, you're always moving, you go to national parks. We drove for six hours a day and did photo shoots, so when we got to our accommodations we were so tired.
Do you have any tips for other women travelers who want to start their own label?
Unless you're traveling in a van, it's not possible to do that… if you don't have a place to stay, like a home base, where you can always come back to. Maybe you travel one week then go back for two, etc. If you're never settling in a city for a few months, I don't know how you can.
You have to have your supplies. You have to have materials so you can't carry all of that if you're backpacking. But if you want to travel to settle down then yes you can. You also have to be very, very patient. You need to get noticed. But that's difficult because there's a lot of people.
And when you're traveling you want to make the most of your travels so your mind is distracted. After exploring a city all day long, sometimes you just want to relax or watch a movie. So if you want to start your own label, move to a new place and settle there, at least for a while.
Keep up with Alexe on her blog, Instagram and Facebook, and check out her designs on her Etsy Shop.
Featured photo courtesy of Suzy Wolf Photography.