Living in Montenegro: A Conversation with Sarah Pavlovic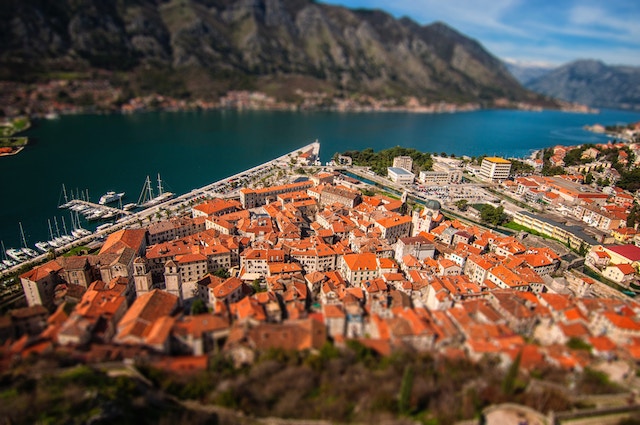 Interested in living in a Montenegro? Here, Sarah Pavlovic shares the highlights and challenges, as well as her tips for an amazing experience abroad.
Living in Montenegro: The Real Deal with Sarah Pavlovic
Tell us about yourself! What do you do when you're not traveling the world? Where are you from? Where do you currently live?
I'm a Kiwi–that's what we New Zealanders call ourselves, for those who haven't heard of us before. I've had a lifelong love affair with travel, but have (for now) settled in the tiny, Adriatic country of Montenegro. I love the sea and outdoors so both New Zealand and Montenegro are great places for me.
My main occupation at the moment is mum, but aside from that I also channel my love of travel and helping people into my website about Montenegro, Montenegro Pulse.
What made you decide to move abroad? How long did you live there for? Tell us about how you spent your time in your new destination — whether you worked, studied, traveled, or did something else.
I moved to Montenegro with my husband who's from here originally. We were looking for a slower, simpler lifestyle where we could start a family–and we found it. Montenegrins are known as the laziest people in the Balkans. Life here revolves around coffee breaks and afternoon naps!
We've been living here for 7 years so far and I've worked in recruitment and for a Montenegrin tour operator. I found there was a real need for information for holidaymakers coming here, which inspired me to start Montenegro Pulse. I love exploring and Montenegro is so undiscovered, it's perfect for that. It's also developing quickly into a world-class destination, so it's an exciting time to be here.
What were some of the biggest challenges you experienced while living abroad? What were some of the greatest highlights?
One of the biggest challenges of living here has been getting to grips with the language. I speak German so I figured it wouldn't be a huge stretch to learn Serbo-Croatian. Turns out Serbo-Croatian is hideously complicated and irregular.
Then, there are the usual sayings that don't make sense when translated literally. I remember the day I inadvertently answered 'I don't give a s#*t' while trying to explain that I'd hurt myself snowboarding!
Living in Montenegro has given me lots of opportunities I'd never have at home. We've been on luxury yachts, spent days on deserted beaches and we're able to pop over to Istanbul or Paris on long weekends. Can't do that from New Zealand!
One of the greatest advantages is the cheap cost of living, which allows me to stay at home with our 18-month-old son. I also had a full 14-months of paid maternity leave–some of the hangovers from the old socialist system are brilliant.
What do you wish you knew before you moved?
I wish I'd known more about life here and made plans to set up a normal life when we arrived. I didn't work in the beginning and although not having to work sounds great, it's better to have a reason to get up in the morning.
Any favorite restaurants/events/sites that you'd like to recommend? Tell us what made them great!
There are a few must-see places in Montenegro–and the great thing is they're way less crowded than other destinations in Europe.
Kotor Old Town: This is the highlight of the must-see Bay of Kotor. The walled old town is UNESCO Heritage protected. You can walk the ancient fortress walls above the town and get amazing views over the town and bay.
Sveti Stefan: This is a little islet on the Budva Riviera, which has been a favourite holiday spot of royalty and Hollywood for decades. It's a hotel island now, meaning the public can't enter, but you can if you book at one of the restaurants on the island. There's a local's tip for you!
Interior mountains: Many tourists just stay on the lovely Montenegrin coast, enjoying the beaches. But they miss out on the beauty of the mountainous interior region. Montenegro is actually named after its mountains–'Montenegro' translated means 'Black Mountain'.
The interior is rugged, full of dramatic landscapes and wilderness. It's less tourist-polished than the coast and I think that's what gives it its charm. It's ideal for travellers who like to get off the beaten path.
Are there any tips you'd give someone else considering a similar move?
People moving to Montenegro need to be prepared to take the good with the bad. The development and potential here are very exciting. But it's also a country in transition from communist Yugoslavia and civil war. There are lots of hangovers and old systems that frustrate all foreigners living here.
Then there's Balkan Logic. A typical conversation might go like this:
Me: Hi, I'd like to buy that phone please.
Sales rep: Sure, please come back next Thursday. That's when we get our stock.
Me: But you have one right there.
Sales rep: Yes, but I can't sell you that one. I can only sell you one next Thursday.
Me: You have the phone I want, I have money right here. I don't understand.
Sales rep: *shrugs*
People smoke inside. That doesn't upset anyone. But they are deathly afraid of draughts and having wet hair. New arrivals in Montenegro should be prepared to be perplexed. A lot!
Also, I highly recommend taking language lessons in the beginning. They will help you to pick up the language much faster.
Is there anything that women specifically should know before they move to your destination?
Montenegro is still a traditional and patriarchal society, which can be annoying. But it's also incredibly safe for women. I feel safer on the street here than at home in New Zealand.
I've never been wolf-whistled at when passing building sites, and I've never been touched in a bar. Although the old ways have their downsides, there are also upsides–and focusing on those is the key to happiness when living abroad.
Living in Montenegro: A Conversation with Sarah Pavlovic
Related Reading
24 Hours in Montenegro… And Then Some
Montenegro Trip: 48-Hours in the Balkans' Gem
Montenegro Travel Tips: Sarah's Take on Health, Safety and Romance
Have you considered living in Montenegro? Email us at [email protected] to share your experience and advice with the Pink Pangea community. We can't wait to hear from you.
Living in Montenegro: A Conversation with Sarah Pavlovic photo credit: unsplash.com