Living in New Zealand: The Real Deal with Kristen Kellogg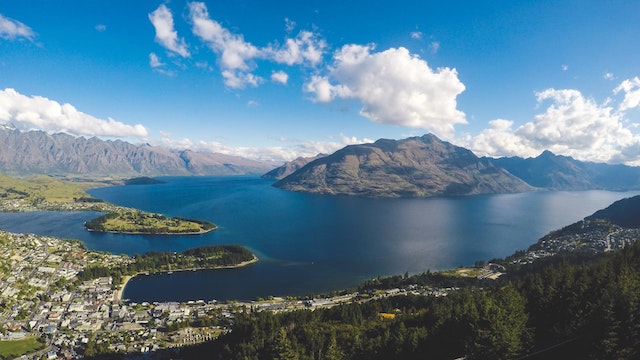 Interested in living in New Zealand? Here, Kristen Kellogg shares the highlights and challenges, as well as her tips for an amazing experience abroad.
Tell us about yourself! What do you do when you're not traveling the world? Where are you from? Where do you currently live?
I'm a digital storyteller and filmmaker working with small businesses to help them craft their message through my creative agency Border Free Travels. I work with clients through digital marketing- film and photography, social media, and brand refresh campaigns.
I'm from Southern Illinois but have lived in the deep south to California coastlines and now call Nantucket home, a special little island off the coast of Cape Cod, Massachusetts.
When I'm not traveling the world, I'm planning my next adventure, creating films for beautiful small businesses locally, and editing my past adventures. I very much love what I do and live my passion. I keep telling myself one day I'll actually travel somewhere and put my camera down and really take it all in- 2016 life goal! When I have a little down time, I love getting out into nature, mountain biking through the moors, and running through places I've yet to explore in my own backyard.
What made you decide to move abroad? How long did you live there for? Tell us about how you spent your time in your new destination — whether you worked, studied, traveled, or did something else.
After moving from California to the seasonal life of Nantucket, I found the perfect time to explore an international destination in the off-season. New Zealand always looked so breathtaking in photos and I thought it would be the perfect place to be adventurous and re-connect myself with the beauty and outdoors through hiking. I went to New Zealand on a 'working holiday' visa – if you're 30 or younger you can stay up to one year while you work/travel or just travel.
What were some of the biggest challenges you experienced while living abroad? What were some of the greatest highlights?
The most challenging thing for me was finding a decent place to live. Queenstown is known as a backpacker town, but there are actually some amazing work ??opportunities. I ended up working at a really nice (and fun) bar that locals went to with other travelers. I became great friends with a few of the girls, and we would go off on hiking adventures together, including rock climbing and bike rides.
What do you wish you knew before you moved?
I wish I had known how amazing New Zealand actually was so I could have stayed for an entire year. The working holiday visa allows you to do this. I had a great bartending job back home where I made a lot of money in the summer so I went back for that. Looking back I wish I'd stayed the entire year to experience the winter and ski season there. I might have never actually left then.
Any favorite restaurants/events/sites that you'd like to recommend? Tell us what made them great!
I'm really into food and great bars. In Queenstown, where I lived, I would recommend Barmuda, Bardeaux, and Joe's Garage for coffee and amazing breakfast. Winnies, more of a backpacker bar, has a roof that literally opens up to the sky (and great pizza!), which is totally unique for bars. Also try Botswana Butchery and Flame Bar and Grill, which has amazing South African food. Don't leave without eating a Fergburger, which is likely to happen at 2 AM after a few too many glasses of wine.
There's always great live music in the summer down by the lake and it's free. Also, frisbee golf is a fun leisurely game to learn. When you live in Queenstown, you can walk outside and find a new hike very day. One of my favorite challenging hikes was Ben Lomond–about six hours and great with a group.
At the end of my trip, we traveled around the entire South Island. We bought a tent and did a lot of camping, which I highly recommend. Definitely stop in Renwick and ride bikes around and go wine tasting. If you happen upon a place that serves whitebait, order it!
I also spent a few weeks in the north island of Mount Maunganui, a laid-back surf town with a beautiful hike to the top of the Mount. I also loved Coromandel for its long sandy stretches and Raglan on the West Coast for its surf scene.
Are there any tips you'd give someone else considering a similar move?
Owning a car isn't necessary if you live close to town. There is a great little bus system to get around town. If you want to travel while you're there, make friends with someone who has a car and likes to adventure around.
Is there anything that women specifically should know before they move to your destination?
Queenstown was one for the safest and welcoming places I've been to. It's English-speaking so you don't have to worry about learning another language either. And if you're thinking about it, just go ahead and do it. It will be the best decision you ever make because you will never again wonder, what if.
Photo credits for Living in New Zealand: The Real Deal with Kristen Kellogg by Unsplash.