5 Essential Experiences in Szeged, Hungary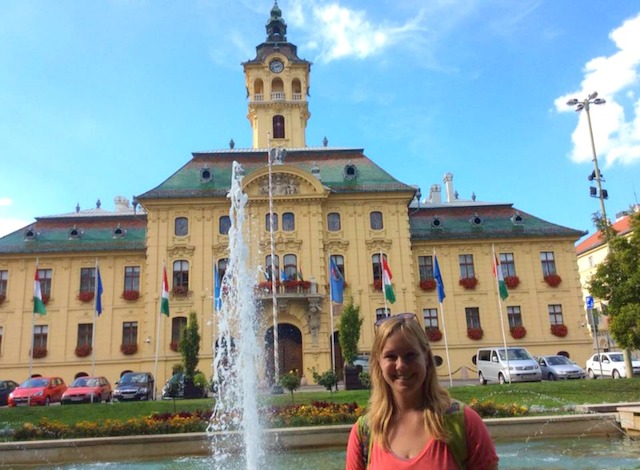 Two-and-a-half hours south of Budapest by train, a medium-sized town of 160,000 people sits on the Tisza River. Szeged, Hungary is known as the "City of the Sun." Not too far outside of the city limits lie excellent vineyards producing some of the closest cousins of Italian and Croatian wines in Hungary. Next to the vineyards, hundreds of pigs feast on farms before being turned into gourmet Hungarian sausages. With so much food production in the area, it's no surprise that the city of Szeged has fantastic cuisine to offer seasoned foodies.
The University of Szeged attracts more than 30,000 students to the city each year. Open air theatre, music concerts, festivals, and trendy beer pubs cater to the younger crowd, earning Szeged a spot in Conde Nast's "Top 10 University Towns in Europe" list this year.
I currently teach English just one hour outside of Szeged and visit frequently to enjoy concerts and events. Here are the five experiences you cannot miss if you decide to take a trip to Szeged:
5 Essential Experiences in Szeged, Hungary
1. See the temporary exhibitions at the Reok Art Palace
Housed in one of the most beautiful Secessionist palaces in Szeged, the Reok museum presents outstanding temporary art exhibits. Photography and graphic arts are often on display, and the most recent Hungarian Press Photo exhibit was captivating. Plan to spend one to two hours admiring the temporary collection on view over two large floors, as well as the interior of this splendidly decorated building.
Address: Tisza Lajos krt. 56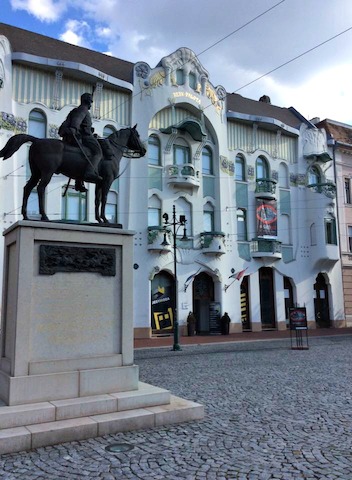 2. Walk past the busts of famous Hungarians in Dom Square
Dom Square surrounds the central cathedral and looks like something straight out of Italy with porticoes adjoining each of the brick buildings facing onto the square. Walk under the porticoes to take a closer look at the busts of more than 80 famous Hungarian philosophers, scientists, and political leaders. Admire the cathedral while sitting on one of the many park benches in Hungary's largest public square.
3. Attend a Festival in Szechenyi Square
Szechenyi Square is the park at the very center of downtown Szeged. Beautiful Secessionist palaces surround the square on all sides, including the gorgeous yellow, green, and red town hall with its colorful roof tiles. Weekend festivals are frequently held here. Always featuring locally produced food products such as honey, cheese, paprika, and salami.
Signs and posters are placed all along the main streets if there is a festival the coming weekend. If you want to experience the best festival in Szeged, make plans to attend the Szeged Open Air Festival, held during the warm summer months of July and August.
Weekend festivals are frequently held here. Always featuring locally produced food products such as honey, cheese, paprika, and salami.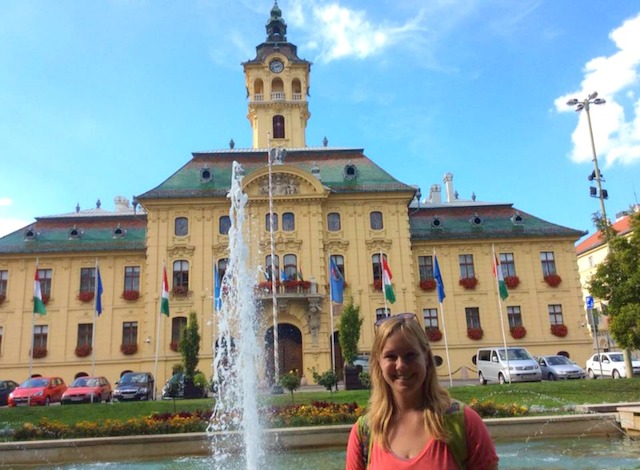 4. Drink a Hungarian Sour Cherry Beer at Malata
Malata's outdoor beer garden is packed during warm summer nights and maintains a steady crowd through the winter months thanks to space heaters and blankets. Cozy up on a bean bag or snag a spot at a table to sit and chat with friends new or old for hours. Order a typical Hungarian sour cherry beer at the bar and enjoy the bright red brew. If sour cherry isn't your thing, choose from one of the other craft brews on tap. If you're hungry, big burgers packed with toppings are this pub's specialty.
Address: Somogyi u. 13
5. Eat a Hungarian specialty pastry at A Capella
Cake is the Hungarian dessert of choice and you will find plenty of options to chose from at this beautiful bakeshop and coffee house located in an old building in the center of town. This is where everyone buys cakes for special events–from birthdays to bridal showers. Sample typical Hungarian sponge cakes with hazelnut cream or plum cake with ground almonds. In the summer months, add a scoop of ice cream to your cake and anytime of year, order an espresso with whipped cream on top.
Address: Karasz Utca 6
Szeged offers adventurous travelers a great glimpse into authentic Hungarian life, away from the touristy districts of Budapest. In Szeged, you can mingle with Hungarians over coffee and meet the farmers who produce the majority of the country's food products.
You can sample authentic Hungarian cuisine at outdoor festivals or in one of the many outstanding restaurants or cafes. After eating, you can take a walk along the Tisza River or soak up Hungary's medicinal thermal waters at one of three unique spas in the city center.
Plan for at least 24 hours to enjoy Szeged, however 48 would be the perfect amount of time to do everything I've listed here and to visit the Pick Salami and Paprika museum, admire the Secessionist architecture all over town and sip a few glasses of strong Hungarian plum palinka.
5 Essential Experiences in Szeged, Hungary
Related Reading
Budapest, Hungary: 24 Hours in Budapest
Have you traveled to Szeged, Hungary? What do you recommend doing on a trip to Szeged? Email us at [email protected] for information about sharing your experience with the Pink Pangea community. We can't wait to hear from you.
5 Essential Experiences in Szeged, Hungary photo credits: Taylor Geiger