Traveling with Nursing Gear: The Real Deal with Laura Hoover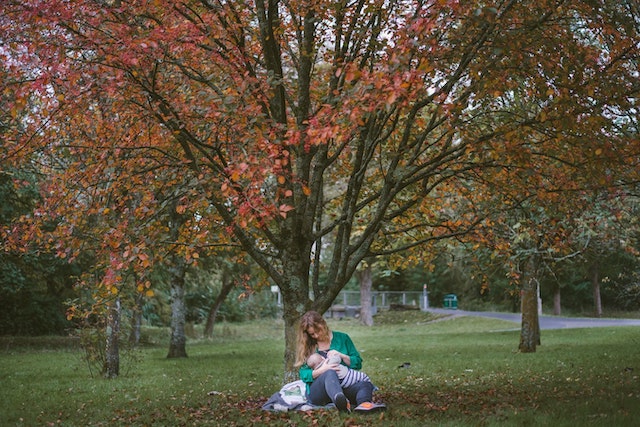 Interested in traveling with nursing gear? Laura Hoover shares her tips and recommendations for your next journey.
Tell us about yourself! What do you do when you're not traveling the world? Where are you from? Where do you currently live?
I live in Arizona and am a stay-at-home mom to three kids. I used to be a teacher, so now I have a lot more flexibility for traveling!
Where did you travel while nursing? What was the purpose of the trip? How old was your child at the time?
I have been nursing one of my kids while traveling since my son was born in 2012. Most recently I traveled across the country to Columbus, Ohio to visit family and do some of the fun things in the area to get out of the summer heat in Arizona. We hit the Columbus Zoo, Ohio State Fair, and drove to Cleveland to see the Rock and Roll Hall of Fame. My daughter was four months old and exclusively nursing when we traveled.
In your destination, were there particular nursing areas that you recommend/don't recommend?
I didn't have any issues with places to nurse. Everywhere we went there were benches, and I had my nursing cover with me, so I didn't need to look for any special places to nurse. I was traveling with my two-year-old son, and four-month-old daughter, so the plane was the only place I had to nurse in close proximity to another person.
What sort of reactions did you get about your nursing? Did you feel comfortable/uncomfortable nursing there?
No one paid any attention to my nursing on the trip. The only place anyone really noticed was on the airplane, and in the airport just because of the crowds and someone sitting next to me. But my daughter had always been a good nurser so once I had her latched with the cover on, it really was pretty discrete.
Is there any nursing/pumping gear that you recommend for traveling?
When I travel, I use three things: a nursing cover, Travel Boppy, and a CREATE-A-SPACE on the airplane. The Travel Boppy lets me nurse comfortably without totally having to support my baby, which leaves me hands-free for anything my son needs.
The CREATE-A-SPACE makes it so I have an armrest and don't have to worry about accidentally bumping or touching the person sitting next to me, or them touching me while I'm nursing. It's a small divider that you set up completely on your own side of the armrest so you don't touch the next person, and it extends down in the space under the armrest so their leg doesn't touch you or vice versa. It really makes nursing in such a tight space a lot more comfortable. I traveled without one with my son until a "mommy friend" of mine told me about it and now nursing on the plane is no big deal.
If you were traveling with your child, what were some kid-friendly highlights? What were some of the challenges in traveling with your child?
The Columbus Zoo was the big highlight of the trip for us. My son loves animals, and the zoo is a lot bigger than the one we go to at home so that was a lot of fun. The biggest challenge was definitely the three-hour time change! As much as I tried to keep them close to their usual schedule, it's impossible while traveling.
Are there any tips you'd give someone else who is considering nursing in your destination?
Have whatever gear you need to be comfortable so you can nurse anywhere. A good cover, Travel Boppy, and CREATE-A-SPACE make nursing anywhere while traveling easy. My tip would be to find what works for you so nursing isn't a stressful part of your trip and you can just enjoy your destination!
Photo credit: Unsplash.